Book characters crossword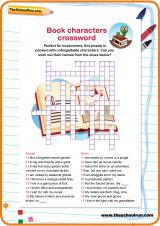 Classic characters are unforgettable, whether they're falling down unusual rabbit holes, prowling through the jungle or breaking their slates over unfortunate classmates' heads. How many famous characters from children's literature can you identify in this crossword puzzle?
REGISTER FOR FREE today to download this worksheet instantly, plus gain access to 100s of free downloads, articles and activities.
Already registered? LOG IN to download this worksheet.