Also see
Wish your child loved books as much as the TV and games console? Engaging with English is packed with ideas to make four classic books come to life. You and your child will enjoy every moment of having adventures in a deep, dark wood, organising a Gruffalo party, investigating your family tree, creating a photo-story, making a park scene in a box and discussing metaphors and similies - yet all the activities are designed to support literacy learning as detailed in the national curriculum. The books you will be reading and discussing are:
The Gruffalo by Julia Donaldson and Axel Scheffler
Stick Man by Julia Donaldson and Axel Scheffler
Voices in the Park by Anthony Browne
Looking after Louis by Lesley Ely and Polly Dunbar
Whether your child is in the EYFS, KS1 or KS2, these activities are the perfect starting point for turning book-shy children into bookworms.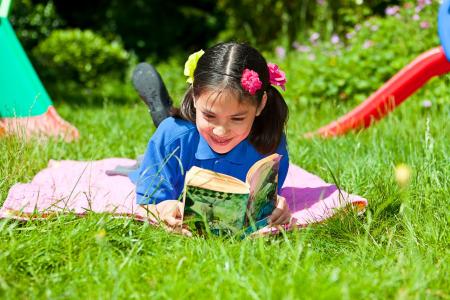 Great books for kids: must-reads for 4- to 11-year-olds
When it comes to wonderful books, children are spoilt for choice. Classics and contemporary novels, personalised books, themed reads and more... look through some of our recommendations to find your child's next favourite book to curl up with.