100 of the best educational toys: stocking fillers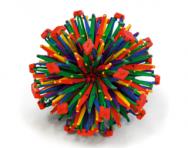 Don't forget the stockings! These little toys and games are the perfect size to slip in, yet still offer plenty of educational opportunity. Encourage observation, curiosity, dexterity and creativity with these brilliant gifts, whatever age your child is.
(£2 each, 2littleboys)
These fantastic flip books from 2littleboys are ideal to keep little minds occupied when you're out and about or travelling. Each one is themed with different things to spot, whether it's people doing various everyday activities or sites in the country or city. There are even
I Can Spot...
books for weddings, as well as London and Paris! Each page has a tick box for children to keep track of what they spot as they work through the list.
(£7.50, UGears)
Make your own kinetic, Steampunk storage for up to six pens and pencils. Easy to assemble, with no glue required, this is a lovely gadget and a great introduction to the world of mechanics.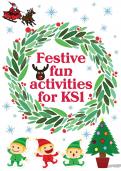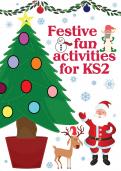 Download your child's festive activity pack now!
KS1 & KS2 packs
Christmas-themed English, maths and science activities
Perfect activity pack to keep kids busy and learning over the Christmas break
(£9.99, Jumboo Toys)
Make your own swirling-colours paper kaleidoscope with this DIY kit suitable for ages 5+. The kit includes pre-cut paper, cardboard, small beads, non-toxic glue and instruction manual (no scissors are needed).
(£9.99, History Heroes)
Did you know that Henry I had a record-breaking 25 illegitimate children or that Queen Victoria survived five assassination attempts? History Heroes is a new card game designed to test the whole family's knowledge of British monarchs, from William the Conqueror in 1066 to today's reigning monarch Queen Elizabeth II. The aim is to capture opponents' cards in the style of Top Trumps – would you be able to name the tallest monarch or identify the king famed for his red face and red hair to win?
(£9.99, Wildcard Games)
Mapominoes is like dominoes but with maps, as you build a map by connecting countries that share a common border. Stay one step ahead of your opponents, as you race to be the first player to play all your country cards on the table and win the game. The game is designed so that you don't need geographical knowledge to play, but playing rapidly improves your geographical knowledge. Europe, Asia & Australasia, Africa, Americas and UK Counties editions are available; suitable for age 8 to adult.
(£8.99, Carddies)
Created by two mums and perfect to stimulate imaginative play, Carddies are hand-drawn characters on white card that can be coloured in using the 12 pencils provided. Each character has its own stand, and the each set comes with a hand-drawn background scene that can also be coloured in. Everything is neatly packed in a durable card box, perfect to take on the go. Other sets include school, ballet, football, family, fairies and even cavemen! Made in the UK.
(£6.99, Science Museum)
This super stuff bounces, shatters, tears, moulds and is fab to play with. It's got a unique molecular structure that makes it more brittle the faster it's worked with. Kids will love watching it change! Comes in black or orange.
(£8.50, Learning Resources)
A brilliant (and brilliantly-priced) game for young mathematicians, POP for Addition and Subtraction asks kids to answer simple number sentences (using number 1 to 10), with chunky game cards and simple rules to follow. The games include 100 bubblegum ball-shaped cards: Letters, Word Families, Rhyming and Shapes are some of the other game variants available.
(£12, Learning Resources)
The perfect accompaniment to outdoor walks or caravan holidays, these sturdy, lightweight binoculars let your child observe nature at a distance. The wraparound, soft eye section holds your child's face in the correct position and make it easy for them to make the most of the 2x magnification.
(£13.99, Amazon)
This expanding and contracting object is fascinating to play with (and here comes the science bit: it's known as a Hoberman sphere, though it's not a true sphere, but a polyhedron known as an icosidodecahedron – phew!). It comes with an activity sheet so your child can try different things with it, and learn more about the structure and how it operates.
(£2.99, Amazon)
A super spinner with 7 pre-printed discs, each creating a visual special effect. See colours disappear completely or combine to form other colours with Sir Isaac Newton's colour wheel experiment, watch straight lines magically turn into a circle and see how a spiral disc appears to extend to infinity.