101 fantastic activities for the summer 2017 school holidays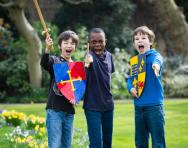 Cheer on a Roman gladiator, train to be an astronaut in Cornwall or come face-to-fetlock with Joey from War Horse (yes, really) – we've got a whole host of adventures for you to enjoy together this summer with 101 amazing and educational activities from across the UK. By Hetty Walton
Summer holidays 2017 family activities in England
Dead good
What: Sign up for the Gravediggers' Academy, enrol in knight school, go on a Tudor treasure trail or discover your inner bard at these free fun historical workshops at Westminster Abbey in the centre of London.
Where: Westminster Abbey, Cloister Entrance (or Education Centre if wet), 20 Deans Yard, London, SW1P 3PA
When: 25-27 Jul, 1-3, 8-10, 15-17, 22-24 Aug, Tues and Thu, 11.30pm & 1pm
Need to know: Suitable for 5+. Free, but pre-book at educationuk@westminster-abbey.org
Image: Westminster Abbey family events © Amy Murrell
Carnival capers
What: Roll up, roll up, roll up for a spectacular summer of carnival fun in Cheshire, complete with sideshows, storytelling, music and magic. Marvel at spectacular performances and workshops including tightrope, trapeze, acrobatics, puppetry, costume tent and rag time band.
Where: Dunham Massey, Altrincham, Cheshire, WA14 4SJ
When: 28-29 Aug, 7-9pm
Need to know: Tickets £14 per person.Gates open 6pm. Picnics welcome.
Building on it!
What: Turn yourself into an 'architective' at this annual festival of architecture in London's Square Mile and explore the wonders of design and construction at more than 30 workshops in some of the City's most iconic buildings. There's a chance to design structural fashion and test it on a catwalk, chat to "Sir Christopher Wren", build a giant structure out of Lego and make your own stop motion animation.
Where: Various venues around the Square Mile, London
When: 22-23 July, 11am-4pm
Need to know: Free. Some activities require advance booking.
Play away
What: Re-discover Discover – the children's literature museum in South East London – and become a part of the Geometric Playground, a giant, colourful artwork and installation complete with cogs to turn, levers to pull and pendulums to swing. It's also your last chance to check out their Fantastic World of Dr Seuss exhibition, where you can dress up as Thing 1 and Thing 2, play music with the Boom Band and maybe even come across Sam I Am!
Where: Children's Story Centre, Discover, 383-387 High Street, Stratford, London E15 4QZ
When: 22 Aug-3 Sep, 10am-5pm
Need to know: Exhibition & family admission costs £22
Wild, wild west
What: Go west and go wild for a day full of nature and history, including bug hunting, making a mini-beast hotel, hedgehog spotting, willow weaving, bird watching and even meeting Lord and Lady de Bradeston. There's also a chance to try on some medieval armour!
Where: Winterbourne Medieval Barn, Winterbourne, South Gloucestershire, BS36 1SE
When: 15 August, 11am-3pm
Need to know: Free but bring a picnic. To book email nicole.daw@avonwildlifetrust.org.uk
Weekend of wonder
What: Celebrate the first weekend of the summer holidays with a feast of archaeology and science at the Potteries Museum. On Saturday meet Roman soldiers and Vikings Val and Halla and try out some hands-on archaeological activities, while the Sunday science day aims to answer questions like what does music look like, what's inside your body and what do creepy-crawlies do all day?
Where: The Potteries Museum & Art Gallery, Bethesda St, City Centre, Stoke-on-Trent ST1 3DW
When: 22-23 Jul, 11am-4pm
Need to know: Free
What a racket
What: Embrace your inner Andy Murray or Johanna Konta with Tennis For Free, a charity that aims to bring the benefits of playing tennis and becoming actively engaged in sport to as many young people and families as possible. Working with schools, tennis clubs and councils since 2004, the initiative creates free 'walk on and play facilities' on tennis courts across the country and also runs free coaching sessions for children and adults.
Where: Tennis courts across the UK
When: Throughout the year
Need to know: Courts and teaching sessions free. Check website for nearest venue.
Beneath the waves
What: Dive into one of the world's most compelling evolutionary journeys in this giant-size exhibition at London's Natural History Museum. With more than 100 whale-related specimens on display together for the first time, you'll be able to travel back 50 million years to see how whales evolved to become the sociable, aquatic mammals they are today. (You can also check out newly refurbished entrance Hintz Hall, complete with a 25-metre blue whale skeleton.)
Where: National History Museum, Cromwell Rd, London SW7 5BD
When: 15 Jul-6 Nov, 10am–5.15pm
Need to know: Family ticket from £30 online, under 4s free
Horsing around
What: Celebrate the early days of canals in Cheshire with some special four-legged visitors. Now in its eighth year, on Horses at Work day the heavy horses will be on hand to demonstrate old-style horse-drawn canal boating and you'll be able to take a trip on a horse and cart around the museum grounds and watch costumed performances.
When: 13 August, 10am-5pm
Where: National Waterways Museum, South Pier Road, Ellesmere Port, Cheshire CH65 4FW
Need to know: Events free with admission. Family ticket costs £25. Under 5s free.
Out of this world
What: Explore the furthest reaches of space and uncover the secrets of the universe at Cornwall's Eden Project. You can go on a solar system safari, encounter stranded aliens and find out if you've got what it takes to be an Eden astronaut. You can also radio control an Eden space exploration vehicle and try your hand at repairing a space shuttle.
Where: Eden Project, Bodelva, St Austell, Cornwall, PL24 2SG
When: 27 July-3 September, 11am-5pm
Need to know: Free with admission. A family ticket costs from £64 online.
Big in Japan
What: Feel the spirit of 19th century Edo (now Tokyo) brought to life as part of Lady Lever Art Gallery's Edo Pop exhibition. Featuring 50 vibrant and colourful woodblock prints, you can also catch immerse yourself in Japanese culture with a series of accompanying workshops: catch a Koto performance, join in with a manga workshop, play a Japanese board game or take the chopstick challenge!
Where: Lady Lever Art Gallery, Liverpool, Port Sunlight Village, Lower Road, Wirral CH62 5EQ
When: 22 Jul-30 Aug. Workshop times vary.
Need to know: Admission and workshop free.
The big questions
What: If you're looking for answers, head to Bristol and the first ever Festival of What If at the At-Bristol Science Centre. Celebrating curiosity, it will explore the questions 'What if we had to live on another planet?', 'What if nature took over?' and 'What if I could see inside myself?'.
Where: At-Bristol, Anchor Road, Harbourside, Bristol, BS1 5DB
When: 22 Jul-3 Sep, 10am-6pm
Need to know: Free with admission. Family ticket from £39.50.
Roman holiday
What: Inspired by their current season of Shakespeare plays, join in with the RSC this summer in a plethora of fun activities, performances and workshops all with a Roman theme. Highlights include making Lego brick mosaics, becoming a member of a miniature Roman town, entering the arena to play Roman games and visiting the Shed of Stories to hear some Roman tall tales.
Where: RSC, Bancroft Terrace, Stratford-Upon-Avon, Warwickshire CV37 6BB
When: 24 Jul-1 Sep, 10am-5pm
Need to know: Most events free and drop-in, call 0844 800114 for more info.
Catch a cliffhanger
What: Enjoy a special children's theatrical performance in the beautiful open air setting of the Minack Theatre. Created in 1932 by Rowenna Cade, the theatre is carved out of the granite cliff with the deep blue sea of Porthcurno Bay far below. Shows include child-friendly versions of Shakespeare's A Midsummer Night's Dream and The Tempest and a storytelling Sea Show; you can take part in a free theatre skills workshop too.
Where: Minack Theatre, Porthcurno, Penzance, Cornwall TR19 6JU
When: 21-29 July & 1-31 August. Show times vary.
Need to know: Tickets from £5 adults, 12-15 £2.50 and 2-11 50p; book online.
Festival spirit
What: A week-long celebration of creativity aimed at children and families, the Just So Festival combines art, music and literature against a natural woodland backdrop. Kids can enjoy a picture book workshop with Little Robots creator Mike Brownlow, have a pillow fight, sneak out for a midnight feast, take part in a tribal tournament and get arty and crafty in hundreds of making, doing, painting, singing and musical workshops.
When: 18-20 August, 9am till late
Where: Rode Hall Parkland, Scholar Green, Cheshire ST7 3QP
Need to know: Day tickets £50 adults and £20 children; weekend tickets £140 adults and £50 children and must be booked online.
See you later, gladiator
What: Transport yourself to Roman Londinium with this Bank Holiday spectacular which brings gladiators back to the site of the city's only Roman amphitheatre. Witness a 60-minute show designed by the same company worked on Hollywood blockbuster Gladiator, complete with clashing steel swords, spears and armour. Will your favourite be crowned champion?
Where: Guildhall Yard, Gresham Street, City of London EC2V 5AE
When: 25 Aug, 7pm; 26 Aug 12pm, 3.30pm & 7pm; 27 Aug 1pm & 4.30pm; 28 Aug 12pm & 3.30pm
Need to know: Tickets from £20 adult, £13 child. 
Go with the flow
What: Get back to nature with this series of eco-inspired workshops hosted by WWF UK and discover more about British rivers and the wildlife that lives in them. Create a giant piece of community artwork and learn more about river creatures from wonderful water voles to dashing dragonflies.
Where: WWF UK, The Living Planet Centre, Brewery Rd, Woking, Surrey GU21 4LL
When: 1, 3, 8, 10, 15, 22 August, 10am, 10.45am and 11.30am
Need to know: Suggested donation £3. Book online.
Goofy-ing around
What: Devise your own superhero cartoon character, make a clay animation or create a Beano front cover at one of these great arty workshops being held at London's Cartoon Museum.
Where: Cartoon Museum, 35 Little Russell Street, London, WC1A 2HH
When: 26 Jul-31 Aug, 11am -1pm & 2-4pm.
Need to know: Sessions from £12. Book online.
Climb a faraway tree
What: An adventure in a wood complete with climbs, slides, building, swinging, den building, boats, story telling and imagination, this Norfolk nature park comes with Twiggles, Boggles and enchanted tree houses and is based on a story by local children's author, Tom Blofeld. Get your face painted for free and decorate your own feather crown, then join the noisy parade around the park with puppets and lots of musical mayhem.
Where: BeWILDerwood Norfolk, Horning Road, Hoveton, Norfolk NR12 8JW
When: Throughout the summer, 10am–5.30pm
Need to know: An adult ticket £16.50, children £14.50 – check prices online as they vary by date.
Become a mini master chef
What: Head to Tatton Park in Cheshire this summer, and this fab pick and cook workshop, where you'll gather your own soft fruits from the gardens to make a seasonal recipe in the Still Room before getting a tour of the house with Tatton Park's Victorian housekeeper.
Where: Tatton Park, Knutsford, Cheshire, WA16 6QN
When: 29 July 2017, 10am-12pm
Need to know: Costs £22 per child, Suitable for 6+. Each child must be accompanied by an adult.
On your marks, get set... PLAY!
What: Analysing risk, building self-confidence and developing decision-making ability are just some of the amazing skills children get when they play, so take time out for some serious fun on 2 August, which marks the 30th birthday of the UK's national day of play. Check out all the free community play activities happening near you...
When: 2 August
Where: Across the UK
Need to know: Playday is the national day of play in the UK and as well as a celebration of children's right to play, aims to highlight the importance of play in children's lives and celebrate their right to play.
Go show boating
What: Want a theatre trip with a difference? Then take to the water to see The Three Little Pigs plus Captain Grimey or The Hare and the Tortoise performed by unique hard-carved marionettes in this 55-seat theatre set on a canal barge.
When: 22 Jul-1 Sep, 2/2.30pm
Where: Puppet Theatre Barge, opposite Terrace Gardens, Petersham Road Richmond TW10 6UT
Need to know: Ticket prices £12 adult, £8.50 child.
Heavy metal
What: Step back to the days of fearsome battles and secret romances and find out what life was really like for knights at Windsor Castle in medieval times. You'll be able to take part in armour handling talks, have fun trying on replica armour from the collection and meet mail armour experts who will explain how mail armour is made.
Where: Windsor Castle, Windsor, Berkshire SL4 1NJ
When: 3 -28 Aug, 11am-4pm
Need to know: Events free with admission. Family ticket costs £53.
Body matters
What: Get set for a range of biological-based workshops looking at the human body all held in a unique cell-shaped pod suspended above the laboratories of London's Blizard Institute. Get excited about evolution and giddy about genes, discover the wonders of magnificent muscles, brilliant bones and limber ligaments, get to grips with your gut and even unlock the mysteries of the human heart.
Where: Centre of the Cell, Blizard Institute, 4 Newark Street, Whitechapel London E1 2AT
When: 28 Jul-29 Aug, 2-4.15pm
Need to know: Adults cost £7, children (3-15) £5. Book online.
Putrid peasants
What: Experience the gruesome side of Medieval England and have stinking good fun at Dover Castle. You'll be able to find out all about what life was like for the working classes in the Middle Ages and soak up the medieval sights, smells and sounds for those living at the wrong end of the garderobe!
Where: Dover Castle, Castle Hill, Dover, Kent CT16 1HU
When: 29-30 July, 10am-5pm
Need to know: Free with admission, family ticket £50.40
Tree-mendous!
What: Go green with this wildlife weekend based in Durham's Hamsterley Forest. You'll set and check small mammal and moth traps, go on woodland bird and reptile walks, listen to the secret sounds of bats, go bug hunting, try your hand at a spot of outdoor art and relax with woodland stories around the campfire.
Where: Hamsterley Forest, Redford, Hamsterley, Bishop Auckland DL13 3NL
When: 18-20 August
Need to know: Costs £40 per tent and up to 5 people. Pre-booking essential; bring camping gear, wellies, outdoor clothes and food for the weekend.
Take it speakeasy
What: Join the American Museum in Britain for a Bugsy Malone-inspired afternoon. Check out their 1920s Jazz Age exhibition and make fedoras, flapper headbands, and watch Alan Parker's classic kids gangster film in the Stables cinema.
Where: American Museum in Britain, Claverton Manor, Bath BA2 7BD
When: 24 August, 12-3pm
Need to know: Free with garden admission. Family ticket from £28.50.
An awfully big adventure
What: Celebrate 75 years of Enid Blyton's Famous Five with the Royal Horticultural Society and take part in a range of outdoor activities at four of their gardens, from den building and orienteering to having a slide down the Faraway Tree. You can also follow the 'Five Go on a Garden Adventure' trail and attend a bumper picnic party to celebrate Enid Blyton's 120th birthday.
Where: RHS Wisley, Surrey; RHS Rosemoor, Devon,; RHS Hyde Hall, Essex and RHS Harlow Carr in North Yorkshire.
When: Trail and activities throughout Jul/Aug. Picnic party: 11 August.
Need to know: Times and prices vary with gardens.
Quick on the draw
What: Learn easy drawing tricks and create pictures of your best-loved London places using collage, pens and pencils at these fun workshops at the London Transport Museum. Take inspiration from the Museum's Sounds of the City illustration exhibition and join guest children's book authors and illustrators for story time sessions and enjoy the beautiful illustrations that bring the stories to life.
Where: London Transport Museum, Covent Garden Piazza, London WC2E 7BB
When: 22 & 23 July, 11am-4pm
Need to know: Adults £17.50, under 18s free
Full of bounce
What: Spring into the summer holidays with the bOing! International Family Festival in Kent. Welcoming performers from Finland, Norway, The Netherlands and Portugal and the UK, it's showtime for children of all ages with performances including multi-sensory workshops by Oily Cart, the Cirque Du Platzak circus company and monumental and interactive walk-in sculpture Pentalum Luminarium from Architects of Air.
Where: bOing! International Family Festival, Gulbenkian, University of Kent, Canterbury, Kent CT2 7NB
When: 26-27 August, 10am-4.30pm
Need to know: Free entry, shows £6 per person.
Small world
What: Discover what goes on beneath the floorboards with this adaptation of Mary Norton's classic novel, The Borrowers, at Wimbledon's Polka Theatre. Featuring puppetry, original music and plenty of suspense, find out what happens when Arrietty and her family meet a human boy and go on an action-packed journey to find somewhere new to call home.
Where: Polka Theatre, 240 The Broadway, Wimbledon, London SW19 1SB
When: 16 Jun-20 Aug, 11am & 2.30pm
Need to know: Tickets £15 per person
All the fun of the fair
What: Don't miss the V&A Museum of Childhood's annual Summer Festival which returns this year with a colourful mix of live music and entertainment. Expect dance, walkabout acts, designer stalls, food, face painting, henna, rickshaw rides, games and lots for all to make and do! And don't forget to catch their new Michael Morpurgo exhibition (complete with Joey, the original life-size West End horse puppet from War Horse) while it's still on.
Where: V&A Museum of Childhood, Cambridge Heath Road, London E2 9PA
When: 23 July, 11.30am-4.30pm
Need to know: Free. Drop in.
Fun with food
What: Enjoy gastronomic games for all the family at The Big Feastival – brainchild of chef Jamie Oliver and Blur's Alex James – down at James's Cotswolds farm. There's plenty of good music, street food, local producer stands, cookery classes and top chef demos alongside lots for the kids with TV faves Dick and Dom and Justine Fletcher, arts and crafts workshops, big top games and vintage funfair.
Where: Alex James' Farm, Near Kingham, Oxfordshire OX7 6UJ
When: 25-27 August, 11am-10pm
Need to know: An adult day ticket costs from £69, under 12s go free
The car's the star
What: Get ready to be a real life 'car-tist' and design your own fantasy car at Coventry Transport Museum with these fun series of workshops. Each week the workshops focus on a different stage of car manufacture, from incredible ideas all the way through to the fabulous finishes.
Where: Coventry Transport Museum, Millennium Place, Hales Street, Coventry CV1 1JD
When: 26 Jul–2 Sep, 10.30am-3.30pm
Need to know: Admission free. Workshops £2 per child.
Arty party
What: Head to Woking's The Lightbox for creative games galore at their fun kids festival this summer. Enjoy giant garden games or bubble fun, get creative making balloon creatures, mermaids and mermen, pirate hats or even your own arty aquarium or comic art creation.
Where: The Lightbox, Chobham Road, Woking, Surrey, GU21 4AA
When: 25-28 Jul, 11am-5pm
Need to know: Suggested donation £2. Aquarium & comic workshop £8 per child, book in advance.
Powering ahead
What: Get your game face on as Power Up! is back at MOSI for 2017 with over 160 consoles showcasing the most popular video games from the past 40 years. Covering everything from Pong and Pacman to Minecraft and Mario, you can also have a go at creating the next Mario theme tune or coding a new superhero with Power Up! workshops to build an 8-bit game tune or create your own BBC Basic character.
Where: Museum of Science and Industry, Liverpool Road, Manchester M3 4FP
When: 11-28 Aug, 10.15am-3.15pm
Need to know: Tickets £5 per 90 minute session. Workshop £6 per person.
Into the woods...
What: Get your teeth into this immersive adaptation of one of the Brothers Grimm's most beloved stories complete with a life-size edible gingerbread house. Set in the grounds of Covent Garden's St Paul's Church, it follows Hansel and Gretel as they travel deep into a dark, forbidding forest. Look carefully in the shadows and you might glimpse a figure in a red hood chased by a wolf, or a witch's hut standing tall on chicken legs...
Where: St. Paul's Church, Covent Garden, London, WC2E 9ED
When: 3 Aug-3 Sep, 2.30pm & 7pm
Need to know: A family ticket costs £55. Preview tickets (3-6 Aug) £12 per person.
Go robotic
What: Visit Eureka! The National Children's Museum in Halifax, for digiPlaySpace, a totally interactive digital art, gaming and technology exhibition all the way from Canada! Use digital animation to make a dance video, build your own robot and make it move and test your coordination skills to control your own beam of light; whatever the weather, the Big Summer festival includes opportunities for everyone to try their hand at coding, animation and more with a changing programme of hands-on tech activities and workshops. 
Where: Eureka! The National Children's Museum, Discovery Road, Halifax HX1 2NE
When: 8 July-31 December 2017
Need to know: Annual tickets are £12.95 per person for a year; children aged 1-2 pay £5.25. Parking is £3 for four hours.
Big beasts
What: Come face-to-face with incredibly life-like, moving dinosaurs at ZSL London Zoo's Zoorassic Park, from the giant but gentle Brachiosaurus to the towering Tyrannosaurus Rex. Launching with a weekend of free live shows hosted by CBeebies Andy Day, you can grab your passport for a trip on a time-travelling safari taking in the fascinating creatures, as well as learning all about the important work ZSL's conservationists are doing to help prevent today's animals from becoming extinct.
Where: London Zoo Regent's Park London NW1 4RY
When: 22 Jul-3 Sep (Live shows 22-23 July), 10am-4pm
Need to know: Family ticket from £75.80.
Be beside the seaside (when you're not)
What: Have some good old fashioned fun with traditional games (everything from a coconut shy to flamingo croquet) and Great British Seaside crafts activities at the award-winning Lion Salt Works Museum, near Northwich. Borrow a Salt Squad Explorer Backpack and find out more about salt-making in Cheshire, which dates back over 2,000 years to when the salt towns were first established by the Romans. 
Where: Lion Salt Works, Ollershaw Lane, Marston, Northwich, Cheshire CW9 6ES 
When: Let's Go to the Beach: 22-23 August, Traditional Games Weekend: 27-28 August
Need to know: Family ticket (adult and two children) £16.40. The Museum's Tuesday and Wednesday activities take place between 10.30am-1pm and 2-4.30pm and are free but there is a suggested donation of £1.50. Visitors do not have to pay to go into the Museum to take part in these events. Drop-in activities are suitable for young visitors aged up to 11. 
Go conkers!
What: Enjoy seven weeks of summer holiday activities including magic, puppetry, fun, science, bushcraft, outdoor activities and more at Conkers, an indoor and outdoor playground set in an 120 acre woodland site in deepest Derbyshire. From punch and judy to the bubble man, there's a huge range of activities each day as well as the outdoor play area, enchanted forest, wobbly bridges, assault course, fairy labyrinth, Rolls Royce maze, high and low rope course and barefoot walk.
Where: Conkers, Rawdon Road, Moira, Nr. Ashby-de-la-Zouch, Derbyshire DE12 6GA
When: 15 Jul-3 Sep, 10am-6pm
Need to know: Events free with admission. Family ticket costs £36.
Viking crafts
What: Discover the 1,000 year old human innovations that built a vast empire and a flood of intercontinental migration with this new Viking exhibition at the Herbert Art Gallery. Learn more about the people who settled in Britain from excavated skeletons, and explore Norse myths and legends passed down through generations in the unique family friendly Viking settlement. See real examples of Viking crafts and a replica 15ft fishing boat, and have a go at craft workshops covering everything from stick loom weaving and minting coins, to making clay storage pots and Viking jewellery.
Where: Herbert Art Gallery, Jordan Well, Coventry CV1 5QP
When: 21-26 Aug, 10.30am-3.30pm.
Need to know: Exhibition free. Workshops £2 per child.
Flying high
What: Grab your kite and head to Dunstable Downs and you could be part of a two-day kite-ing extravaganza! Join in with giant kites in the shape of bears, tigers and stars as they float across the sky and watch performances by expert display teams.
Where: Chilterns Gateway Centre, Dunstable Road, Whipsnade Road, Dunstable, Beds LU6 2GY
When: 29-30 July, 11am–5pm
Need to know: Free. Car park costs £2.50.
Victorian values
What: Meet "Queen Victoria" and all 42 of her grandchildren at Audley End in Essex. Discover innovative inventions and tremendous toys and make sure to watch out for the sneaky assassins trying to claim the prize on Queen Victoria's head!
Where: Audley End House and Gardens, Off London Road, Saffron Walden, Essex, CB11 4JF
When: 24-28 Jul, 11am-5pm
Need to know: Event free with admission. Family ticket £45.50.
Maritime mystery
What: See if you can solve a polar puzzle in Greenwich with a new exhibition looking into the fateful voyage of Sir John Franklin. Sailing from England in 1845 in search of the North-West Passage, all 129 members of his crew perished in a mystery that has endured for over 150 years. Following the recent discovery of their ships, new artefacts are displayed for the very first time. Was it starvation, madness or even cannibalism? What did happen to him and his crew?
Where: National Maritime Museum Park Row Greenwich London SE10 9NF.
When: 14 Jul–7 Jan, 11.30am-4pm
Need to know: Tickets £9.60 adult, £4.80 child.
Pop masters
What: Immerse yourself in the world of artist's atéliers at London's Royal Academy of Arts as you travel through textiles inspired by their current Matisse exhibition. Print patterns from around the world like a master of motifs and just add colour at this family friendly workshop exploring the grand designs of artists at work.
Where: Royal Academy of Arts, The John Madejski Fine Rooms, Burlington House, Piccadilly,
London, W1J 0BD
When: 13 Aug, 11am-3pm
Need to know: Workshops suitable all ages, free, drop in.
Time-travelling transport
What: Explore more than 800 years of history at Beaulieu this summer. Find out the importance and history of falconry before watching the magnificent birds of prey in action, enjoy playing traditional Victorian games and puzzles on the lawn and watch veteran and vintage vehicles on display complete with drivers in period costume – or even dress up as a monk to explore the medieval Beaulieu Abbey!
Where: Beaulieu, New Forest, Hampshire SO42 7ZN
When: 22 Jul-3 Sep, 11am-6pm
Nuture nature
What: Time to go animal crackers at Wolverhampton Art Gallery. Take a look at the amazing photos on show in the Wildlife Photographer of the Year Exhibition and then meet The Animal Man and the fascinating creatures in his mini zoo, have your face painted like your favourite animal and make an animal model to take home. You can also dress up, follow the animal trail and make an animal mask.
Where: Wolverhampton Art Gallery, Lichfield Street, Wolverhampton WV1 1DU
When: Animal fun day 22 Jul, 11am-3pm. Exhibition from 22 Jul-1 Oct.
Need to know: Fun day £5 per child. Exhibition costs £4 adults, £2 child, family tickets £10.
Prom, prom, prom
What: Fancy the chance to perform on the stage of the Royal Albert Hall? Well thanks to these workshops and special performances you could practise with professional musicians as part of The Proms Family Orchestra & Chorus. Whether you play an instrument or sing, whether you're a novice or a virtuoso, you could be joining in the chorus!
Where: Imperial College Union, Beit Quadrangle, Prince Consort Road, London SW7 2BB
When: 16 Jul, 2pm; 28 Jul, 5.45pm; 17 Aug, 4.45pm; 27 Aug, 1.15pm; 3 Sep, 11.15am; Event playing on stage at Royal Albert Hall 6 & 12 Aug, 10am
Need to know: Free. First come first served. Doors open 30 mins before event. Suitable for 7+. For event on 6 & 12 August register online.
Aquatic aliens
What: Boldly go where you've never been before at the National Marine Aquarium and discover the deep sea world of Ocean Aliens! Uncover the weird and wonderful creatures that live down in the deep, from Vampire Squid to glowing jellyfish. Become a sea explorer as you learn about the challenges of the deep ocean, what can be found there and how humans use the deep sea. You can also follow the cosmic creature trail around the building.
Where: National Marine Aquarium, Rope Walk, Coxside, Plymouth PL4 0LF
When: 27 Jul-3 Sep, 10am-5pm
Need to know: Events free with admission, family ticket costs from £44.55 online.
Night-time nature
What: Experience the wild side of WWT London Wetland Centre with some night adventures: build dens in the camp, explore the centre with your senses, listen to wildlife and look for bats and other nocturnal animals. If it's a clear night you'll learn how to recognise stars in the night sky and toast marshmallows round the campfire.
Where: London Wetland Centre, Queen Elizabeth Walk, London SW13 9WT
When: 4,11, 18, 25 Aug, 7-10pm
Need to know: Suitable for 7+. Price per child including one accompanying adult: £22.50. Booking essential.
Supersize sculpture
What: Immerse yourself in an imaginative world of sculpture making with these large scale organic outdoor workshops. Will you make an enormous cartoon character or a mythical monster, a sculpture that could be from another world or something that celebrates shape and pattern? Let your imagination guide you as you choose from branches, stones, pipes and other found building material.
Where: Yorkshire Sculpture Park, YSP Centre, West Bretton, Wakefield WF4 4LG
When: 25 Jul-29 Aug, times vary
Need to know: £3 per person. Each session lasts approx. 1hr. Please wear sturdy footwear, outdoor clothing and sun protection, if needed. Children must be accompanied by an adult
Science of shrubs
What: Get stuck into some ground-breaking science that takes place behind the scenes at Kew Gardens. With activities, games and interactive experiments focusing on the importance of conserving the world's plant biodiversity, you'll be able to extract genes from vegetables and find out how teams from Kew use them to uncover plant secrets, learn about different plant dyes and where they come from and get to grips with the latest 3D scanning technology to scan and record trees in the wild.
Where: Royal Botanic Gardens, Kew Road, London TW9 3AB
When: 4-6 August, 10am-6.30pm
Need to know: Family ticket from £32 online.
Much ado about puffin
What: Can you help out with Project Puffin and help save this special seabird from extinction? Visit one of the key puffin-spotting sites in July and become part of the Puffarazzi by taking a picture of a puffin with food in its bill and uploading it to the website. This will help the RSPB learn more about what's causing puffin numbers to plummet – so get snapping today!
Where: Selected coastal RSPB and nature reserves across the UK
When: July only
Need to know: Don't get too close to a puffin or spend too long taking a photo. Never walk over a puffin burrow and do not put yourself at risk. Only take a picture of a puffin with a fish in its beak and make a note of the date, time and location of your photo.
Knight time!
Where: Experience an all-action medieval contest as four teams of knights battle it out for victory armed only with clubs and shields or bows and swords in Northumberland. You can also soak up the atmosphere in the medieval encampment as food cooks over an open fire, colourful banners flutter and musicians play before having a go at dressing up, dancing and mastering a battle drill too.
Where: Belsay Hall, Castle and Gardens, Belsay, Nr Morpeth, Northumberland, NE20 0DX
When: 22-23 July, 26-28 Aug & 24 Jul-3 Sep, 11am-5pm
Need to know: Family tickets from £30.60.
Disease Detective
What: Find out if you've got what it takes to be a disease detective at the Thackray Museum in Leeds. Explore the galleries to find out about Louis Pasteur, Alexander Fleming, Edward Jenner and Robert Koch and then put on a virtual reality headset and take a journey of discovery inside the human body. Use real medical instruments, including an ultrasound and an endoscope, to see inside the body and play a giant game of Operation.
What: Thackray Museum, 141 Beckett Street, Leeds, LS9 7LN
When: 24 Jul-1 Sep, 11am-3pm
Need to know: Family ticket £24.50, under 5s free
Go fish!
What: National Fishing Month begins on 22nd July this year and aims to encourage everyone to pick up a rod and wait for a nibble. Find a qualified coach at a free angling event near you to show you how to get hooked on the sport too.
Where: Various locations throughout the UK.
When: 21 Jul-3 Sep, times vary.
Need to know: Coaching and entrance fees should be free. There may be charges for tackle.
Mud larks
What: Created by a panel of mini 'mud experts', this one-mile-long obstacle course for children will challenge even the toughest new recruit. Each of the 10 tough obstacles aims to encourage the participants to explore their adventurous side and have fun together while experiencing the power of teamwork and includes the Tunnel of Terror, Mount Mud and Secret Agent Squeeze. Come and have a go if you think you're hard enough!
Where: Mini Mudder courses held at various locations and times throughout the UK
When: 29-30 July (Yorkshire), 19-20 August (South West)
Need to know: Tickets cost £10 children and £10 spectator. Suitable for 7-12 years (42 inches tall).
Bunny brilliant!
What: Bunnies will be bouncing all over the River & Rowing Museum this summer, as Beatrix Potter's Peter Rabbit hops, skips and jumps right off the page into a new exhibition. Including original artworks, first editions and early Peter Rabbit merchandise, you can help Mrs Tiggywinkle hang up the laundry, visit Mrs Rabbit in her burrow, dress up as Peter and even plant carrots in Mr McGregor's garden before curling up with one of the books in the story corner.
Where: River & Rowing Museum, Mill Meadows, Henley on Thames, Oxfordshire, RG9 1BF
When: 24 Jun-24 Sep, 10am-4pm
Need to know: Events free with admission. Adult £12.50, child £9.95. Under 4s free.
Medieval mayhem
What: Immerse yourself in the sights, smells and excitement of the Middle Ages in the fairy-tale setting of Herstmonceux Castle. Now in its 25th year, England's Medieval Festival features jousting, archery, traditional crafts and music, hands-on demonstrations and realistic historical battles. There's plenty for children too, with wandering wizards, jesters, knights, dragons and princesses and drum-, sword- and axe-throwing schools, Robin Hood forest adventures, puppet theatre shows, medieval skittles and crafts, campfire storytelling and star-gazing on offer.
Where: Herstmonceux Castle, East Sussex BN29 1RN
When: 25-28th August
Need to know: Family day tickets from £46 / Family weekend tickets from £250
Make a splash
What: Discover the wonders of water with an expert-led pond dipping session in Hyde Park's private pond and see if you can spot a newt or dragonfly nymph. You can also make a paper plate frog, craft a wild water creature and follow a nature trail through the park while learning some watery wisdom.
Where: Royal Parks Education Centre, Hyde Park, London, W2 2UH
When: 9-10, 23-24 August, 11am-3pm.
Need to know: Suggested donation £2. Booking not necessary.
Wild at heart
What: Discover the wondrous #WolvesinWolves2017, the largest public art event ever to take place in the city of Wolverhampton, with the arrival of 30 wolf sculptures located in and around the city centre. Download the online map and see if you can find them all to win a mini wolf of your own.
Where: Dotted around the city of Wolverhampton
When: 5 Jul-24 Sept
Need to know: Download the online trail map (or pick up one from Wolverhampton Art Gallery or central library) and see how many of them you can track down...
Jurassic larks
What: Don't miss Dino Jaws at Newcastle's Life Science Centre, featuring life-size animatronic dinosaur heads – including the terrifying T-Rex! Explore the subject of dinosaurs and their food and unearth your crafty skills with a different dinosaur-themed activity each week including designing your own model or moving dinosaur, making a dinosaur silhouette or costume or even making your dinosaur come to life with animation.
Where: Life Science Centre, Times Square, Newcastle upon Tyne, NE1 4EP
When: 22 Jul-3 Sep, Mon-Sat 10am-5pm, Sun 11-5pm
Need to know: Free with admission. Exhibition for over 8s only. Family ticket costs £25.
Festival fun
What: Celebrate the great outdoors at this dedicated children's festival in Brighton, with some tree climbing lessons, circus skills, interactive treasure hunts, mosaic making and bushcraft lessons before unwinding with some tall tales in Story Hollow. If rain stops outdoor play, there are also hip hop classes, kids' yoga, pottery and poetry indoors.
Where: Proud Country House, Stanmer Park, Brighton, East Sussex BN1 9QA
When: 1 Jul-17 Sep, 10am-5pm
Need to know: Activities cost from £5-20 per child.
Puppet power
What: You'll be pulling the strings at this range of cool puppet-making workshops in Norwich. Choose from workshops to make big cats, ninjas or giants or go for one of their new whole-day advanced puppet-making workshops, looking at each puppet type (rod, glove and string) in more depth and adding more detail to the design and make.
Where: Norwich Puppet Theatre, St James Whitefriars, Norwich, Norfolk NR3 1TN
When: Workshops 16 Aug, ninjas; 23 Aug, giants; 29 Aug, big cats. Advanced sessions 2-4 August
Need to know: Workshops £9.50. Advanced workshops £18 or £50 for three. Call to book.
Fishy fun
What: Looking for some supersized family fun? Then set off on an art adventure at Tate St Ives. Explore drawing from memory and create giant paintings with brushes on sticks and squeezy bottles or take part in the Great Aquarium Adventure and make fabulous models and new environments for some special aquatic friends!
Where: Tate St Ives, Porthmeor Beach, Cornwall TR26 1TG
When: 29 Jul-3 Sep, 10am-4pm
Need to know: Free.
Messing about in boats
What: Set sail with this shipshape festival at Portsmouth Historic Dockyard. Enjoy boat and rowing displays, catch music and sea shanty performances and have a go at traditional skills like boat building, wood working, wool spinning and tapestry as well as learning more about maritime archeology and the secrets of Tudor shipwrights.
Where: Boathouse 4, Portsmouth Historic Dockyard, Visitor Centre, Victory Gate, HM Naval Base, Portsmouth PO1 3LJ
When: 4-6 August, 10am-5pm
Need to know: Free entry but register online.
All the world's a stage...
What: Take a seat at a family storytelling festival with a difference, Shakespeare's Telling Tales, held in the stunning setting of Shakespeare's Globe. Hear tales told by candlelight and watch events with leading children's authors including Michael Morpurgo, Patrick Ness and Holly Smale. Enjoy creative workshops exploring poetry, writing, illustration and Shakespeare's plays including Henry V and A Midsummer Night's Dream.
Where: Shakespeare's Globe, 21 New Globe Walk, Bankside, London SE1 9DT
When: 28-30 July, 10am-6pm
Need to know: Tickets and times vary by event.
Journey to India
What: This holiday, head to the Horniman for a real Indian summer filled with installations, music, dance, photography and exhibitions covering everything from sari draping to Benghal tigers. There's plenty for kids too, with weekly storytelling, dance, music and art culminating in a traditional Indian Mela, a fun day of performances and activities inspired by popular South Asian festivals and celebratory traditions including a spectacular gathering to recreate a Holi festival colour throw.
Where: Horniman Museum, 100 London Road, Forest Hill, London SE23 3PQ
When: 3 Jul-4 Sep, 10.30am-5.30pm
Need to know: Admission to museum and garden is free.
Watch with mother
What: Meet some much-loved children's television characters at Ipswich Art Gallery, thanks to this touring exhibition showcasing the work of animators Oliver Postgate and Peter Firmin. Snuggly old cloth cat Bagpuss, the Soup Dragon and Noggin the Nog will all be there as you learn how the animators developed their own stop-frame animation techniques. Be inspired by the lunar landscapes of The Clangers and the rolling Welsh countryside of Ivor the Engine to design your own cartoon set and characters to create puppet theatre-style moving pictures.
Where: Ipswich Art Gallery, 1 Upper High Street, Ipswich
When: Exhibition: 17 Jun–29 Oct, Tues-Sun, 10am-5pm Workshop: 2 Aug, 10.30am, 1pm & 2.30pm
Need to know: Exhibition free. Workshop £3.30 per child. Book online in advance.
Here be dragons
What: Uncover the myths and legends behind the humble dragon in this exhibition looking at the portrayal of the mythical fire-breathing beast in literature, film and art. Featuring images created by some of the UK's best children's illustrators and writers, from EH Shepard and Alex Scheffler to Quentin Blake and Cressida Cowell, you can also enjoy dragon events, workshops and storytelling sessions.
Where: Victoria Art Gallery, Bridge Street, Bath, BA2 4AT
When: 22 Jul-8 Oct, 10.30am-5pm
Need to know: Costs £4 adults, under 16s free.
You shall go to the ball(et)
What: Get ready to sit back and enjoy everyone's favourite rags-to-riches story, in this new version of Cinderella specially designed for children. A collaboration between English National Ballet and English National Ballet School, this shortened version of the Prokofiev classic has a narrator to help the audience follow the story and is a perfect introduction to the magic of ballet.
Where: The Peacock, London; Manchester Opera House.
When: 22-30 Jul
Need to know: Family ticket costs £65. Individual tickets £20.
Snap happy
What: Enjoy a celebration of the Victorian era in Kent, the heyday of the original owners of Quex Park Major Percy Powell-Cotton and his family. Discover the history of photography and explore different ways images can be created, from making a cyanotype and creating your own camera obscura to using a modern digital camera.
Where: Powell-Cotton Museum, Quex Park, Park Lane, Birchington, Kent CT7 0BH
When: 1 Aug-1 Sep, 11am-12.30pm & 1.30-3pm
Need to know: Adults £8.95, children £6.50 (includes admission to museum, house and gardens).
Dinosaurs untamed
What: Take a trip back into prehistory with Dinosaurs in the Wild, a special show featuring a cool mix of theatre, ride and the latest palaeontological knowledge. You'll be able to come face to face with living dinosaurs as they've never been seen before and thanks to the latest audiovisual effects and dramatic storytelling; it makes you feel as if you could just reach out and touch them...
Where: NEC Birmingham, Birmingham B40 1NT
When: 24 Jun-23 Aug, 9.30am-5pm
Need to know: Family ticket costs from £23.75 online.
Who dung it?
What: Take a trip to York's historic Barley Hall this summer and learn all about the muckier side of archaeology. You'll be able to discover how human waste is used to solve ancient mysteries and have a go at making your very own replica poo!
Where: Barley Hall, 2 Coffee Yard, Off Stonegate, York , YO1 8AR
When: 29-30 July, 10am-2pm
Need to know: Free with admission. Family ticket costs £15.
Sound and vision
What: Make some serious noise for STOMP, the inventive stage show that blends dance, theatre and music into one electrifying performance. First performed at the Edinburgh Fringe in 1991, the show that hammered out a universal language of rhythm on everyday objects like plastic bags, bin lids and even a kitchen sink has been performed to more than 12 million people worldwide and still continues to thrill.
Where: The Ambassadors Theatre, West Street, London WC2H 9ND
When: Until 15 April 2018, 3pm, 6pm & 8pm
Need to know: Tickets from £26.50 online.
Mammoth make
What: Be inspired by prehistoric times when massive beasts roamed across the Cotswolds, and create your own woolly mammoth or sabretooth cat and mammoth Ice Age backdrop to take home at these fun crafty make-and-do sessions.
Where: Corinium Museum, Park Street, Cirencester, Gloucestershire, GL7 2BX
When: 16 & 24 August, 10-11am
Need to know: Workshop costs £2.50 per child. Drop in.
Let it glow
What: See the ocean in a whole new light at Sea Life Brighton's Octo-Glow Explorers event this summer. CBeebies' most intrepid ocean explorers will be inviting you to become honorary members of the Octonauts crew and join their special mission to uncover the secret world of glow in the dark sea creatures. Visit Shellington's Octo-Glow Lab and take part in a range of interactive activities to discover how creatures of the deep use light to hide from predators, attract their prey and even talk to each other.
Where: SEA LIFE Brighton, Marine Parade, Brighton East Sussex BN2 1TB
When: 22 Jul-1 Sep, 10am-5pm
Need to know: Event free with admission. Tickets from £10.50 online.
Routes of knowledge
What: Play the game of life at London's Wellcome Museum with their Play, Push or Relax routes through the building. The Play trail looks at the light-hearted parts of being human where you can get competitive with 19th century board games, see inside a transparent woman or GIF yourself a break in their interactive photo booth. The Push trail is more intense: challenge yourself by locking horns with deer antlers chosen by Chris Packham, get wrapped up with a Peruvian mummy or even slice and dice on a digital autopsy table. Or you can take the Relax trail to help you unwind: smooth out your knowledge about massage tools, find your way with a feng shui compass or recline on a Freudian couch and share how you feel.
Where: Wellcome Collection, 183 Euston Road, London NW1 2BE, UK.
When: 22 Jul-3 Sep, 10am-6pm
Need to know: Free entry.
Healthy history
What: Find out how to keep yourself well Roman-style at Segedunum Roman Fort. Experience the flavours of the Empire with merchant Flavius Crispus, chat with him about his favourite recipes and have a go at making Roman street food and taste authentic Roman flavours in Flavius' game of chance called What's In That? You can also meet Alexandros, a Greek surgeon, and learn how to keep yourself healthy in Roman Britain, as well as finding out about the latest surgical techniques employed during the period.
Where: Segedunum Roman Fort, Buddle Street, Wallsend NE28 6HR
When: 29 July, 11am-3pm
Need to know: Under 16s free. Adults £5.95.
Summer holidays 2017 family activities in Scotland
Quick on the draw
What: Join illustrators Ehsan Abdollahi, Frann Preston-Gannon, Kristina Stephenson and Elissa Elwick in a 'Big Draw' for children of all ages, from tiny tots to budding young artists. Part of Edinburgh International Book Festival, you'll get the opportunity to explore the effects of colour, decorate your own caveman, make a medieval mural and create a giant garden frieze.
Where: Edinburgh International Book Festival, 5A Charlotte Square, Edinburgh, EH2 4DR
When: 14 Aug, 11-1pm & 2.30-4.30pm; 18 Aug 2.30-4.30pm; 27 Aug, 2.30-4.30pm
Need to know: Free, drop-in.
Take flight
What: Sky's the limit at Scotland's National Museum of Flight this summer. From Cold War to hot holidays and birds to bombers, all the activities cover everything about flight – you can explore the trails, handle real artefacts, learn how aviators do their jobs and even take a spy-themed selfie.
When: 24-28 July (Cold War theme); 7-11 Aug (Hot Holidays theme), 10am-5pm
Where: National Museum of Flight Scotland, East Fortune Airfield, B1347, North Berwick EH39 5LF, UK
Need to know: Activities free with admission. Family ticket costs £31.
Build on it
What: Come along to Historic Scotland's Engine Shed, Stirling and explore old buildings in a completely new way! Every week there's a different building-related theme: you'll be able to use microscopes to look at different stone samples, work in stone and meet stonemasons to hear more about their work, make a 'stained glass' creation or create your own masterpiece with glass painting or be transported across the world with virtual reality headsets.
When: 24 Jul-19 Aug, 11am-12pm & 2-4pm
Where: The Engine Shed, Forthside Way, Stirling, FK8 2BY
Need to know: Free activities. Book in advance.
Astronomical adventures
What: Take a stellar journey of discovery at Dundee Science Centre and learn more about the science of rockets and space. Get hands-on with an amazing exhibition about the modern age of space travel and big telescopes – find out why we travel to space, how rockets manage to get us there, explore a martian landscape and even see some real moon rocks.
When: 29 Jun-10 Sept, 10am-5pm
Where: Dundee Science Centre, Dundee DD1 4QB
Need to know: Interactive shows starts 30 June. Free with admission.
Comic capers
What: Become a superhero for the day with Kelvingrove's new exhibition Frank Quitely The Art of Comics. The alter ego of Glasgow born artist Vincent Deighan, Frank Quitely is synonymous with iconic characters such as Superman, Batman and The X-Men. You can also see original artwork comic book legends Frank Millar and Neal Adams, as well as an original Batman comic strip by Batman creator Bob Kane before discovering how a comic page gets drawn, creating your own superhero costume and getting your photo taken with Superman flying overhead!
Where: Kelvingrove Art Gallery & Museum, Argyle St, Glasgow G3 8AG
When: 22 Jul-1 Oct, 11am-5pm
Need to know: Family ticket £15.
Pole position
What: Keep cool this summer at Edinburgh's Dynamic Earth with a whole host of polar-themed activities for all the family. Get your hands on a real iceberg, find out how drones are used in polar research and pilot one for yourself and experiment to see how penguins stay warm in the extreme cold. With the help of a green screen photo booth and some polar expedition kit, you can also take an Antarctic selfie with some cuddly penguin pals.
When: 1 Jun-28 Aug, 10am-4pm
Where: Our Dynamic Earth, Holyrood Rd, Edinburgh EH8 8AS
Need to know: Activities free with admission. Adult £13.50, child £8.55.
Brock 'n' roll
What: Go badger watching with a difference in Glasgow's Clyde Valley. Famous for its spectacular waterfalls as well as its badgers, you can go on safari through the woodland reserve with the Ranger in their 4X4 to within five minutes of the sett and be pampered with blankets, after watch drinks and a souvenir. You can also go by foot, following the 45-minute trail to the badger viewing area, spotting bats and other nocturnal animals on the way...
Where: Falls of Clyde Visitor Centre, The Dyeworks, New Lanark, ML11 9DB
When: Badger watch, 22, 29 July, 12, 19 Aug. Badger safari, 5 & 26 August, 7-10pm
Need to know: Suitable for 8+, watch costs adult £10, child (8+) £5. Safari costs £25 per person. 
Monster fun
What: Get your creature comforts with this fun Edinburgh Festival adaption of Julia Donaldson's The Gruffalo's Child. Join the Gruffalo's daughter on her adventurous mission into the deep, dark wood in this magical, musical adaptation of the classic picture book. Because the Big Bad Mouse doesn't really exist... does he?
Where: The Grand, Pleasance Courtyard, 60 Pleasance, Edinburgh EH8 9TJ
When: 2-20 August, 10.30am
Need to know: Tickets range from £7 to £11.50 depending on date and time.
Summer holidays 2017 family activities in Wales
A big Brecon birthday
What: Celebrate the 60th Anniversary of the mighty Brecon Beacons National Park with this supersize birthday party. Pick a venue, bring a picnic and have a go at decorating a celebration cupcake, going orienteering, trying out caving, braving the zip wire, geocaching and looking through a solar telescope.
When: 30 July, 11am-3pm
Where: Craig y Nos Country Park, Pen y Cae, Swansea Valley SA9 1GL & National Park Visitor Centre, Libanus, Brecon LD3 8ER
Need to know: Free activities but book in advance at the information desk.
Medieval madness
What: Enjoy a jam-packed weekend of activities at Beaumaris Castle. Knights will do battle, jesters and musicians will entertain, and the townsfolk will demonstrate what normal life was like in medieval Wales with crafts, games, armoury talks, archery displays, sword fighting, falconry, medieval style music and more. You can even join in with the dragon land speed record! When: 26-28 Aug, 10am-5pm
Where: Beaumaris Castle, Castle Street, Beaumaris LL58 8AP
Need to know: Family ticket from £19.30.
Home on the range
What: Become a Wildlife Ranger this summer at WWT Llanelli. Complete your training by learning how to identify animal, bird, bug and pond life then go on a wetland canoe or mountain bike trail to put your new skills into action. You can also make your very own souvenir to take home with you at craft corner.
Where: WWT Llanelli, Llwynhendy, Llanelli, Carmarthenshire, SA14 9SH
When: 22 Jul-4 Sept, 11am-3.30pm
Need to know: All events included in admission. A family ticket costs from £24.11
Dig for dinos
What: Discover the world's most amazing finds of dinosaur eggs and embryos in National Museum Cardiff's Dinosaur Babies exhibition. With full-size dinosaur skeletons and replicas, touchable models of dinosaur embryos and eggs, and even a huge 2.5 metre dinosaur nest, you can learn about dinosaur family life, identify eggs from different dinosaurs, find out about palaeontologists and their dinosaur discoveries and even try out your skills in the 'Big Dig Pit'.
When: 27 May- 5 Nov, 10am-4pm
Where: National Museum Cardiff, Cathays Park, Cardiff CF10 3NP
Need to know: Family ticket to exhibition costs from £13. Entry to museum free.
Exterminate your boredom
What: After five time-travelling years Cardiff's Doctor Who Experience is closing its doors in autumn, so this is your last chance to catch the Time Lord in action. The interactive adventure features the Twelfth Doctor (Peter Capaldi) and includes a trip to the Gallifrey Museum featuring the world's largest collection of Dr Who props, sets and costumes. You can also take a trip with the filming location tours, showcasing memorable Dr Who locations around Cardiff Bay.
When: 22 Jul-3 Sep, 10am-5pm
Where: The Doctor Who Experience, Discovery Quay, Porth Teigr, Cardiff Bay, Cardiff CF10 4GA
Need to know: Family ticket from £41 online.
It's a gas!
What: What different gases make up the earth's atmosphere? How can these gases be used to help us? What happens when we cool these gases? Find out the answers to these questions and more at Techniquest's Air-mazing new summer show and be prepared for science demonstrations that will blow you away!
When: 22 Jul-3 Sep, 10am-5pm
Where: Techniquest, Stuart Street, Cardiff CF10 5BW
Need to know: Family ticket from £25 online.
Roamin' Romans
What: Find out about Roman life at Castell Henllys Hillfort in Pembrokeshire. You can have a go at making some traditional Roman pottery, bake some Roman-style bread and learn about the cunning battle tactics of a Roman soldier.
When: 27 Jul, 3, 10, 17, 24 & 31 Aug, 11am-1pm & 2-4pm
Where: Castell Henllys, Meline (near Crymych), Pembrokeshire SA41 3UR
Need to know: Family ticket £15, activities £1.
Fromage homage
What: Head for the South Wales town of Caerphilly this summer for The Big Cheese, a free three-day extravaganza celebrating the cheese-making town's history and tradition with street entertainers, falconry, living history encampments, music, dance, traditional funfair, craft stalls and a food hall too. The whole event kicks off with a fancy dress relay race carrying a Caerphilly cheese around the grounds of Caerphilly Castle, which becomes the backdrop to an amazing firework display once night falls.
Where: The Big Cheese Festival, Owain Glyndwr Playing Fields, Crescent Road, Caerphilly, Mid Glamorgan, CF83 1JL
When: 28-30 July, Fri (3-10pm), Sat & Sun (11am-7pm)
Need to know: Event is free. Additional charges for funfair rides etc.
Summer holidays 2017 family activities in Northern Ireland
Heroic holidays
What: Grab your cape and head to Armagh Planetarium, as The Heroes and Legends Show returns once again this summer. Meet some of the most iconic characters from your favourite movies including Harry Potter, Spiderman, Star Trek, Ghostbusters, Star Wars and Aliens. There will also be life-sized sets and props on exhibit, so don't forget to take your camera!
When: 5-6 Aug, 10am-5pm
Where: Armagh Planetarium, College Hill, Armagh, Co. Armagh BT61 9DB
Need to know: Costs £3.50 per person
Go batty!
What: Visit Batty Bonanza at County Londonderry's Springhill House and enjoy an exciting night of nature fun for all the family. You'll be able to learn more about the bats that make their home in and around Springhill and make something batty to take home.
When: 11 Aug, 7.30-10pm
Where: Springhill House, 20 Springhill Road, Moneymore, Magherafelt, County Londonderry, BT45 7NQ
Need to know: Admission prices apply.
Flying high
What: Get ready for take off with Air Waves Portrush International Airshow. Taking place over two days against the spectacular backdrop of the Giant's Causeway and Dunluce Castle, it's Ireland's biggest air display. Alongside the aerial aircraft, including famous Red Arrows, there's tons to see and do at ground level with a wide range of attractions and activities, ranging from military history displays to funfairs.
When: 2-3 Sep, 10am-5pm
Where: Portrush, Belfast BT5 8AL
Need to know: Free
Block party
What: Join the world's best Lego builders at the Titanic Exhibition Centre for Bricklive, the UK's largest Lego exhibition and a must for Lego fans of all ages. Featuring international professional and amateur displays, special guests and live Lego launches, there are also have-a-go themed areas, including over one million Lego bricks to play with in the popular brick pits!
When: 3-6 August, 10.30am-6pm
Where: Titanic Exhibition Centre, Titanic Quarter, 20 Queens Road, Belfast BT3 9DU
Need to know: Tickets £21.75 per person
The Big Bang
What: Join time-travelling explorers at W5 Belfast's Big Bang Science Show. After a crash landing in a strange laboratory, they must find a way of producing enough energy to jump-start their malfunctioning time machine. Searching the lab for chemicals, gases and equipment, our explorers must attempt to create a series of energy releasing flashes, bangs and explosions!
When: 1 Jul-31 Aug, 11am-3.30pm
Where: W5, 2 Queens Quay, Belfast BT3 9QQ
Need to know: Free with admission. family ticket from £29.50.