26 fantastic activities for the May 2017 half term holidays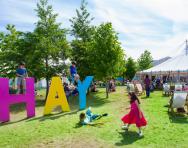 Go time travelling this half term with our selection of 26 educational adventures for you and your family – experience a medieval castle under siege, make a jumping frog with Charles Darwin or design your very own music festival...
May half term 2017 school holiday activities for children in Wales
Bonkers about books
What: Now celebrating its 30th year, the world famous Hay Festival returns to the Brecon Beacons bringing with it HAYDAYS (the kids' version of the famous literary extravaganza) and including such famous names as Cressida Cowell, Chris Riddell, Jacqueline Wilson, Judith Kerr, Anthony Horowitz and Michael Rosen amongst others.
Where: Hay-on-Wye, Dairy Meadows, Brecon Road, Hay on Wye, HR3 5PJ
When: 25 May-4 June, 10-5pm
Need to know: Cost of events vary. Book tickets online or call 01497 822 629.
Image: Hay Festival © Elisabeth Broekaert
Bony babies
What: They're celebrating a new arrival at the National Museum Cardiff this month – the first-ever Dinosaur Babies exhibition in Wales. Bringing together some of the world's most amazing finds of dinosaur eggs and embryos, the exhibition includes full-size dinosaur skeletons and even a huge 2.5 metre dinosaur nest! You'll be able to get up close to the dinosaurs, learn about their family life, work out how to identify eggs and even become a palaeontologist by having a go in the 'Big Dig Pit'.
Where: National Museum Cardiff, Cathays Park, Cardiff CF10 3NP
When: 27 May-5 November, 10am-6pm
Need to know: Family ticket costs £17.
May half term 2017 school holiday activities for children in England
Medieval mayhem
What: Step back in time and find out what 12th century life was like in a Norman castle under siege at this three-day spectacular in West Sussex. Celebrating the 950th anniversary of Arundel Castle, you'll discover the importance of artillery and witness skirmishes between English and French soldiers, as well as learning more about the crafts, costumes and armour of the period.
Where: Arundel Castle, Arundel, West Sussex BN18 9AB
When: 27-29 May, 10am-5pm
Need to know: Events free with admission. Family ticket costs from £53 online.
Cell of the century
What: Explore medical gore and more from the First World War with these science workshops held inside a cell-shaped pod suspended over the laboratories of the Blizard Institute. You'll be able to investigate the history of wartime medicine and innovation and see how this has influenced medicine today.
Where: Centre of the Cell, Blizard Institute, 4 Newark Street, Whitechapel London E1 2AT
When: 31 May & 2 June, 10am-12.15pm & 2-4.15pm
Need to know: Adults £7, children (3-15) £5. Book online or call 020 7882 2562.
Bright sparks
What: Spark Festival, Leicester's favourite children's festival, is back this month with a new crop of specially-designed theatre shows and workshops for 0-13s. We like the look of the Building Dance Show – an interactive building and dancing theatrical adventure featuring hundreds of cardboard boxes which are stacked, squashed and re-built to create enticing caves, precarious castles and fabulous creatures – as well as their cool stage combat workshop.
Where: Attenborough Arts Centre, PO Box 138, Lancaster Road Leicester LE1 7HA
When: Festival runs 18-30 May. Building Dance Show, 30 May, 1.30-2.25pm, 4-4.55pm. Combat Workshop, 31 May, 10am-12pm.
Need to know: Show £8 adults, £4 children. Workshop £6 per person.
Jurassic larks
What: Don't miss Dino Jaws, an amazing new exhibition at Newcastle's Life Science Centre featuring life-size animatronic dinosaur heads, including one of the terrifying T-Rex! Explore the fascinating, subject of dinosaurs and their food, from the notorious flesh-eating habits of raptors to the vegetarian tastes of Iguanodon. You can also explore fossil evidence and hands-on exhibits as well as gaining scientific insights into what and how dinosaurs ate.
Where: Life Science Centre, Times Square, Newcastle upon Tyne, NE1 4EP
When: 27 May-7 Jan 2018, Mon-Sat 10am-6pm, Sun 11am-6pm
Need to know: Free with admission. Family ticket costs £34.
Hearing about Hetty
What: Learn more about one of author Jacqueline Wilson's much-loved fictional characters at this new family-friendly Picturing Hetty Feather exhibition at London's Foundling Hospital. Discover Hetty's world through television props, rarely-seen archival items and hands-on activities and imagine what life was like for her and real-life foundling children. You can also have a go at making a miniature film set, and bring it to life with puppets of your favourite Hetty Feather characters at the drop-in workshop.
Where: The Foundling Museum, 40 Brunswick Square, London WC1N 1AZ
When: Exhibition 25 May-3 Sept. Workshop 30 May, 10:30am-12pm, 1-2:30pm & 3-4.30pm. Museum closed Mondays.
Need to know: Adult ticket from £9.50, under 16s free. Workshop free.
Rock, roll and read!
What: Fancy combing a good book with a boogie? Then head to Cheltenham for a music festival that has a children's literature festival hidden inside it! Expect to hear plenty of tall tales from kids authors and illustrators such as Philip 'beardy' Ardagh, Ali Sparkes, Steve Cole (reading from his latest Young Bond book) and Horrible Science illustrator Tony de Saulles – and that's all against a backdrop of music from bands such as The Buzzcocks, OMD and The Levellers.
Where: Wychwood Festival, Cheltenham Racecourse, Gloucestershire GL50 4SH
When: 2-4 Jun, 9.30am-11pm
Need to know: Weekend adult ticket from £140, £70 for 10-15 years and £27.50 for 5-9 years. A camping/vehicle pass is extra.
Secret gardens
What: Get out into the fresh air this spring and explore some stunning private gardens never seen before as part of this year's Red Cross Open Gardens scheme. Hundreds of homes will open their doors to the general public for a good cause and many are child-friendly, complete with mazes, trails and treasure hunts and in beautiful surroundings.
Where: Variety of venues across the UK
When: May-October, times vary
Need to know: Entrance fees support the Red Cross. Children go free at many venues.
The barmy British
What: Discover the horrible history of Britain in the gardens of Hampton Court Palace with this stage version of the classic Horrible Histories stories. Could you beat battling Boudicca? Will you lose your heart or your head to Henry VIII? Can Parliament survive gunpowder Guy? Would you stand and deliver to dastardly Dick Turpin? Escape the clutches of Burke and Hare and move to the groove with party Queen Victoria! It's history with the nasty bits left in!
Where: Hampton Court Palace, Surrey KT8 9AU
When: 27 May-3 June, 12 & 3pm
Need to know: Adult ticket £12, child £7 for show. (Ticket to show, Palace, maze and garden from £26 adult, £13 child.)
Play's the thing
What: Get set to tread the boards this holiday with a range of family-friendly workshops and activities from the Royal Shakespeare Company where you'll discover how actors make theatre whilst learning more about Shakespeare's plays. Covering everything from theatre skills to storytelling, you'll be able to learn how to create characters and scenes through movement, draft your own scene from Julius Caesar and even design your own manga Shakespeare character.
Where: RSC, Royal Shakespeare Theatre, Waterside, Stratford-upon-Avon, Warwickshire CV37 6BB
When: 30 May-2 June, times vary
Need to know: Workshops range in price from £2.50-£9. Some events are free.
Pirates on parade
What: Expect fun, games and a yo-ho-ho or two down in deepest Devon this half term. Budding young marauders will enjoy practising musket drills, going on a smugglers' quest, and hearing tales of the dastardly deeds that went on in Dartmouth Castle's swashbuckling past.
Where: Dartmouth Castle, Castle Road, Dartmouth, Devon TQ6 0JN
When: 28 May-2 June, 10am-5pm
Need to know: Events free with admission. Family ticket costs £17.20
Making music
What: Are you ready to rock? Well, head to London's V&A Museum this holiday for free making, performance and digital activities for all the family, inspired by their The Pink Floyd Exhibition: Their Mortal Remains. Explore unusual artworks created for iconic bands before designing an album cover and then, led by a music producer and promoter, work with other families to create your very own music festival!
Where: V&A Museum, Cromwell Road, London, SW7 2RL
When: 29 May-4 June. Festival workshop 10.30am-12pm & 2.30-4.30pm. Art workshop, drop in.
Need to know: Artwork workshop free, music festival workshop £8 per child.
Can you dig it?
What: Unearth some hidden secrets this half term with Victorian archaeologists in Northumberland. Find out about the tools used to excavate Roman discoveries near Hadrian's Wall, take part in activities to guess what the fragments they found actually were and see Roman objects and original archaeology on display. You can also take a tour with a Victorian time-traveller to the very area where many of the artefacts were discovered.
Where: Chesters Roman Fort and Museum, Chollerford, Hexham, Northumberland, NE46 4EU
When: 27 May-4 June, 10am-5pm
Need to know: Events free with admission. Family ticket costs £17.20.
Fringe fun
What: England's largest arts festival, the Brighton Fringe is back and this year features a record-breaking 970 events across a huge range of art forms from dance to music, literature and drama. There's plenty for kids too – take your pick from acrobatic swashbuckling pirate adventure 'Arr we there yet?', puppet rock band Defrosted or even training to be a super-villain at Doktor James' Akademy of Evil.
When: 5 May-4 June, times vary.
Where: Venues around Brighton.
Need to know: Prices vary with show, check website for details.
Home is where the art is...
What: Get ready to build, design and construct at London's V&A Museum of Childhood. You'll join the construction team in a series of workshops and activities inspired by the townscape of the Museum's new installation, Place (Village) by Rachel Whiteread – including creating your own illuminated house and designing your own block print townscape.
Where: V&A Museum of Childhood, Cambridge Heath Road, London E2 9PA
When: 29 May-2 June, 10am-5.45pm
Need to know: Workshops cost £5/£7 per child. Book on arrival.
Make a date with Darwin
What: Set sail on a voyage of exploration to Kent this holiday and get ready to meet Victorian naturalist and writer Charles Darwin and his wife Emma. Learn all about their life and work in Victorian England and hear tales of The Jumping Frog as told to the Darwin children, as well as making your own frog to race yourself.
Where: Down House, Luxted Road, Downe, Kent, BR6 7JT
When: 30 May-3 June, 11am, 12pm, 1.30pm, 2.30pm & 3.30pm
Need to know: Event free with admission. Family ticket costs £30.70.
Life's a beach
What: Brace yourself for some seaside shenanigans at this three-day family festival with a coastal theme in Liverpool. As well as food stalls and live music, from sea shanty choruses to acoustic performances, there's a full children's programme with Punch and Judy style puppet shows, funfair, on-site crafting van, planting workshops and bushcraft classes to boot.
Where: New Brighton Seaside Festival, Fort Perch Rock, Marine Promenade, Wirral CH45 2JU
When: 27-29 May, 10am-5pm
Need to know: Tickets £5 adult, £3 child.
Bath time
What: Learn how to make a Roman board game or merel at this half-term activity workshop at the Roman Baths. You can also check out their new East Baths area and immerse yourself in the sights and sounds of the bath house at the height of the baths' popularity. Watch, listen and step into the baths as they would have looked in the 1st-4th centuries, and see how Roman characters of all social classes would have mixed with each other in the unique working, living and leisure space.
Where: Roman Baths, Abbey Church Yard, Bath, BA1 1LZ
When: 27 May-4 June, 10am-4pm
Need to know: Events free with admission. Family ticket from £46.
I don't be-leaf it!
What: Get ready for some serious flower power in Hyde Park this holiday! You can craft a flower on a stick, get a little bit messy and finger paint a daisy bookmark or follow the discovery trail to uncover some fascinating flowery facts. Then visit the sensory wildlife garden to take a peek in the mini beast hotel before creating your own piece of nature by making a paper pot and planting a seed to take home.
Where: Education Centre, Hyde Park, London, W2 2UH
When: 31 May & 1 June, 11am-3pm
Need to know: Free. Suggested £1 donation. Book online in advance.
Great Victorian bake off
What: Ever wondered what a drop scone tastes like freshly cooked from a Victorian range? Well, head to one of the Bake Back in Time events at the Holst Birthplace Museum and find out! You'll learn all about baking in Victorian times as the cook works her way through the 1880's edition of Mrs Beeton's Shilling Cookery and sample a range of cakes and bakes including caraway seed cake and baked lemon pudding.
Where: Holst Birthplace Museum, 4 Clarence Road, Cheltenham GL52 2AY
When: 3 June 2017, 11-3pm
Need to know: Free with admission. Family ticket costs £12.
Animal magic
What: Enjoy an adventurous day out this half term at Port Lympne Reserve in Kent and discover spectacular prehistoric creatures in Dinosaur Forest, including the spine tingling Spinosaurus – the largest predator to walk the earth! You can also jump on board a safari truck to journey to the new South American Experience, and visit Kent's only spectacled bear pair, Oberon and Rina, the reserve's capuchin family and several new species including alpacas, Brazilian tapirs and capybaras.
Where: Port Lympne Reserve, Nr. Ashford, Kent, CT21 4PD
When: 27 May-4 June, 9am-5.30pm
Need to know: Events free wth admission. Family ticket costs from £70 online.
May half term 2017 school holiday activities for children in Scotland
Make waves
What: Discover the history of the North Sea this holiday with Aberdeen Science Centre's Silver City Stories, where you'll explore the living history of the sea, the museum and the surrounding area. From fishing industries to oil to renewable energy, you'll find out just how much the city relies upon the water and discover what lurks beneath the waves through minecraft workshops, Viking science, and much more.
Where: Aberdeen Science Centre, 179 Constitution Street Aberdeen. AB24 5TU
When: 3-25 June, 10am-4pm
Need to know: Events free with admission. Family ticket costs £18.
Going baa-rmy
What: Grab your wellies and get down to the farm this half term to take part in National Museum of Rural Life's wonderful Woolly Weekend. Find out about all things sheep-y, from watching and learning about the traditional skill of sheep shearing, to taking part in plenty of woolly craft activities before having a go at spinning, felting and knitting.
Where: National Museum of Rural Life, East Kilbride G76 9HR
When: 3-4 June, 11am-4pm

Need to know: Free with admission. A family ticket costs £19.
May half term 2017 school holiday activities for children in Northern Ireland
Snap happy
What: Become a Titanic-inspired photographer for the day with this fun workshop in Belfast. You'll learn lots of top tips and techniques while you explore the Titanic Quarter's maritime heritage while being transported around by the Wee Tram. Hop-off stops for snaps include the historic Slipways, Titanic's Dock and Pump-House and the famous Samson & Goliath cranes.
Where: Titanic Belfast Queen's Road Belfast BT3 9DP
When: 27 May, 10.30am-1.30pm
Need to know: Adults £20, children (5-16) £15 which includes lunch.
Hit the top
What: Get ready to get your game face on: Top Trumps is coming to Castle Espie Wildfowl and Wetlands Centre this holiday. Hidden around the centre are a selection of giant Top Trumps cards representing some of wetland animals you're likely to find – see if you can find them all as you go round and tick them off on the special score card. If you find them all you could even win a prize!
Where: Castle Espie Wildfowl & Wetlands Centre, 78 Ballydrain Road, Comber BT23 6EA
When: 29 Apr-4 Jun, 10am-5pm
Need to know: Event free with admission. Family ticket from £20.68.