7 ways to celebrate Peter Pan Week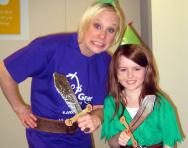 Peter Pan Week is a special fundraising event run by Great Ormond Street Hospital, and it's also a perfect time to introduce your child to this beloved children's book. Read our seven super suggestions for taking an imaginary trip to Neverland and meeting Peter, Wendy, the Lost Boys and Captain Hook!
2. Create your own Neverland
What does Neverland look like? While you read Peter Pan, have your child draw pictures of Neverland, or note down the descriptions that J. M. Barrie uses. Make a map with a key that shows different features of the island, and where everyone lives.
3. Have a Peter Pan party!
Invite your child's friends round to watch the film. Ask them to come dressed up as the characters, and have a Lost-Boys-style picnic. Serve fairy cakes, and organise a treasure hunt for chocolate coins around the house or garden.
4. Make your own Peter Pan costume
Need a costume for World Book Day or an upcoming fancy dress party? Learn how to make a tunic, hat and sword to dress up as Peter Pan by watching a helpful step-by-step video.


5. Act it out
Peter Pan was originally published as a play in 1904, so it's a story that works well visually. Have your child and a few friends act out the story – keep things simple and give everyone a prop that shows which character they are, or spend a few days helping them draw backgrounds on large pieces of paper to show the London, Neverland and the Jolly Roger.
1. Read Peter Pan together
Reading together is a fun family activity as well as a way to encourage your child to develop a love for books. Read Peter Pan to your child during
Peter Pan Week
, or take turns reading it aloud. As you read, ask your child questions about what's happening in the story and what the characters are doing.
6. Don't wake the pirates!
Play a Peter Pan version of tag outdoors, starting with one person being Captain Hook and positioning themselves in the middle of the yard. Everyone else has to run from one side of the yard to another without getting tagged by 'Captain Hook' in the middle of the yard – if they do, they turn into pirates and stay in the middle of the yard with Hook! Keep playing until one person is left – they will then be deemed Peter Pan, and win the game.
7. Ask your school to have a Dress Up Day
J. M. Barrie gave the copyright of works featuring Peter Pan to
Great Ormond Street Hospital
, so Peter Pan Week is the perfect time to talk to your child about what the hospital does for children and see how they can help. Schools can
register for Peter Pan Week
and receive a special pack with stickers, posters, balloons and more to organise a Dress Up Day. Students can come to school dressed up as characters from Peter Pan, and donate £1-2 during the day. Or, teachers can organise another way for their dressed-up class to raise money for GOSH.