Top tips for the Medway 11+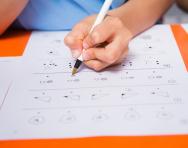 What are the secrets of success in the Medway grammar schools' entrance test? We asked tutor Anita Clemens for her insider advice.
The Medway region in the South East of England has six grammar schools and one bilateral school. Children who want to apply for a place at one of these schools have to take the Medway test in the September of Year 6. The test has three components:
Verbal reasoning (VR): 50 minutes, accounting for 20 per cent of the overall mark.
Maths: 50 minutes, accounting for 40 per cent of the marks.
English extended writing: 40 minutes plus 10 minutes' planning, accounting for 40 per cent of the marks.
We asked tutor Anita Clemens, who has over 30 years' experience in preparing children for the Medway test, for her advice on getting a great mark.
Medway 11+: maths
1. Read the questions properly
'The maths paper in Medway consists mostly of problem-solving tasks, rather than straightforward arithmetic, so it's important to read each question carefully to make sure you're doing what is asked,' says Anita. 'Most of the questions will be equivalent to National Curriculum Level 5 (an above average level for children at the end of Year 6), with a few of Level 4 and Level 6 standard.'
2. Show your workings
'Unless the question is something you can easily work out in your head, write your workings down on the paper,' Anita advises. 'Set your workings out clearly; often, children try to squeeze their workings into a corner of the paper to avoid it looking messy, but then can't read their own writing when it comes to solving the problem.'
3. Work quickly
'Don't spend too much time dwelling on your answers,' says Anita. 'A confident child should be able to work through the paper in about 30 minutes, and while it's important to avoid making mistakes through rushing, you do need to keep your speed up.'
4. Check as you go
'Rather than leaving all your checking until the end, try to quickly check each answer before moving onto the next question,' Anita suggests. 'The best way to do this is to use a different method to solve the problem and see if you get the same answer.'
Medway 11+: verbal reasoning
1. Use the examples
'Verbal reasoning (VR) is based on logic, so even if you've never seen a particular question type before, you should be able to use the example provided to work out what you're being asked to do,' says Anita.
2. Do the simplest questions first
'Some VR questions are very quick and easy – such as underlining two words that mean the same thing – whereas others are more complicated, for example requiring you to work out a code,' Anita explains. 'Even adults will need more time to solve a long-winded problem, so do the quick ones first and leave the more involved ones until the end.'
3. Build up your speed
'Practice is essential for the VR paper as you have to work very quickly,' Anita says. 'By practising, you'll get an idea of how much time you can devote to each question, so that on the day, you'll know when a question is taking a bit too long and therefore you should move onto the next one.'
4. Don't be overconfident
'Some children are lulled into a false sense of security by the easier sections, don't look carefully at the questions, and so make unnecessary mistakes,' explains Anita. 'For example, you might be asked to underline two answers, but only do one. Try not to assume something is easier than it is.'
Medway 11+: English
1. Produce the right type of writing
'The Medway English paper asks you to produce a particular type of writing, which could be a leaflet, letter, newspaper account, review, story, play script or diary entry,' Anita says. 'You won't know what you have to do until you see the paper, so make sure you read it carefully: if you're asked to write a review and you produce a story, you'll get zero marks.'
2. Use your planning time
'The paper includes 10 minutes' planning time, so use it. Many children waste this time coming up with a vague idea, rather than a detailed plan of what they're going to write. This is a skill you can learn through tutoring or practising at home.'
3. Write neatly
'First impressions count, so make sure your writing is legible,' says Anita. 'If you can, use a joined-up script, but if you find this hard, it's better to use un-joined handwriting that can be read easily.'
4. Don't be too ambitious
'Although the examiners are looking for original and interesting ideas, they also want to see good structure, a variety of punctuation, use of complex sentences and a range of vocabulary,' Anita concludes. 'Don't compromise these skills by thinking of such an off-the-wall idea that you don't get anything done.'