The best child-friendly podcasts to pass the time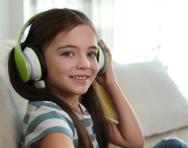 If you're looking for new ways to keep your kids entertained and educated at home (without eyes on screens!) then look no further. Podcasts are this generation's radio, except even better because you can be much more specific about what you want to listen to and when.
Podcasts are becoming increasingly popular and aren't just for adults – there's plenty of great content for young children and tweens, too. 
New research from the National Literacy Trust suggests that an increase in podcast-listening could boost children's reading engagement, with particular benefits for boys and secondary students. Compared to the children and young people who don't listen to podcasts, more podcast-listeners enjoy reading (47.8% vs 40.8%) and read daily (30.4% vs 27.0%).
You can download a parents' guides to the benefits of podcasts for kids from the National Literacy Trust website.
Before we dive into the best podcasts for kids, it's worth mentioning that headphones can be handy if you're not keen to listen to the podcast yourself! Likewise, although these podcast choices are all aimed at children and families, you may want to have a listen first to make sure you're happy with the tone and content. 
Home fun podcast for kids: Activity Quest
The Activity Quest Fun Kids podcast, created for the purpose of entertaining kids during the UK lockdown, offers interesting and fun ideas to keep you busy out-and-about and at home. It's fun, it's light and it's educational too, with fascinating facts about the universe, positive news, inspiring stories and creative tasks to keep kids busy. 
Available on: Player FM, Google Podcasts, Apple Podcasts, Spotify, Stitcher and Castbox
Recommended age: 5 - 12
STEM podcast for kids: Oxford Sparks Big Questions
The Oxford Sparks Big Question podcast invites some of the most talented minds from the University of Oxford to answer some of our big questions (for example, can we stop ageing?). The tone and some of the language isn't always accessible for younger children but for older primary school children with a curious mind and a passion for science, maths and/or engineering, it's well worth a listen.  
Available on: Spotify and Apple Podcasts 
Recommended age: 10+ 
Science podcast for kids: Brains On!
Brains On! is a science podcast for kids covering everything from narwhals and mirrors to emotions and the internet. If your child loves finding out about the way things work then they'll enjoy listening to this fun, easy-to-understand podcast that answers questions like: what was the first life on earth? And why do we like getting scared? If your kids enjoy this one then also check out their spin-off kids' debates podcast, Smash Boom Best. 
Available on:  Apple Podcasts, Google Podcasts and Spotify
Recommended age: 5-12
Storytelling podcast for kids: What if World
The What if World storytelling podcast is hosted by Mr Eric who, with the help of illustrators and authors, answers a new 'What if' question every episode. What if everyone wore the same colour? What if clouds were made out of cotton candy? These are the kind of questions that inspire the quirky stories for this imaginative podcast. 
Available on: Apple Podcasts and Spotify
Recommended age: 5-12 
Positive podcast for kids: Dream Big
Eva is the child-host of Dream Big and she interviews a wide variety of successful guests from a champion climber to a spoken word artist, all in the hope of inspiring listeners to 'dream big'. This is a positive and uplifting podcast to encourage a healthy attitude towards life and personal goals. 
Available on: Apple Podcasts, Google Play Music and Stitcher 
Recommended age: 5 - 9
History podcast for kids: The Past and the Curious
The Past and the Curious kids' history podcast has a focus on American history, but there are plenty of fun facts for people from any part of the world to enjoy and the creators' passion for history is infectious. Find out about spies, food, early advancements in cartooning and ballooning and important inventors and authors of the past. 
Available on:  SoundCloud, Kids Listen and Spotify
Recommended ages: 6 - 13
Ethics podcast for kids: Short and Curly
Short and Curly is an unusual and exciting podcast filled with questions and ideas to really get you thinking about ethics in regards to animals, technology and more. This can be a good one for listening to together as a family as they pose questions and give you time to discuss and think it through. For example: Would you want to become a vampire and live forever? 
Available on: ABC Listen, Apple Podcasts or Google Podcasts 
Recommended age: 6 - 12
Mystery podcast for kids: The Unexplainable Disappearance of Mars Patel
The Unexplainable Disappearance of Mars Patel, a kids' serial podcast, drops the listener into the mysterious world of Mars Patel as he embarks on an adventure to find two missing friends. The script is read by children and, with excellent sound effects and music, it's definitely a story you can lose yourself in. Close your eyes and you feel like you're right there, solving the mystery!
Available on: Apple Podcasts, Pinna.fm and Spotify 
Recommended age: 8 -12 
Music podcast for kids: Classical Classroom
In the Classical Classroom podcast the host describes herself as a classical 'newbie' and aims to find out more about the classical world of music in an accessible way and prove that it's not all 'hoity-toity.' This involves interviewing classical musicians from all walks of life and a bit of conversation, learning and having a laugh at the same time. 
Available on: iTunes, Stitcher, Vialma and TuneIn 
Recommended age: 8+ 
Reader podcast: Book Club for Kids
In the Book Club for Kids podcast, children and teens discuss their favourite books and interview authors. It's insightful and a pleasure to listen to, with guest readers and a variety of perspectives on plot and characters. An excellent choice for passionate readers and those just getting into reading. It encourages careful consideration of your favourite books and helps with analytical skills. 
Available on: Spotify, Apple Podcasts and Stitcher 
Recommended age: 5 - 13 
Folktale podcast for kids: Circle Round
Created and produced by parents, Circle Round adapts folktales from around the world for children to enjoy in a 10-20 minute episode. Expressive and captivating voices tell tales of kindness, generosity and persistence. It's a good one to listen to together, as each episode ends with an activity that encourages deep conversation between children and adults. 
Available on: Spotify and Apple Podcasts 
Recommended age: 4 - 10
Mindfulness podcast for kids: Peace Out
Peace Out is a mindfulness podcast that combines breathing exercises, guided visualisation and short stories (episodes are between 5 - 15 minutes long) to create a space for kids to reflect and find peace. The sounds and voices are incredibly calming and children can really engage with what they're listening to, focusing on their body, mind and positive feelings. 
Available on: Apple Podcasts, Spotify, Google Podcasts and Kids Listen  
Recommended age: 4 - 11 
Sci-fi podcast for kids: Once upon a time in Zombieville
This one is an award winning sci-fi/comedy podcast series where the child protagonists battle evil in an effort to save the world. It's been called  'a comic book for the ears' and that's exactly what it is – painting a colourful visual for children with expressive voice actors, epic soundtrack and real-life sound effects. This is entertainment for kids and adults, and was originally created with visually imparied children in mind. 
Available on: BBC Sounds 
Recommended age: 9 - 12
Role-model podcast for kids: Fierce Girls
Fierce Girls is an Australian podcast telling stories about real-life women making a difference; women who fought to for the right to vote, women currently fighting to save the planet, as well as  famous female authors, astronauts and climbers. Narrated by female politicians, actresses and historians, this podcast will inspire anyone to dream big and try hard. 
Available on: ABC Radio, ABC Listen app, Apple Podcasts and Google Podcasts
Recommended age: 6 - 11
Bookish podcast for kids: Story Explorers
Story Explorers is a podcast all about stories for 7 to 11-year-olds. It is available on the national children's radio station Fun Kids, and has been developed by the National Literacy Trust. Each week the series, hosted by CBBC presenter Ben Shires, features a group of Y5 and Y6 budding podcasters and a different children's author, including Cressida Cowell (How to Train Your Dragon), Eoin Colfer (Artemis Fowl), Onjali Q. Raúf (The Boy at the Back of the Class) and Lauren Child (Clarice Bean).
Available on: Google Podcasts, Apple Podcasts, Spotify and Castbox
Recommended age: 7 - 11