7 of the best children's reads for summer 2012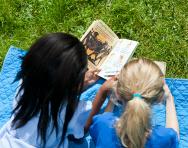 Mysteries, thrillers, supernatural tales and chick lit – we all want to pack a good book to read on holiday so make sure your child isn't left out! From historical fiction to the new classic from Jacqueline Wilson, this super selection of books for KS2 readers means the whole family can have a fiction-packed break.
The best-friend story

Sink or Swim by Holly Robbins (£4.99, Stripes Publishing)

Ellie and Jas have been best friends forever, but starting secondary school is a big step: will their friendship survive? In Sink or Swim Jas can't wait to move schools, but Ellie has a whole heap of worries, especially about the other girls they'll meet when they get there. What if Jas finds some cool new friends to hang out with?
Our KS2 reviewer Mia says: 'I loved this book, it made me really excited about going to secondary school on the bus, making new friends and having a phone! I am 8 and I think it is just right for my age.'

The supernatural epic

Battle of the Beasts: Ferno vs Epos by Adam Balde (£5.99, Orchard Books)

A brand new book in the seven-million-copy-selling Beast Quest series, perfect to get boys hooked on books.
Danger stirs in the land of Avantia. Max, son of Evil Wizard Malvel, has stolen the magical Golden Gauntlet. Using its power he plans to force the Good Beasts, Ferno and Epos, to fight each other to the death! Sam is an ordinary boy who must become a hero. His Quest is to tame a Beast and ride into battle to stop Max's evil plan. Can he survive the Battle of the Beasts?
Our KS2 reviewer Eliot says: 'Ferno vs Epos is a great book for people who love action and knights (or in this book they are heroes). This book is easy to read and has very few complicated words. I would recommend this book to anyone who likes Beast Quest, dragons and heroes. I give this book… 11/10!!'

The historical novel

My Story: Lady Jane Grey by Sue Reid (£6.99, Scholastic)

The tragic story of Lady Jane Grey, who was Queen of England for nine days in July 1553, is retold in diary format as part of the best-selling My Story series. Jane grew up watching her cousins in training as heirs to the throne, little imagining that by a twist of fate she would one day be crowned. But this is Tudor England where nobody plays fair, and even a queen isn't safe from those who wish her harm…
Our KS2 reviewer Zoe says: 'I really like stories about real people and the way things were in the past so I loved this. Lady Jane was so brave and it wasn't her who wanted to be queen, it was all the people around her. A great book.'

The new classic

Four Children and It by Jacqueline Wilson (£12.99, Puffin)

One hundred and ten years after the publication of the much-loved children's classic Five Children and It, Jacqueline Wilson pays tribute to the novel and her 'all-time favourite classic children's author' with a modern reimagining of the story. A guaranteed best-seller, Four Children and It is the story of four children who discover a way to make wishes come true…
Our KS2 reviewer Kate says: 'An absolutely lovely book. I really like the idea of setting it in the present and it was interesting to see them go back in time to visit the five children and It. Just as good as all the other Jacqueline Wilson books I've read, maybe even better!'

The detective page-turner

Kidnap in the Caribbean by Lauren St John (£6.99, Orion Children's Books)

From Cornwall to the Caribbean, 11-year-old ace detective Laura Marlin comes face to face with pirates, sharks, criminal masterminds and an erupting volcano. The first book in the Laura Marlin Mystery series, Dead Man's Cove, was selected as the winner of the 2011 Blue Peter Book of the Year Award.
Our KS2 reviewer Jamie says: 'I really enjoyed the first book and the new Laura Marlin story is just as good. I thought it was really exciting.'

The action-packed adventure

Willard Price: Leopard Adventure by Anthony McGowan (£5.99, Puffin)

Deep in the Siberian forest, a mother Amur leopard, one of the rarest big cats in the world, senses danger – something faster than any human and deadlier than any tiger… Meanwhile on another continent, 12 year old Amazon Hunt is recruited from England by TRACKS – the Trans-Regional Animal Conservation and Knowledge Society – in America, ready to take off at a moment's notice to rescue wild animals under threat, no matter how great the danger. Now Amazon and her 13-year-old cousin Frazer must brave the Russian wilderness to save the Amur leopard, before a blazing forest fire wipes out the species – for good.
Our KS2 reviewer Will says: 'I would recommend this book as it is full of adventure and I liked the way they tell people not to poach animals. The book did grip me and I would read more of the series.'

The puzzle-packed thriller

Secret Breakers: The Power of Three by H.L. Dennis (£5.99, Hodder Children's Books)

Brodie, Hunter and Tusia – three chosen to solve the greatest unbroken code in the world. But why will some people kill to stop them? What secret does the code hide? Codes, ciphers and puzzles are woven through the storyline of this new series so that the reader is working alongside the characters to crack these real codes themselves. Inspired by real events at Bletchley Park, the centre for codebreaking in World War II, this exciting book is perfect reading-under-the-covers material. Torches at the ready!
Our KS2 reviewer Emily says: 'I loved this book because it was about codes and I haven't read any other books like it. It was a puzzle book; some of the codes were hard and others weren't but I really enjoyed trying to solve them with the characters. I can't wait for the next book in the series!'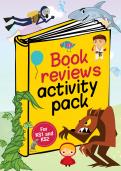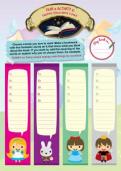 Claim A FREE Book Reviews Activity Pack!
A huge collection of creative writing & reading comprehension resources
Explore texts, deepen understanding, share opinions
For Year 1 to Year 6