Best ethnically diverse children's books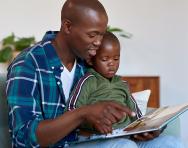 Bookseller Valentina Alexander of MyBookbasket.com shares some of her favourite children's books that celebrate ethnic diversity.
It's impossible to overstate the power and joy that a child feels when they're able to see themselves and their story reflected on the printed page.
But for far too long, ethnic and cultural distinctions have been underrepresented in children's books. This means that children from all backgrounds may miss out on reading books that boost their familiarity with and appreciation of diversity.
The good news is that there are many wonderful books out there are not only great stories, but also draw from the experiences of more marginalised people.
Here are 14 titles that I'd recommend adding to your bookshelf.
A note about age recommendations: there are older children who still get pleasure from books aimed at their younger siblings, as well as younger children who benefit from books above their intended reading age. Therein lies the joy of a well-crafted story.
MyBookbasket is an online bookshop specialising in diverse and inclusive books for children and families.