Best construction toys for kids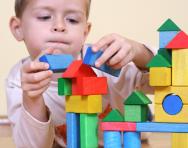 Want to develop your child's problem-solving skills, understanding of physics and fine motor control (essential for handwriting)? Time to get out the building blocks! We pick eight of the best construction toy sets for budding engineers, architects and designers.
Building sets are the blank canvas of the toy world, ready to be transformed into something new every time your child opens the box. Stimulating creativity isn't their only benefit, though.
"Lots of construction toys involve an element of logic and strategy, which is good, as well as promoting a basic understanding of physics – for example, how to build a solid base or the fact that if elements of the construction lean over too far they will fall down," explains Dr Amanda Gummer, a child psychologist specialising in play and parenting. "If a parent is playing with their child they can start to introduce some of these advanced concepts in a non-threatening, easy-to-understand way. For younger children differently-sized and coloured pieces offer valuable language development opportunities, too."
Good for social development, construction toys can be played with solo or co-operatively, and the different shapes and sizes of the pieces build manual dexterity. "Big blocks for younger children help develop the big arm muscles and some of the sets with smaller pieces require fine motor control, so they aid physical development and help children develop the control needed for skills such as handwriting," says Dr Gummer.
We've built, assembled and knocked down a lot of towers – and this is TheSchoolRun's pick of some of the best construction toys for all ages.