Best creative writing books for kids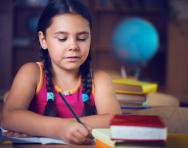 Does your child love writing stories but feel daunted by the blank page? Get them started with creative writing and boost their confidence with a "workbook" packed with story starters, technique tips, example passages and more. Whether they're planning an epic comic strip series, a poetry collection, a ghost story or a fairy tale, these write-your-own-story guides will help them put pen to paper.
My First Story Writing Book (£7.99, Usborne)

A great option for complete beginners, packed with write-in activities to take a young writer through each part of story-writing from creating characters and developing description skills by using picture prompts to writing whole short stories.

How to make awesome comics (£7, Phoenix Comics)

Start your journey to comic-making with a complete guide which covers everything from first steps (coming up with your stories and characters and learning how to draw) to making art and text work together well, how to be funny, what makes a good villain and creating your own books from paper. A brilliant and very cool guide.

How to write a story (£5.99, Bloomsbury)

An activity book for budding authors, packed with ideas about how to create the perfect plot, coming up with great character names and acting them out, how to structure a story to build interest and suspense and lots more.

Write your own adventure stories (£8.99, Usborne)

A write-in book with a focus on adventure stories. Whether explorers, spies, ghosts, aliens or heroes and villains are the protagonists, practical advice and activities help children create characters, develop thrilling plots and stage exciting action scenes. Unputdownable stories are the result!

Pizza, Pigs and Poetry (£5.44, HarperCollins)

Poet Jack Prelutsky has written hundreds of poems about (among other things) pizza, pigs, pigeons, penguins, parrots, puppies, pelicans, porcupines, pies and parents, and in this poetry-writing primer he shares his expertise with tips and exercises to help budding poets get started on their own verse journey. You'll get ideas to help you turn your own experiences and stories about your family, friends and pets into poems as well as advice about how to get started (or unstuck) when writing.

How to Write Your Best Story Ever (£9.99, OUP)

Christopher Edge (author of TheSchoolRun-favourite novel The Many Worlds of Albie Bright) aims to help readers aged 13 and under see themselves as writers and achieve their creative writing goals in his curriculum-linked creative writing guide. From how to write for a specific audience or purpose to overcoming writer's block and selecting the right words for each genre, this book gives children the tools they need to make writing fun. 

Write Your Own Mystery and Ghost Stories (£8.99, Usborne)

If your child is hoping to scare their readers with their writing, this spine-tingling activity book is the one for them! The advice will help them produce stories about haunted houses, eccentric detectives, cursed tombs and more, with specific tips on how to plan a story and build suspense.

Write Your Own Book (£9.99, DK)

From setting the scene to describing an action, different skills are introduced one by one in this diary-style book, gradually building up to your child writing their own story.
Plenty of "talking point" boxes aim to offer story starters and spark new creative ideas and "word boxes" help develop vocabulary. There are plenty of drawing spaces, too, including a space to illustrate a personalised book cover.

Write Your Own Storybook (£8.99, Usborne)

A fun fill-in activity book packed with writing tips, techniques and methods to help make every story effective and polished, with suggested activities to help kids develop their ideas and boost their confidence with writing from different points of view and creating characters, settings and story lines. The second half of the book is presents different story themes to write about, from murder mysteries to tales from outer space.

My Book of Stories (£9.99, British Library)

Beautifully illustrated books which use Shakespeare, myths, fairy stories and literary classics as story starters to inspire the writers of tomorrow. Highly recommended. 
My Book of Stories: Write Your Own Adventures;
My Book of Stories: Write Your Own Shakespearean Tales; My Book of Stories: Write Your Own Myths;
My Book of Stories: Write Your Own Fairy Tales.

KS1 creative writing toolkit and KS2 creative writing toolkit, TheSchoolRun

Help your child harness their imagination and share their stories in writing with our KS1 and KS2 creative writing learning packs, available as part of a TheSchoolRun subscription. Bursting with fill-in prompt sheets and inspiring ideas to get even the most reluctant writer started, they're a great way to encourage children to put pen to paper.

Creative Writing Book (£9.99, Usborne)

A great choice if your child isn't sure what genre of writing they're most interested in, this inspiring book will boost their enthusiasm for writing stories, poems, comics, blogs, reviews, movie scripts, horror stories, romance and thrillers, and even shock journalism. Lots of space to write in, but no scary blank pages!