16 of the best new books for children for Christmas 2016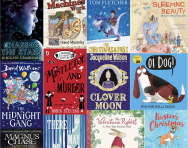 Guarantee that plenty of reading will be done over the Christmas break by investing in a pile of books for your child to find under the tree. Whatever their interests or reading ability, our pick of the best new reads on offer this Christmas includes best-sellers, classic stories reimagined for the twenty-first century, non-fiction treasures to pore over and laugh-out-loud funny reads. Enjoy!
The instant classic

The Christmasaurus

by Tom Fletcher (£9.99, Canongate)

Snow, elves, the North Pole, Santa Claus and a rather less well-known dinosaur... The first children's novel from Tom Fletcher (of McFly and the Dinosaur that Pooped series fame) is magical, moving and sure to become a new festive favourite.

The traditional story

Sleeping Beauty: A mid-century fairy tale

(£12.99, Pavilion Books)

A beautiful retelling of the Sleeping Beauty, set in the 1950s and celebrating love, friendship and our hopes and dreams for the future. There isn't a kissy prince in sight in this beautifully illustrated, retro-traditional tale.

The laugh-out-loud read

The Midnight Gang and There's a Snake in my School
by David Walliams (£12.99, HarperCollins)

Guaranteed to be started on Christmas night and finished on Boxing Day, the new David Walliams novel for children is thought-provoking as well as funny. Set in the children's ward of a hospital and complete with terrifying matron, after-dark adventures and devoted friendships, it's a wonderful read.

There's no need for younger readers to miss out on a new David Walliams, either – There's a Snake in my School is the perfect madcap, zany tale for them, fully illustrated by Tony Ross.

The Christmas heart-warmer

The Velveteen Rabbit 
(£14.99, Nosy Crow)

First published in 1922, this American classic about the toys we love and the way they enrich our childhoods will be a firm favourite in the twenty-first century, too. Georgeously illustrated and perfect for reading out loud at bedtime, snuggled up with your child's favourite cuddly.

The sci-fi romance

Chasing the Stars
by Marjorie Blackman (£10.99, Doubleday)

Best-selling children's author Malorie Blackman brings a Shakespearean story of love, jealousy and revenge into the future with a reimagination of Othello set in space. Olivia and her twin brother are heading back to Earth after a virus wiped out their spaceship community; Nathan is headed in the opposite direction. Once they meet, sparks fly... but what will the fall-out be?

The Yuletide murder mystery

Mistletoe and Murder
by Robin Stevens (£6.99, Penguin)

The Detective Society are back in the fifth in the Murder Most Unladylike series. A Cambridge college is the setting for an unseasonal accident... or is it a murder? A wonderfully festive outing for intrepid detectives Daisy and Hazel, complete with maps and "handwritten" diary notes... can you solve the mystery before the girls?

The dip-in, dip-out compendium

Nonstop Nonsense
by Margaret Mahy, illustated by Quentin Blake (£10.99, Orion Children's Books)

Poems, rhymes, stories and silly nonsense in this full-colour edition of a Margaret Mahy classic in which we meet a cat who gets poetry "in his blood" by swallowing a poet-mouse, a man from the land of Fandango, a minature ghost who lives in a book and a word-wizard... Complemented by wonderful, witty illustrations from Quentin Blake.
 

The festive favourite

Buster's Christmas
by Lucy Feather (£9.99, Nosy Crow)

Buster the dog, star of the John Lewis Christmas 2016 advert, is immortalised in story form in this lovely picture book about a little girl called Bridget, her mum and dad, her trampoline Christmas present and the animals who find they love to bounce...

The non-fiction prize-winner

How Machines Work
by David Macaulay (£14.99, DK)

Winner of The Royal Society Young People's Book Prize 2016, David Macaulay's entertaining guide explains the workings of six simple machines by illustrating the antics of two animals who try to break out of the zoo by using levers, pulleys, screws, inclined planes, wedges and wheels. A fantastic fiction / non-fiction mash-up.

The code-cracking caper

The League of Unexceptional Children: Get Smartish
by Gitty Daneshvari (£5.99, Little Brown Kids)

The nation's most average and forgettable kids aren't the ones you'd expect to see saving the world... but this very un-special spy network beat all the odds once before. Can they rely on their rather doubtful set of abilities to do it again and stop a criminal mastermind? Maybe, just maybe...

The read-out-loud rhyming choice

Oi Dog!
by Kes and Claire Gray (£6.99, Hodder Children's Books)

Fans of the fantastic Oi Frog! will be well aware of the seating restrictions imposed on frogs. In this wonderfully silly sequel Frog is changing the rules... and everyone from dogs to spiders to whales will have to sit somewhere different. And definitely not on frogs! Guaranteed to become the bedtime read of choice for adult readers as well as the children listening!

The alternative princess story

Princess Smartypants and the Missing Princes
by Babette Cole (£5.99, Hodder Children's Books)

A smelly troll, a clever giant, a tricksy witch, lots of frogs and (of course) a feisty and fantastic princess: they're all in a full-length, fully illustrated adventure for new readers, 30 years after Princess Smartypants was first introduced in picture-book format. A girl-power must-read!

The epic adventure

There May Be a Castle
by Piers Torday (£12.99, Quercus)

Mouse is searching for a castle in a magical land. There are monsters, wizards and minstrels on his path – and how did he arrive in this new world, so different from his own, on a snowy Christmas Eve? A gripping, memorable adventure which celebrates the power and scope of our imagination.

The fame game fantasy

Rock War
by Su Blackwell and Corina Fletcher (£19.95, Thames and Hudson)

The new series from Robert Muchamore, author of the best-selling Cherub books, is a must-read for teens who dream of musical stardom. The perfect way to get reluctant readers hooked on real-world, exciting books, though the gritty setting means it's best for kids aged 12+.
 

The mythological mystery

Magnus Chase and the Hammer of Thor
by Rick Riordan (£12.99, Puffin)

The Christmas holidays: the perfect time to read the latest installments of your favourite literary series, and Rick Riordan's latest Norse-mythology-with-a-modern-spin adventure will be greeted with delighted whoops by his fans. Thunder god Thor's weapon is missing again and it's fallen into dangerous hands...

The historical novel

Clover Moon
by Jacqueline Wilson (£12.99, Doubleday)

Jacqueline Wilson's Victorian novels bring daily life in the nineteeth century to life for children with addictive, page-turning stories. Her new heroine, spirited and imaginative Clover, struggles against the odds to escape her life in a slum; fan-favourite character Hetty Feather makes a very brief appearance too.