Best virtual festivals for families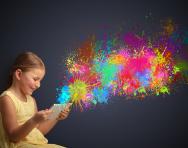 Leave the tent in its bag: with many of this summer's festivals cancelled, we've rounded up the best online events for families.
Festival season is upon us, but due to Covid-19, most of summer 2020's family festivals have been cancelled: a big disappointment if you'd already bought tickets.
 
But while we may not need our wellies and sunscreen this year, many popular festivals have moved online so we can enjoy performances from top children's authors, TV personalities, bands and theatre groups at home. You can even take part in London's Notting Hill Carnival Festival at home in 2020!
 
Here's our guide to great virtual family festivals that you can catch on screen in the weeks and months ahead: no wellies required!
Hay Festival Digital #imaginetheworld
Hay Festival
is probably the UK's best-known literary festival, drawing in thousands of book-lovers every year with its author talks, performances and workshops. This year, you can catch it
online
, with an exciting digital children's programme.
Hosted by writer and former Blue Peter presenter Konnie Huq and novelist Jenny Valentine, the festival has a full programme of author talks for KS2 children (although younger bookworms may like to join in), and for KS3 and KS4 students.
The line-up includes talks from much-loved children's and young adult authors, such as Cressida Cowell, the current Children's Laureate and author of the
How to Train your Dragon
books, and
Tom Gates
creator Liz Pichon, who'll be sharing quizzes, readings and doodles from the hugely popular graphic novel series.
You can watch the talks on
Hay Player
, and there are also free teaching materials for each talk: perfect for supporting your child's home learning.
Play At Home Fest
If you're finding it hard to keep your child occupied at home during
lockdown
, tune into the
Play At Home Fest
: a virtual festival aimed at children aged 2-8, although older members of the family can join in the fun, too.
The festival is headlined by hit children's band Andy and the Odd Socks, CBeebies presenter Nigel Clarke and his daughter Sisi from Sisi's World, and social media sensation TheDadLab.
There are also lots more activities and appearances, including model-making with Aardman's Merlin Crossingham, Lucas Jet's Stay at Home Circus, quirky cupcake decorating with Magick O'Daly, and music sessions from Jo Jingles and Hartbeeps.
You can join the festival on Play At Home Fest's
YouTube channel
: perfect for those days when you need some creative play inspiration.
Girlguiding presents: Adventures at Home Festival
Many kids should have been taking part in a Girlguiding or Scouts camp this summer, and may be feeling the disappointment of having their outdoor adventure cancelled because of
coronavirus
. Girlguiding's jam-packed
Adventures at Home Festival
offers a taste of what they'd experience on a summer camp from the safety of home, encouraging them to have fun, try something new and challenge themselves.
You can tune into a huge free programme of acts and events on
YouTube
, including comedy and magic shows, science and drawing workshops,
football
training and
animation
activities.
Highlights include a chemistry workshop with the Royal Society of Chemistry (make a list of the ingredients you'll need), Plastic Patrol founder Lizzie Carr, and adventure storytime with former Guide and record-breaking ocean rower Sally Kettle. And of course, there are campfire sing-alongs to end your day.
Each activity has an age recommendation so you can choose the right ones for your child's age and stage.
Steam Co #UKArtTakeOver
This
pop-up festival
, which was supposed to be touring schools across the country in May 2020, has a focus on creativity and the arts, and inspiring children and families to get making and creating.
The festival may not be on the road this year, but it's moved online instead, with activities filmed against the location backdrops that it was due to visit, from London to Londonderry.
Activities include rocket making, DJing, and even loo roll art to watch
online
.
You can also join in the #HeyKidsBookFest, which should have taken place at Hay Festival: a celebration of children's books and literature.
Captain Fantastic's Christmas Lockdown
A Christmas party in spring? It might sound bonkers, but with lockdown isolation sending us all stir-crazy, Captain Fantastic is spreading some festive cheer with his online Christmas festival.
Taking place on YouTube, the Christmas Lockdown has a packed programme with Christmas songs, games, baking workshops, crafts and quizzes.
You'll also get up close and personal (through your screen) with real reindeer and penguins from Paradise Wildlife Park, and there's a visit from Santa Claus himself.
Cheltenham Science Festival @ Home
How long is a piece of string? What makes the world turn? And why does chocolate taste so good? These are just some of the questions that scientists, writers, comedians and thinkers will attempt to answer at this virtual science festival.
Cheltenham Science Festival @ Home
promises a programme packed with family shows, interactive workshops and live Q&As. The line-up includes broadcasts from top scientists and entertainers including Brian Cox and Stefan Gates, covering everything from astronomy to the
senses
.
You'll also be able to explore the Virtual Discover Zone on the festival's YouTube channel, with challenges including games design and code-breaking, and take part in drawing and making workshops.
National Trust Festival of Mischief
The National Trust is renowned for its family-friendly activities, and with the majority of its attractions closed for the time being, you can still join in with its Festival of Mischief.
The virtual festival is a celebration of everything silly, with an array of activities to inspire play and spark the imagination.
You can put on a comedy performance for the rest of the family, design a prank machine, cook a party pizza and much more.
The Festival of Mischief takes place on the
National Trust's website
, with videos, animations, downloadable activity sheets and fact files for the whole family to enjoy at home, in the garden or in open spaces near your home.
Big Bang Digital 2020
Big Bang Digital 2020 – science, engineering & Covid-19
, hosted by TV science presenter Greg Foot, features some fantastic sessions to show young people the amazing things you can achieve in STEM.
There are workshops about the worldwide race to develop a coronavirus vaccine, interactive sessions with Plastic Oceans, lectures about how technology has helped to feed the nation during the pandemic and updates about young students and their designs to help in the fight against Covid-19 (find out how you can build and personalise your own social distancing lanyard that lights up to alert you when you stand too close to someone!). Plus interactive polls, live Q&A sessions with guests and hands-on activities to complete at home – all available for free.
Follow the event live on 14 July or watch the highlights on YouTube after the event.
Cressida's Creativity Summer Camp
Cressida's Creativity Summer Camp
is a virtual summer camp to encourage families to embrace books, reading and creativity at home over the summer holidays. The Children's Laureate, Cressida Cowell (author-illustrator of the
How To Train Your Dragon
books and the
Wizards of Once
titles) is joined by an all-star line-up of leading authors and illustrators (including Dapo Adeola, David Almond, Liz Pichon, Chris Riddell, Rob Biddulph, Laura Dockrill, Eoin Colfer, Frank Cottrell Boyce and Zanib Mian) to inspire budding authors, illustrators and creatives with writing workshops, drawing masterclasses and much more.
Also launching is Cressida's 'Laureate Gallery', where children will be able to exhibit their own work alongside an online exhibition of work-in-progress notebooks belonging to former Laureates Lauren Child, Michael Morpurgo and Anne Fine, revealing how their much-loved stories came to life.
Lavenham Children's Book Festival
Online from 20 July,
Lavenham Children's Book Festival
Bookworms' Bonanza will be available anytime, anywhere 24/7 for children aged between 4 and twelve.
Listen to Michael Morpurgo reading from his book
The Butterfly Lion
, get a Gaspard the Fox update from author Zeb Soanes and illustrator James Mayhew, solve dinosaur riddles and learn how to draw a timbered house and Tudor characters from Shoo Rayner. There are videos, stories and quizzes for primary-age children and even a cookery section with revolting recipes to freak out friends and family. And it's all free for junior bookworms to enjoy!
Natural History Museum Tune in to Nature with Pukka Herbs
From Monday 27 July to Sunday 9 August, the Natural History Museum's digital biodiversity-themed family festival in association with Pukka Herbs aims to connect people with nature.
Tune into Nature
will engage all ages with wildlife arts and crafts, a live quiz and an amazing checklist of plants and animals to spot this summer.
Highlights include Plant club (downloadable resources to help identify local plants and report sightings as a citizen scientist), expert-led makes and bakes videos featuring pollinator-friendly herbs mint, lavender and chamomile, Noisy Nature (a fun activity to encourage families to use their sense of hearing to connect with local wildlife) and a Live Natural History quiz to test your knowledge of natural history.