Looking after your child's mental health during the pandemic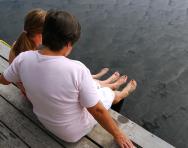 With more and more children suffering from anxiety, stress and depression due to the pandemic, we asked the experts for their advice on helping them cope.
The Covid-19 pandemic has taken its toll on all of us, and our children are no exception. According to an investigation by the Evening Standard, half a million children and young people are experiencing new mental health problems, and with restrictions and rules changing day by day, it's likely that even more will eventually be affected be stress, anxiety and depression.
 
'The coronavirus pandemic has felt like a lifetime for children and young people, and the negative effects could last an actual lifetime if they don't have the right support,' says Dr Javed Khan, chief executive of Barnardo's children's charity.
Why is the pandemic affecting children's mental health?
Back in 2019, none of us could have predicted how our lives would be turned upside down by the new, deadly virus that emerged from Wuhan. And what we hoped would be a harsh but short-lived period of restrictions has now become seemingly endless.
 
It's no surprise that this is having a profound impact on our children.
 
'Many of the things that usually help children to feel happy and therefore promote good mental health are impossible during lockdown,' explains Javed.
 
Seeing friends and family, going on holiday, participating in their usual hobbies, playing sport, birthday parties and playdates – the bedrock of normal life – have been put on hold, and whether or not children fully understand the reasons, the huge life changes are hard to bear.
 
One of the biggest changes that children have had to cope with is the disruption to school life.
 
'For the majority of children, school provides a sense of routine and structure, and opportunities to learn, see their friends and have contact with adults they can trust and confide in,' Javed says.
 
While schools are doing their best to ensure children keep learning, homeschooling is a poor substitute for the normal hustle and bustle of the classroom and playground. 'It's very difficult to replicate the experience of playtime at home, or the opportunities to approach their teacher with concerns,' Javed adds.
 
Homeschooling presents many different challenges for children. They may struggle to understand their work or stay focused without the support of their teacher. They may have difficulties with technology, ranging from the small but irritating (uncooperative printers) to the seriously restricting (not having an appropriate device to access home learning).
 
This can all lead to stress and anxiety, with children worrying about falling behind or being so discouraged that they give up altogether. 'It's extremely hard to wake up for school when school is just a laptop, and never knowing when this will change,' says Javed.
 
Having children at home all the time is also incredibly tough for you as a parent or carer, whether you're working from home yourself, trying to help a distressed and reluctant child with home learning, or are suffering from stress and anxiety yourself.
 
In no way are you to blame for this, but it can make it harder to support your child, increasing tensions in the whole household. 'Home can be a source of stress for some children, for example if it's overcrowded or there are arguments, or if they're living in poverty or poor quality housing,' agrees Javed.
How your child's mental health might be affected
According to Barnardo's research, the most common mental health difficulties that children are experiencing as a result of the pandemic are stress, anxiety and depression. Some of the signs to watch out for include:
Appearing sad, low or tearful
Being irritable, grumpy or quick to anger
Being more clingy than usual
Having frequent tummy aches or otherwise feeling unwell
Regression with things like bedwetting, dressing or feeding themselves
Not enjoying the things they used to
Feeling tired all the time
Have trouble getting to sleep or staying asleep
Struggling to concentrate    
Withdrawing from contact with family and friends
Finding it hard to make decisions
Eating less or more than usual
Being unable to relax
Talking about feeling empty or worthless
Self-harming (this could include skin-picking, hair-pulling, or head-banging) 
Top tips for looking after your child's mental health during the pandemic 
'To stop these issues having a long-term impact on your child's life, it's important to help them now,' advises Javed. 'This includes taking the time to really listen to them about how they're feeling, being open and honest with them and letting them know you're always available if they want to talk.
 
We asked Javed and Caroline Yolland, counsellor at The Beacon Boys' School in Amersham, for their advice on helping to protect your child's mental health as the pandemic progresses.
Maintain home routines
'Think about mentally healthy habits for the whole family: sleep patterns, meal choices, exercise, play, mentally stimulating activities and ways to relax and unwind,' says Caroline. 'Keep these all going at roughly the same time every day, so days have some sort of rhythm and structure.'
Keep up with social contact
'Reassure your child that it's normal to miss classmates, friends and family, and tell them who you're missing so they see you're feeling the same way,' advises Javed.
 
'Help them stay in touch where possible by helping them chat to friends online or outside, socially distanced (when government rules permit).
 
'Seeing someone's face is always nice, but if they're struggling with Zoom fatigue after a day of online lessons, just a chat on the phone works well, or they could even write a letter to a grandparent.'
Help them express their anxieties
'Encourage them to write down their worries and post them in a "worry box" so at the end of the day, you can talk about them and find ways to manage,' suggests Caroline.
 
Not all children will want to talk, but the simple act of writing down what's bothering them, whether that's in a diary or to put in a worry box, can help clear their head.
Set small goals
While it's important for your child to keep up with homeschooling, recognise that it's very different from being at school and it's natural to find it hard. 'Help them to set small, achievable goals, and give them positive praise,' says Caroline.
 
Don't just focus on praising academic achievement: acknowledge the effort they're putting in, even if it's not reflected in the results, and praise them for the things they're working hard at aside from schoolwork, like getting dressed or talking to a friend.
 
'Keep reminding them of times when they've shown true resilience and good judgement,' Caroline adds.
Encourage good sleep
Children of all ages need a consistent, relaxing night-time routine, whether that's bath and story time for younger children, or independent reading and a chat about their day for older ones.
 
'Try to keep to a routine for weekdays and weekends, with all devices switched off at least 45 minutes before bedtime,' Caroline advises. 'Help them to use audio relaxation exercises or recorded bedtime stories if they struggle to drop off.'
Set boundaries…
'Don't be afraid to set some gentle but firm boundaries around behaviour,' says Caroline. 'It may not be welcomed, but it really does enable children to feel safe.'
…But don't sweat the small stuff
'Try not to take insults personally: children may project feelings of helplessness or anger towards you, because it's the only way they feel able to do so safely,' Caroline says. 'Choose your battles, and walk away from excessive conflict.'
Help them help themselves
Although it's hard to see your child struggling, sometimes they need to work things out by themselves: this will help build their confidence in being able to solve problems, bolstering self-esteem.
 
This could mean giving them some pointers if they're stuck on a piece of home learning but not telling them the answer, or letting them channel their boredom into finding something interesting to do.
 
'These challenging times can actually help children develop lasting resilience,' Caroline explains. 'Giving them the knowledge and skills to help themselves is empowering.'
Learn to listen
Listening well is one of the greatest gifts you can give your child. Caroline suggests:
For younger children, crouching down to their level and giving them eye contact.
For older children, taking a walk where you DON'T have direct eye contact: 'This can avoid your child feeling trapped and help to facilitate conversation.'
Smiling and using a gentle tone of voice.
Allowing them to talk without interrupting or contradicting them. 'Allow silence if they're using it to reflect, but step it if the silence feels uncomfortable,' says Caroline. You could say, 'Tell me more,' 'Go on, what else?' or 'And then?'
Try to avoid impatient body language like eye-rolling, foot-tapping or sighing. 
Teach relaxation exercises
'Children can learn to identify the signs of anxiety early, and see it as a wave that they can surf using breathing and relaxation techniques,' Caroline explains. There are lots of good apps and YouTube videos that will help you teach your child relaxation and mindfulness exercises.
Help them express themselves through play
If talking is difficult for your child, give them other ways to express themselves. 'Play and creative activities like art and craft can be a good means of communication, especially with young children,' Caroline says.
Be flexible about screen time
'In lockdown, devices, screens and gaming can be children's access to friends, family and social interaction, as well as learning,' Caroline explains. 'Try to avoid conflict around this issue, and agree on reasonable time allocated to screens.' This may be more than you would usually accept, but in these strange times, it doesn't hurt to relax your rules.
Try not to judge
Your child may well be behaving 'worse' than they usually would, and this can be tough for the whole family, but it's important to recognise the strain they're under and try to increase your tolerance levels.
 
'Their behaviour might be distressing for you, but judgement will close down meaningful conversation, so try not to assume that you know what's wrong,' says Caroline.
How to get help
If you're concerned about your child's mental health, their school should be your first port of call. There are many people who can offer support, from your child's teacher to the SENCO to the school nursing service.
 
'It's important for teachers to check in regularly with their pupils to see how they are coping, especially those who are vulnerable,' agrees Javed. 'The earlier you seek help, the better.'
 
Your GP is also there to offer support with your child's mental health and wellbeing. There are various ways in which they can help, from giving you general parenting advice to referring your child to Child and Adolescent Mental Health Services (CAMHS).
 
Bear in mind, though, that mental health services for children are overstretched, particularly at the moment. This means your child may not reach the threshold for getting extra help, or that there's a long wait to see a professional. There are, however, a range of other organisations that can support you and your child:
 
Barnardo's Family Space
Barnardo's Boloh service for BAME families (with multilingual advisors): 0800 151 2605
YoungMinds Parents' Helpline: 0808 802 5544
YoungMinds Crisis Messenger/Shout: text YM to 85258
Childline (for young people under 19): 0800 1111
Kooth (for young people aged 11-24) 
If your child is expressing urges to harm themselves, call NHS 111 urgently for advice.
 
If they have already seriously harmed themselves, or if you're worried that they're not safe at home, take them to A&E or ring 999.