Choosing a primary school during the Covid-19 pandemic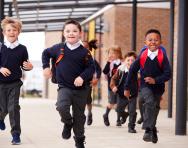 How can you find out which schools will suit your child best when there's a pandemic going on? Read our 16 suggestions for researching primary schools and making your decision.
Choosing a primary school for your child is a big responsibility, and in the past few years shortlisting schools for admission has been more complicated than usual.
 
The usual process of open evenings and tours has been disrupted by pandemic restrictions, which means parents will need to find alternative ways of viewing prospective schools.
 
Here's our advice for beating Covid-19 constraints and making sure you're fully informed when you fill in your primary school application.
1. Visit – if you can
Visiting prospective schools may be possible at some times, but not at others. Some schools are still managing to show parents around in person, either in small groups or one to one. To give as many families as possible the chance to see the school, most are requesting that only one parent attends, without their child.
 
To avoid contact with children, some schools are offering Saturday visits when there are no pupils on site. Others are finding creative ways to minimise contact: 'We have given a few tours to individual families in a socially distanced way,' says Louise Crocker, headteacher of Michaelchurch Escley School in Herefordshire. 'We mainly stay outside, and pop into classrooms if it's safe to do so.'
 
Any visits that schools are able to offer are likely to be by appointment only and in high demand, so ring the office to ask about availability and book in as soon as you can. Be aware, too, that face-to-face tours may have to be cancelled or postponed according to the latest restrictions.
2. Take a virtual tour
Some schools that are unable to offer visits, or that have a limited number of in-person appointments available, have put together video tours to give you an insight into the school environment, usually with recorded talks from the headteacher, other members of staff and selected children.
 
It's worth watching virtual tours on your own or with your partner first, and then again with your child. As you watch, make a list of pros and cons, and also note down questions that you'd like to follow up afterwards.
3. Look at Ofsted reports
Every parent wants their child to go to a school with a 'good' or 'outstanding' Ofsted rating, and you can find full inspection reports for every primary school in England on Ofsted's website.
 
Ofsted reports give schools a rating in four categories (achievement of pupils, quality of teaching, behaviour and safety of pupils, and leadership and management), as well as an overall verdict. It's worth having a read of a school's entire report to help you see where its strengths and weaknesses are.
 
You can also find out what parents think of the school by looking at the results of its Ofsted Parent View survey.
 
In Wales, Estyn is responsible for inspecting schools. In Scotland, it's Education Scotland, and in Northern Ireland, the ETI.
 
Bear in mind that inspection reports alone won't tell you exactly what a school is like – for example, a report may be several years old and not reflect how the school has changed in that period.
4. Check out the school's website
Primary school websites are a treasure trove of information about school life. Some of the content is aimed at prospective parents – such as the online prospectus – but it's a good idea to delve deeper to see what else you can find out. 'They can give you a really good idea of the flavour of the school,' says Louise Crocker.
 
For example, you can often find newsletters and class pages that'll give you an insight into the school's character. You can read through policies such as the bullying policy, find out about how it caters for children with special educational needs, and 'meet' the staff.
5. Have a look at social media
Most schools have some form of social media presence, and looking at their Facebook and Twitter feeds can give you a taste of what's going on. Often, there are examples of topic work, photos from school events, and news about school life.
 
Some schools also have YouTube channels, where you might find virtual assemblies led by the different year groups and vlogs from pupils and staff. Their channels may be unlisted for safeguarding reasons, but you can often find links from the school's website.
6. Talk to other families
'If you can't physically go into the school, one of the best things to do is talk to other families who have children there already,' suggests Louise Crocker.
 
You may well know families who are already part of the school community; if not, ask around to see if any of your friends could put you in touch with someone. You could also ask for opinions in local Facebook groups, or see if your child's current nursery or pre-school staff have any good contacts.
 
If you can, speak to parents who are at different stages of their school journey – a Year 6 parent might have a completely different perspective from a Reception parent. Try to be objective about what you hear: a school that is a brilliant fit for one child might not suit another, so keep in mind that parents have their own biases, and aim to balance differing viewpoints against others.
7. Look at alternatives
You might have your heart set on one particular primary school, but even if you're pretty sure you'll get a place, there are no guarantees, so it's sensible to compare other schools in the area by looking at their websites and social media, and canvassing parents' opinions if possible.
8. Find out where Year 6s go 
It may seem way too early to be thinking about secondary schools, but finding out which senior schools Year 6 pupils go on to is a valuable exercise. This info may be listed on the school's website or in its prospectus.
 
In grammar school areas in particular, it can be helpful to know how many pass the 11+ and progress to a grammar. And even if not, you should be able to get an idea of whether the primary school is a 'feeder' for a specific secondary, or if there's a broad mix of secondary destinations.
9. Read league tables
League tables are a rich source of information about how schools perform, including the progress pupils make from Reception to Year 6, and the number of pupils reaching and exceeding the expected national standards in KS2 SATs.
 
League tables shouldn't be used in isolation, as they won't give you a flavour of school life, but they're useful as a jigsaw piece in making your decision.
10. Stop by at drop-off and pick-up time
Seeing a school at the start and end of the day can give you a good impression of what it's like, so try to stand near the gates (maintaining social distancing, of course) and see what's going on.
 
Are drop-off and pick-up procedures well organised to stick to social distancing rules? Are children happy to leave their parents? Are staff there to welcome pupils? Do children leave at the end of the day with smiles on their faces?
 
You may not be able to talk to parents in person, but you can tell a lot from the behaviour and attitudes of the pupils (and parents, too!).
11. Find out about induction procedures
Thanks to Covid-19, the usual system of taster visits and settling-in sessions for new pupils may continue to be disrupted.
 
In the last two years, did new pupils get to 'meet' their teacher on Zoom, for example, or receive a home visit? This information may still be available on the school's website and can give you an idea of how your child might be settled into school next year.
12. Look at what matters to your child
Every school has its own strengths, so when you're looking – in person or virtually – keep what matters most to you and your child at the front of your mind.
 
For instance, if you have a child with special needs, a school that has strong SEN support may be better than one that's higher up the league tables but doesn't have such good provision. You might want to know what musical instruments your child would be able to learn, think about whether you'd prefer a bigger school to one with a single-form intake (or vice versa), or find out whether the school has links with a church or other place of worship.
 
All of this information should be readily available on the school's website to help you decide whether it's the right environment for your child.
13. Find out about wraparound childcare 
Now's the time to find out if your child's prospective school has breakfast clubs and/or after-school clubs. This will give you an idea as to whether you'll be able to take advantage of school-based wraparound care, or will need to look for a childminder or other out-of-school childcare.
14. Schools in the media
A search of the local press may well throw up stories about your child's prospective school, so you can see its achievements and its presence and involvement in the community: a good indicator of its ethos and values.
15. Any questions?
Because it's harder to visit schools at the moment, you may not be able to ask any questions you might have in person, but that doesn't mean they have to go unanswered. 'I'm very happy to chat to prospective parents on the phone,' says Steph Matthews, headteacher of St Paul's CofE Primary School in Gloucester. You can also put your questions in an email; this can then be directed to the most appropriate member of staff.
16. Don't panic!
It's natural to feel stressed about choosing schools, but try not to worry too much. 'The closing date for applications isn't until mid January, so there's no need to panic: you have plenty of time to make your decisions,' says Steph Matthews.
 
Instead, use this time to do your research, and you'll feel calmer, more in control, and ready to make the right decision for you and your child.