Choosing a secondary school during the pandemic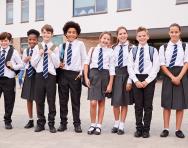 How can you narrow down your secondary school choices within the limitations of the pandemic? We asked three experts to share their advice.
Looking at and choosing prospective secondary schools is an important mission. It's likely that your child will spend at least the next five years at the school they get into, which means the decision is a weighty one.
 
But in pandemic times, many of the ways in which we'd usually find out about possible secondary schools, such as open evenings and tours, aren't happening, which means we have to use different strategies to inform ourselves.
 
Here, we share 12 tips to help you choose a secondary school in 2020.
1. Make the most of virtual tours
With large-scale open evenings ruled out by Covid-19, many schools have produced virtual open evenings instead: videos that aim to cover many of the elements of a normal open evening, such as a talk by the headteacher, interviews with students and tours of the premises.
 
'Choosing a school is often about the "feel" you get, which at the moment, has to come through video,' says Leon Hady, headteacher and founder of home learning website Guide Education.
 
To get the best from a virtual open evening, do a bit of planning first. 'Take the time to sit down with your child and go through the tours together, and make a note of any questions so you can follow up afterwards,' suggests Sarah West, marketing and communications manager of Parentkind, the UK's leading PTA membership organisation. 'One advantage of video tours is that you can watch them again to go back to areas of importance or interest.'
 
When you're watching, try to focus on the most important elements like values, subject choices and facilities, rather than being seduced by amazing production techniques that not all schools will be capable of.
2. Don't rule out a visit
It's undoubtedly harder to visit schools in person at the moment, but don't rule it out completely. 'Don't be surprised if it's not possible, but some schools are running events,' says Sarah. 'These are generally by appointment and first come, first served, so get in quickly!'
 
If in-person visits aren't possible, see if the school is offering live Zoom tours or Q&A sessions where you join a small group meeting and are taken around the school and given the chance to ask questions remotely.
3. Check out the school website…
A school's website is designed to showcase its ethos and values, so spend some time exploring it, with and without your child.
 
As well as looking at elements like admissions details, prospectus and photo gallery, delve a bit deeper and see what in-depth information you can find out from things like its homework and anti-bullying policies. Newsletters are often published, too, so you can get a snapshot of what's happening in the school.
4. …and its social media
A school's social media pages are also a great source of info about what's going on in the life of the school. For example, they might share examples of students' work, details of how they're marking events like Black History Month, job vacancies (a good indication of staff turnover) and Covid-related announcements.
 
As well as looking at what the school itself is posting, see if you can glean a sense of what others think of the school by reading the comments and replies to posts.
5. Talk to other families
Few people know more about a school than its students and their parents, which makes them a mine of information about what it's really like to be part of the school community.
 
You may already know families who have children at your child's prospective schools, and they're likely to be happy to share their views. Consider ways of linking current students with your child and their peers, for example in a private Zoom meeting or WhatsApp group, so they can ask their own questions.
 
You can also ask opinions from people in the wider community.
 
'With social distancing and mask-wearing, approaching parents and students at the school gate may not be an option, but you could ask questions on local online forums or Facebook groups,' suggests Melanie Sanderson, managing editor of the Good Schools Guide.
 
'You'll inevitably encounter different opinions – a school that's great for one child might not be a good fit for another – but go into it with your eyes open and some good questions, be wary of parents' grudges, and you'll probably be glad you asked around,' says Melanie.
6. Check out reports and league tables
As well as getting an overall feel for a school, you'll want to look at how well it performs by looking at its most recent Ofsted report, its position in league tables, performance measures like its Progress 8 score (a measure of progress from Year 7 to Year 11), its GCSE results and its post-16 destinations. All of this information will be available on the school website.
 
'However, make sure you fully understand what you're looking at,' advises Melanie. 'A school might have an Outstanding rating from Ofsted, for example, but if the inspection was done six or seven years ago, it may no longer be accurate.'
7. Do a start-of-school drive-by
You can tell a lot about a school from how its students behave when they're arriving and leaving, so it's worth waiting near the school gates at the start of the day to see how they conduct themselves. This is particularly relevant at the moment, when, for example, students may have been asked to wear masks, or have staggered start times which could mean they're loitering outside for longer.
 
'Consider whether there are teachers there to greet the students, how the students are dressed, and how they interact with each other,' suggests Sarah. 'This will all add to your overall impression of the school.'
8. Look at transition procedures
Induction procedures for new Year 7s and transition for the other years are likely to have been different this year, with most students having been away from school for six months because of Covid-19. Finding out how schools have handled these transitions can be very enlightening.
 
'Some may have focused on easing students back in, while others pressed on with academic work to make up for lost time.,' explains Leon. 'This will give you a strong clue about the school's culture.'
 
Again, the school's website could give you an insight into what your child might expect at the start of Year 7, especially if Covid-19 is still rife. 'Schools needed to run their inductions differently this year, and there may still be information about this on their website which could give you some idea of what to expect when your child starts,' says Sarah.
9. Find out about what matters to YOUR child
Every family has its own priorities when it comes to choosing a prospective school, so keep these at the front of your mind when collecting information. You might have a sporty child who wants to be able to join lots of teams, for example, or an autistic child who'll need good special needs support.
 
'Agree on what's important to you, make a note of each element, and compare how the different schools approach them,' Leon says. 'As well as looking at grades, you might want to look at school facilities or SEN provision, for example.'
10. Find out how they're tackling Covid safety
Schools have had a lot to think about in terms of making sure they can function safely. We don't yet know how things will pan out over the next 12 months, but it's worth finding out how they're handling issues related to the pandemic.
 
'Schools are aiming to show how safe they are, and also how prepared they are for what comes next during Covid,' Leon explains. 'Some are using their video montages to discuss how well supported students felt during school closures, and what parents think about how well the school is tackling safety.'
11. Look at the local media
The local press loves to report both good and bad news, so to give an impression of a school's standing in the area, search news sites for its name and see what it throws up: reports of poor behaviour in the local area, or good news stories of students volunteering during the pandemic?
12. Any questions
Still got questions? You won't be the only one, and schools should be happy to provide answers, especially during these times when you can't visit and ask questions on the spot.
 
'Your first port of call should be the director of admissions or registrar,' says Melanie. 'Every school will have someone in this role, even if their job title is different, and if they can't answer your question themselves, they should be able to find someone else who can.'