Book Review: Frightfully Friendly Ghosties by Daren King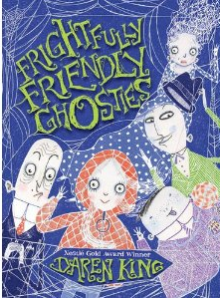 Frightfully Friendly Ghosties, written by Daren King
Published by Quercus Books
Tabitha Tumbly, the poltergeist, and her ghost friends all live together in the same house. They are very friendly and incredibly well-mannered, so they can't understand why the still-alives who live in the house are so mean to them. When a still-alive locks a very nervous Pamela Fraidy in the attic with a leggy spider, the ghosties have to use all their ghostly powers to free Pamela from the attic and try to make friends with the still-alives.
My daughter has just turned 7 and was a bit concerned that this might be a 'scary' ghost story! We read it together and both found it very funny and not at all scary. The story is told from the ghosts point of view and they can't understand why the still-alives scream and hide when they see them. My daughter thought this was very funny and loved predicting what the still-alives would do when they saw the ghosts.
This is an ideal book for boys and girls who are becoming more confident readers and enjoy chapter books that aren't too long. It's quite an original idea for a children's book and it was nice to read something a bit different - this is a good book for encouraging your child to read a wider range of books and subject matter. The illustrations are funny and quirky too. I would definitely recommend this book.