Submitted by Leeds on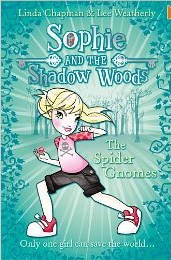 The Spider Gnomes is the third book in the Sophie and the Shadow Woods series by Linda Chapman and Lee Weatherly.  It is published by Harper Collins, is 136 pages long and has a RRP of £4.99 with a recommended reading age of 7+.
I have previously reviewed the first book in this series, The Goblin King, and was keen to see how Sophie was progressing in her efforts - as Guardian of a magic gateway which separates our world from one inhabited by vast numbers of evil creatures - to recover six magic gems which would prevent the magic gateway from opening and the creatures living behind it  crossing through.  In this particular book, the town where Sophie and her best friend Sam live has been infested with spiders and, before long, the two of them are forced to battle against super scary Spider Gnomes who are intent on recovering the gems for their leader, the notorious King Ug, and will stop at nothing to gain control.  This includes kidnapping Sophie's grandfather, and biting Sam so that he starts to turn into a Spider Gnome himself.  Sophie's aspirations to be a stunt woman, and her tae kwan doe skills prove to be very useful!
In some ways, these books remind me of the Rainbow Fairies series, but for slightly older and rather more feistier girls!   That is meant as a compliment - the girls in the library where I work love the first book - but it does mean that essentially the same story (with a different enemy) is told in each volume. Girls in the intended age range, in my experience, seem to love that repetition.
The vocabulary is modern (and not in any way unsuitable), there aren't too many words on each page and there are plenty of black and white line drawings to break up the text.  It is great for girls who like action and adventure and who - probably - are not that keen on pink!
Sophie fans might like to visit www.sophieandtheshadowwoods.com where there is more information about Sophie, and the books, as well as Sophie based puzzles and games, and video clips.  There is also an interview with the authors discussing the Spider Gnomes on You Tube, if anyone is interested.