How to help your child make the most of live lessons
With lots of children now learning mostly on screen during school closures, read our advice on helping your primary school child get to grips with remote teaching.
In this new phase of lockdown learning, many primary schools are now engaging with children through live lessons using apps like Zoom, Teams or Google Classrooms.
 
The Department for Education has stipulated that at least some of the educational provision from schools must be video, and although schools don't have to provide live lessons – videos from other educational sources, like the BBC and Oak National Academy can be used – lots are taking the opportunity to allow pupils to connect remotely with their teacher.
 
Start a unique learning programme!
Weekly programme for each school year
Worksheets sent direct to your inbox
Keeps your child's learning on track
Some schools are having brief sessions at the start and end of the school day to say hello and goodbye, and to check that pupils are online and ready to learn. Some are going live for specific elements, like spelling tests and maths quizzes. Others are running a near-full timetable of live lessons.
Taking part in remote learning is very different from being in the classroom, so read on for our tips for making it work for your child.
1. Follow the teacher's ground rules
Trying to control 30-odd pupils through a computer screen can be difficult, so it helps if your child's teacher sets some ground rules for remote teaching. These will most likely be similar to their classroom rules – not talking while the teacher is talking, raising their hand if they have a question, and so on – but it's helpful if the teacher explains their code of conduct so everyone is clear.
 
If they don't, it's worth asking so your child knows how they're expected to behave. Make yourself familiar with the rules, too, so you can make sure your child is following them.
 
2. Get the technology sorted
Not everyone has the luxury of a laptop dedicated to their child's learning, but there are other ways to tune into live lessons.
You can access communication apps on mobile phones or tablets, but did you know you can also use the internet through games consoles including Xbox and PlayStation? This can be a real help if you have more than one child fighting for use of a single laptop or tablet.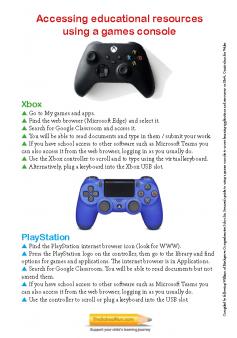 If this isn't an option, speak to your child's teacher. Some schools are lending laptops or tablets, or your child may be able to study in school if they don't have the right equipment at home.
 
3. Check your child's username
Your child's teacher needs to know who's who during live learning, and may not admit them if they don't recognise who's in the waiting room, so make sure their username is clear: use either their own name or yours, rather than gaming tags or nicknames such as FuzzyBunny2010 or the like!
 
4. Close unnecessary tabs
Having lots of tabs open in the background can use up bandwidth, making the device work slowly so live lessons are more likely to freeze. It's also impossible for your child not to get distracted if Minecraft or YouTube is running in another tab! So encourage them to close unneeded tabs during their lessons: if there are pages they want to come back to, it's best to bookmark them rather than keeping them running.
 
5. Make yourself available
For safeguarding reasons, schools may ask for an adult to be present while children are in live lessons, so be prepared to show your face at the start of the session, and to hover in the background for the duration.
 
6. Use headphones
Using headphones can help your child focus without being distracted by the hubbub of daily life in the background, and will also prevent other members of the family being disturbed by your child's lessons while you're trying to work or study.
 
7. Show your child how to use the mute function
Your child's teacher may put the whole class on mute to prevent shouting out, and unmute them one at a time if someone wants to speak, but it's a good idea to show your child how to use the mute function, too. This will avoid the teacher and other pupils hearing distracting noise from the family's normal daily activity.
 
8. Show them different screen options
Sometimes, your child will want to focus just on their teacher; others, they might want to see their classmates too, for example if they're having a discussion, so it's helpful if you can show them how to switch between single person and gallery mode.
 
9. Teach them to ask questions appropriately
In the classroom, there's a natural dialogue between children and teacher, so they can ask questions or have particular concepts explained in greater deal, but this is harder in remote lessons, where constant questioning from pupils can interfere with the flow.
 
Instead, show your child how to use the chat function in Zoom, Teams or Google Classroom, or give them pencil and paper so they can note down questions to ask at the end of the lesson or by email. Remind them, though, to keep questions relevant, rather than filling the chat box with messages to friends.
 
10. Use the 'raise hand' button
This is a little-known feature that lets your child put their hand up virtually if they have something to say.
 
On the Zoom mobile app, click on the three dots at the bottom of the screen, labelled 'More,' to find the button. On a laptop, click on the icon labelled 'participants' at the bottom of the screen, then tap 'Raise hand.'
 
On Teams, there's a hand icon at the bottom of the screen to tap.
 
In Google Classroom, click the 'Raise hand' icon at the bottom of the screen.
 
11. Support the camera-shy
Some children feel very self-conscious seeing themselves on a computer screen. Others may need to be anonymous for safeguarding reasons, for example if they're in foster care. If your child can't or doesn't want to be seen, ask their teacher if they can keep their camera off during live lessons.
 
12. Ask for slides or screen grabs
Remote teaching is very different from being in the classroom, and it can be harder for children to keep up or remember what they're being taught. If your child's teacher is able to share slides or screenshots from their lessons by email, it'll help them go over anything they were unsure of with your support, and give them the right information to refer back to when they're working on similar tasks independently.
 
13. Be kind to yourselves
Children have short attention spans, so it's natural for their concentration to wander, and for them to need more help focusing, understanding and using the technology.
 
There may also be particular challenges for children with special educational needs (SEN) such as attention-deficit hyperactivity disorder (ADHD), as well as those working above or below the average level of the class, and those sharing computers, struggling with WiFi issues or trying to make the apps work.
 
Try to remember that you're all in this together: this is a new way of working, for your child, their teacher, and you as the supervising parent.
 
Teachers know that there are likely to be obstacles to remote learning and will do their best to help your child: if you have recurrent issues with internet access, for example, they might provide you with paper learning resources.
 
If you have problems – whether technical or with your child's engagement – drop your child's teacher an email. By working together, you should be able to reach a solution that works for everyone.