How TheSchoolRun can help support learning during school disruption
What's the best way to support your child's learning at home during school disruption?
If you'd like clear, accessible information about every aspect of the primary curriculum, you've come to the right place!
Bursting with expert information and advice and thousands of teacher-created printable and interactive resources, TheSchoolRun is trusted by over 270,000 parents a month to support their child's learning at home.
What to do today
If you are not familiar with the site, start by watching our TheSchoolRun introductory video.
Finding information
We have thousands of articles on the site, covering every aspect of the curriculum, with lots of advice and tips on how to support your child's learning at home.
Search for articles using the search box in the right-hand column or hover over School Year or Subject in the top menu and then click on the links you are interested in to go to dedicted hub pages on that topic.

Here are some really useful articles:
Helping your child learn during coronavirus school disruption
10 home learning strategies from an experienced home educator
Learning outside school: find how to make everyday events, like gardening or playing football, into learning opportunities, how to create a reading-friendly home, fun science and craft activities to try at home and ways to bring maths into your child's everyday life.
Year-by-year home learning guides:
10 at-home learning ideas that hardly cost a penny
5 primary school art projects to try at home
How to structure your learning day at home (including free timetables to download)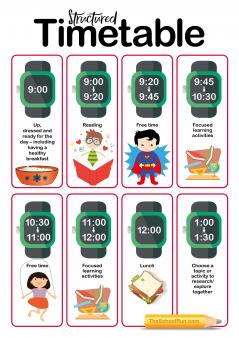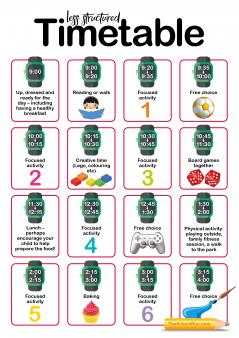 Finding resources
To search for resources, click on School Year or Subject in the top orange menu bar, or use the search box in the right-hand column.

You can also use our worksheet finder tool, which you'll find on the home page of the site, to quickly find worksheets to get your child started.
You can filter by school year, subject and category, so you're sure to find the perfect worksheet at the right level for your child.
The free worksheets for each section will appear at the top of the listings page: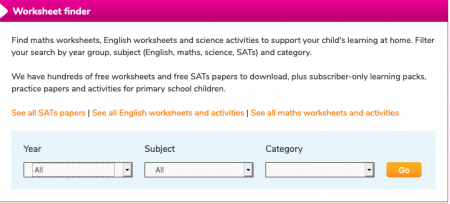 And we have a couple of free interactive tutorials that you can try as well.
Explore our Maths, English, grammar, science and computing glossaries
Baffled by bar charts? Confused by CVC words? Foxed by food webs? Puzzled by phrases and programming languages?
TheSchoolRun's free primary-school glossaries explain all the maths, English, grammar, science and computing terms you need to know to support your child's learning at home.
Find the term you want to read in our comprehensive list, then click through for a plain-English, parent-friendly guide packed with examples, teachers' tips and step-by-step explanations.
Go to the glossaries:
Make friends with the Homework Gnome
Looking for child-friendly project work? Our free Homework Gnome covers the most common curriculum topics and offers information, resources and links to further learning.
From essential information to weird (but true!) facts, picture galleries, videos and more, the Homework Gnome offers your child a fantastic launching pad for learning about the history, geography and science topics they're covering in school.
Each national-curriculum area has been researched and presented in child-friendly language to help your child with homework projects and at-home research.
Watch TheSchoolRun's Homework Gnome video to find out more about this great free resource.
Go to the Homework Gnome:
Want to access all our resources but not sure if a subscription is right for you?
Why not take advantage of our FREE 14-day trial. This will give you access all of our resources, including:
1000s of worksheets and activities – all divided by year group and subject
 
English, maths and science programmes for each year of primary school, covering all the core areas of learning taught in the National Curriculum
 
Interactive maths tutorials – our teacher explains the method, shows examples and then gives children a chance to practise what they've learned
 
70+ topic-focused workbooks – filled with information and advice from experts and teachers, and covering key areas of learning like grammar, phonics, times tables, spelling and more...
 
Preparation material and revision programmes for SATs, Phonics Screening Check, 11+, Year 4 Multiplication Check and more
Find out more about what's included in a TheSchoolRun trial subscription.
New daily learning programme
To support parents during school disruption, we've launched a daily email programme. Targeted at your child's school year, and intended to supplement work sent home by the teacher, each email includes a range of activities and ideas such as:
Daily English, maths or science worksheets to download and print
 
An interactive maths tutorial
 
A topic-themed learning pack or workbook to explore
 
Learning-based activities and games to do at home
Find out more about what's included in the daily programme.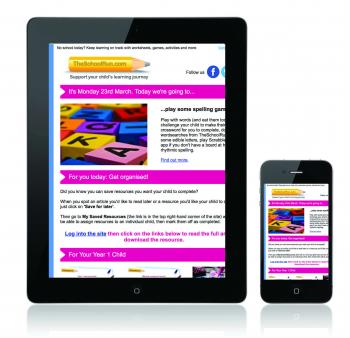 Parents and teachers love TheSchoolRun
Thousands of parents and teachers use TheSchoolRun every day. Here's what they say:
'The array of resources on the website gives me confidence that I can support my children's learning at home without adding additional pressure.' - Sarah, West Midlands
'I am a teacher and I have subscribed because I find your activities very straightforward and give helpful explanations for my class to use. I have also forwarded your details to all of my parents in my class as they are keen to help their children. I will continue recommending your site to my parents as I have explained to them this site is a lot better than a tutor and also a lot cheaper!' – Jackie, Rowley Regis
'A priceless resource for modern day parents trying to help their children through those ever changing school years.' - Hannah-Marie, Surrey
'Your web site is impressive and professional. It is obvious that the worksheets and advice are delivered by qualified primary school teachers. I would go as far as saying it is the best and most up-to-date educational site in the UK.'
- Barbara, retired Deputy Head Teacher, Bury St Edmonds
'TheSchoolRun is an Aladdin's cave for primary school information!' - A Patel, London
'I'm not a huge fan of extra homework, but I love the way your work materials don't overwhelm, but are nonetheless targeted at what can help. You really do seem to be a company which is aware of parental fears and their worries for their children, without making these into a drama that overwhelms the child. You seem really supportive of children, which is a difficult thing in a result-driven, over-anxious atmosphere.' – Christine, retired teacher
What to do next
Watch our videos to find out more about how TheSchoolRun could support your child's learning at home.