15 life lessons children have learned in lockdown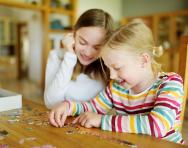 2020-21 have been full of challenges, but many children have grown from the experience. Here's what they've learned during the pandemic.
There's no disputing that 2020-21 have been a tough year, and our children are counting the cost: the struggle to get back on track at school, the toll on their mental health, and even an increase of bullying, often online.
 
But in the midst of dark times, there have been positives, and many children have learned life lessons that they wouldn't have during a normal school year.
 
From the practical to the life-affirming, here are some of the things your child may have picked up during the Covid-19 pandemic.
1. Personal hygiene
No longer do we have to remind our children to wash their hands every time they've been to the loo. Now, thorough hand-washing (accompanied by singing Happy birthday) is second nature at regular intervals throughout the day.
They've also learned to catch coughs and sneezes in tissues: no more snotty sleeves (hooray!).
2. Independent learning
The sudden switch to home learning during the first lockdown was a huge challenge for all of our children, but since March, many have developed an impressive capacity for independent learning, tackling core subjects, topic work and online learning with minimal adult input.
 
Sure, they've needed us to oversee and encourage (some more than others!), but their newfound resourcefulness will set them up for independent learning in the years ahead.
3. Riding a bike
During the first lockdown, when outdoor exercise was one of the few justifications for leaving the house, many of us seized the opportunity to get out on our bikes. Huge numbers of children mastered the art of cycling for the first time, and novice cyclists improved their skills and confidence.
 
'Cycling rates went up during lockdown, partly due to the good weather and the opportunity to exercise outside once a day, but also because there was less traffic on the roads, which encouraged families to get their bikes out,' says Emily Cherry, executive director of the Bikeability Trust.
 
'Many parents and children discovered the pleasure and freedom to be gained from cycling together and exploring their local neighbourhoods.'
 
Now, having developed stronger and safer cycling skills, children can get on their bikes and cycle to school, getting some exercise and helping to reduce their carbon footprint at the same time.
4. Environmental awareness
Even if we didn't go out cycling, lockdown one and its restrictions on going out meant that many of us spent more time exploring the great outdoors on foot, taking long walks and finding places in our local area that we never knew existed. This helped children develop a new appreciation for nature and their duty to look after it.
 
'Being outdoors and connected with nature provides plenty of opportunity to take part in hands-on learning about wildlife, habitats and the benefits of natural spaces,' says Richard Cooper, the Woodland Trust's family membership communications manager. 'Studies have also shown that time spent outdoors in childhood fosters a stronger desire to protect the planet as adults.'
 
Back at school, teachers are making the most of outdoor learning opportunities to minimise time spent in crowded classrooms, so the pandemic could indirectly have created a new generation that cares deeply about the environment and will grow up to do all they can to look after our planet.
5. Getting fit
At its peak, Joe Wicks' daily PE with Joe live stream on YouTube had a million viewers tuning in to start their day with a burst of exercise, meaning that surprisingly, being stuck at home led to kids being more active, rather than less.
 
Other fitness pros also grabbed the chance to get children moving with online workouts, such as Strictly pro dancer Oti Mabuse's dance classes, and of course, we parents hustled our kids off the sofa and into the garden or park to burn off steam, too.
 
The result? Children who returned to school feeling fit and energised, and with healthy activity habits to last a lifetime.
6. Self-motivation
Every family had its own struggles throughout lockdown and the following months, whether we were juggling our children's learning with working from home, trying to balance the needs of more than one child, or simply keeping our heads above the water.
 
As a result, many children learned to be more organised and self-motivated. This showed itself in their self-disciplined approach to home learning, and also in their resourcefulness in finding new ways to entertain themselves independently, without needing constant chivvying.
7. IT skills
Okay, so chances are your child went into lockdown with an impressive knowledge of everything techy, but the challenges of doing schoolwork from home is likely to have developed their IT skills even further.
 
Many have had to adapt to new virtual ways of working using platforms like Google Classroom, and new ways of communicating with teachers, friends and family using Zoom, FaceTime and MS Teams.
 
Inevitably, they'll also have encountered glitches and outages, and put their IT knowledge to the test by trying to resolve problems, developing computer skills that'll benefit them now and in the future.
8. Kindness and empathy
'Be kind' was the unofficial motto of lockdown, with rainbows in windows, clapping for carers, and random acts of kindness, meaning that many children now have a deeper sense of empathy for others.
 
'The pandemic has had a definite empathy effect, giving children a new perspective on how different and unequal people's lives are – like thinking about what it would be like to be a nurse on a Covid-19 ward, or a bus driver working through lockdown,' says Miranda Kearney, founder of EmpathyLab.
 
'It also highlighted how powerful it is when we look out for each other, basing acts of kindness on a real empathetic sense of what people are going through, resulting in many children donating to food banks or helping with a lonely neighbour's shopping.'
9. Creativity
Whether they were completing school art projects, chalking rainbows on pavements or tuning into 'how to draw' live streams, lots of children have embraced their creative side during the pandemic, developing their talents, discovering new ones, or just using creativity to take their minds off what's happening in the world.
 
'Drawing is not only fun; it's also a wonderful way to momentarily escape our anxieties,' says Ed Vere, artist in residence with the Born Free Foundation, who held online drawing masterclasses in lockdown.
 
'When you draw, you become engaged in the moment, simply following the direction of your drawing. During lockdown many children felt anxious, and I hope the cathartic act of drawing helped them understand and express their emotions.'
10. Sustaining friendships
While isolation and school closures were undoubtedly difficult for many children, they also encouraged them to find new ways of sustaining friendships without face-to-face contact in an online world where cyber-bullying could have proliferated.
 
'Children and young people tell us that having close friends can help to prevent bullying,' says Martha Evans, director of the Anti-Bullying Alliance. 'More than ever, schools, parents and online platforms have an important role to play in supporting children to maintain their connections to their friends.'
 
Many children have found that communicating through texts, over Zoom or through online gaming has helped them keep in touch with friends, even though the world kept them apart, and return to school with strong bonds that have ridden the storm.
11. Understanding current affairs
Whether through listening to the radio with you, watching age-appropriate programmes like Newsround, or just joining the weekly clap for carers, following the path of the pandemic throughout 2020 has given children new skills in understanding current affairs that will help them to be interested and inquisitive consumers of the news as they get older.
12. Having fun without screens
Okay, so many of us have let our kids have way more screen-time than we'd usually allow over the past months, but lots of children have also rediscovered the joys of screen-free time, for example through role play, outdoor play, jigsaw puzzles and board games.
 
'Many families turned to board games during lockdown for quality screen-free family entertainment,' explains Ellie Dix, board game designer and author of The Board Game Family.
 
'Games are easy to fit into the life of a busy family, and are also a useful educational activity for children who are learning at home, improving skills like logic, memory, problem-solving and decision-making.'
13. Cooking and baking
From sourdough and banana bread to full meals, lockdown encouraged many of us to start cooking from scratch with our children, teaching them kitchen basics that'll set them up for life.
 
'Cooking is an ideal lockdown activity to keep children entertained at home,' says Ruth McIntyre of Ruth's Little Kitchen, who broadcast online cookery classes for kids in lockdown. 'It has educational benefits that are a gateway to subjects like maths, science and nutrition, builds lifelong cookery skills, and of course you have something tasty to eat at the end!'
14. Reading for pleasure
With most of their usual activities off limits during lockdown, many children turned to books to escape their boredom – and from their Covid anxieties – and discovered a new joy in reading for pleasure.
 
'At a time when the world can seem a strange and unsettling place for children, books offer them a refuge,' says Ian Eagleton, creator of the Reading Realm app. 'Through the wonders of reading, they can escape to worlds of excitement, adventure and magic, safe in the knowledge that good will triumph over evil.'
15. Living in the moment
One thing lockdown taught a lot of children was to be more present. They may have been spent time poring over colouring books, stopped to look at daisies, ducks or muddy puddles on their daily walk, or savoured the taste of a much anticipated 99 from the ice cream van.
 
Indirectly, these are all mindful activities that will have helped them step away from past or future worries and live in the moment.
 
'Over lockdown, we were all forced to pause for a while,' explains Lucy Stone, founder of Meditation Rocks and YOGADOO. 'Routine and daily life changed, but taking a moment to breathe and be still gave children the chance to reflect on and make sense of what was happening, and allow any feelings to surface.
 
'This sort of mindfulness can improve focus and attention at school, help them regulate their mood and emotions, and use their tools to feel calmer and more relaxed.'
 
And taking that moment to pause and be at peace is just what we all – parents and children alike – need in this challenging, ever-changing pandemic world.