15 ways to make family memories during lockdown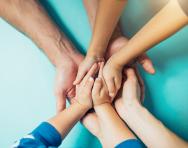 Stargazing, scrapbooks and salt dough… Our favourite ways of making the most of your time together at home.
With schools closed, many of us are spending more time at home with our children than ever before. And while this can be challenging, it's also an opportunity to make memories with our families.
 
In future generations, children will learn about the Great Pandemic of 2020 in history lessons, so this is your chance to create a piece of family history yourself, and give your child memories to share with their grandchildren and great-grandchildren one day.
 
We've rounded up 15 of our favourite ideas for marking lockdown with your family, and making it an unforgettable time for your child.
1. Chalk a rainbow
The rainbow has become a symbol of hope during the pandemic, and families have found a host of ways to pass it on, from sticking rainbow pictures in their windows to painting their fences in bright colours.

We love the idea of using chalk to colour the bricks of your house or drive, or simply chalking a rainbow on the pavement: it's an easy time-filling activity to do with your child, and shows your support for the NHS and key workers to everyone who passes your home.

Nickellé Hall and her partner created this spectacular effort, with help from their children. 'We coloured in my house with chalk for the NHS: my children and I are forever grateful for all they have done for us, and what they continue to do,' she says.
2. Treat the kids to afternoon tea
Fed up of cooking chicken nuggets? Why not treat your family to a posh afternoon tea, with cucumber sandwiches, cakes and homemade scones?
Set the table with your best crockery, put on your glitziest outfits, and enjoy a refined family feast, complete with apple juice in champagne flutes and
classical music
playing in the background. Bonus points if your child helps with the baking!
'Not quite The Ritz, but my boys loved it!' says Donna Evans.
3. Go on holiday – in your garden
What do you do if your summer holiday has been cancelled? Set up
camp
in your own garden, of course!
Pitch a tent, cook burgers and sausages on the barbecue, then snuggle down in your sleeping bags for a night under the stars. It's not quite the Med, but the bathroom facilities aren't bad!
'I'm loving camping in the garden with the children, listening to the birds – it's like being on holiday but with all the home comforts,' says Sam Watters.
4. Make a family time capsule
Building a time capsule will help your child remember what lockdown was like, and share their memories of the Great Pandemic of 2020 with the next generation. Include items such as newspaper clippings, family photos, a letter to their future children, and school newsletters.
Traditionally, time capsules are buried and dug up on a set date in the future, but if you don't fancy a hole in your garden, you could hide it away in the loft instead.
'In years to come, this will be a historical time, so we've made a Covid-19 capsule so our son knows what we were doing during lockdown,' says Stacey Cadman. 'We also included a message from him to his future self.'
Stacey is on
Instagram
.
5. Order a 'fakeaway'
If your child is missing their favourite fast food, try rustling it up yourself.
There are lots of printables online so you can replicate the iconic packaging from fast food joints like
McDonald's
and
KFC
, and many restaurants – including
Greggs
and
Pizza Express
– have shared recipes for some of their most popular dishes.
We reckon this could be a regular weekend treat.
'For her sixth birthday, my daughter asked for a McDonald's breakfast and KFC for dinner. This was Mummy's version,' says Gemma Xaviera Guest.
6. Discover the night sky
There's something humbling about watching the stars, and stargazing is one of those activities that unite the family: a wonderful chance to be still together and reflect on our place in the universe.
It's not just stars you can see in the night sky: now is a good time to view Elon Musk's
Starlink satellites
, which can be seen passing over in trains of up to 60 on clear nights.
'We bought a fire pit, some forks and giant marshmallows, downloaded a night sky app and did some stargazing – great fun!' says Allie Walker.
7. Paint a mural
Many of us are marking lockdown by recording our children's height and size: a lasting reminder of how big (or small) they were during lockdown.

There are lots of ways to do this, from measuring their height against the door to making hand and footprints, but the most impressive we've seen is the brainchild of Terri Pashley, who created this amazing wall art.

'To make our family lockdown portrait, we took turns to draw around each other, then painted the silhouettes in different colours using paint tester pots,' she explains.

'I'm so happy with it, although the cat isn't talking to me!'
8. Do something for charity
In these times of trouble, doing our bit for the NHS, key workers or charities can help us find a sense of purpose, and raising money or awareness is also a good way to bring the family together for a good cause.
We've been inspired by children such as
Frank Mills
, a boy with spina bifida who's walking 10 metres a day with his walker to raise money for the NHS, as well as many others who are fundraising by cutting their hair short or taking the
2.6 challenge
.
Claire Lewis's daughter is supporting the
NHS Kindness Wishlist
by making and selling rainbow ribbons. 'She's aiming to buy tablets so patients without visitors can see and speak to their loved ones, and has raised over £100 already – I'm so proud of her,' says Claire.
9. Make a handprint memento
One of the most popular ways of commemorating lockdown is using the family's handprints to make a piece of art that captures this moment in time and shows how you all pulled together.

There's a wide range of ways to use handprints to make mementos, but our favourite has to be casting them in salt dough, using a simple recipe of 400g plain flour, 200g salt and 200ml water, baked at 50C for around two hours then left to air dry for a day or two.

Gem Simmons and her partner created this amazing Marvel-themed handprint art. 'It took longer than expected, but I'm so impressed with the finished piece,' she says.
10. Create a jar of hope
When everything seems bleak, it's important to hold onto rays of hope for the future, and one way to do this is to create a jar of things you're going to do after lockdown.

Every time you or your child wishes they could do something, you write it on a slip of paper and put it in your jar. These could be small but important things – seeing the grandparents – or bigger ones, like going to a theme park.

After lockdown, you can then pull a slip out of the jar every day (or week, or weekend) and do the thing that you'd wished for during lockdown. Some families are also putting the money that an activity would have cost inside the jar, so there's a fund for all the fun times you'll have in the future.

'When we're allowed out, we'll work our way through the jar: it's helping the children manage their disappointments as they can see them building up into a rainbow jar of treats ahead,' says Catherine Whitaker.
11. Dance your socks off
There may be no school disco for your child this term, but that doesn't mean they have to miss out on the fun.

A family living room glow disco will bring smiles to faces and lighten spirits in the midst of lockdown gloom, and will become a fond memory for your child to look back on – the cheesier the music, the better!

'This was our first family disco. We bought a cheap disco light and added face paints and glow sticks for good measure. The kids are already asking when the next will be,' says Sam Masters.
12. Get fit as a family
Feeling sluggish and tired? Getting a bit of daily exercise can lift your mood as well as helping you be more active as a family.
There are lots of live streams on YouTube, Instagram and Facebook Live that aim to help kids get moving, and joining in with them at the start of the day can energise them for a day of learning, as well as being a fun (and funny!) part of the daily family routine to look back on in the future.
'Getting up and starting the day with
Joe Wicks's PE lesson
sets a rhythm for the day, and the boys love Fancy Dress Friday,' says Lorraine Doggett.
13. Have a cinema night at home
Yes, you can watch a film at home on the sofa, but it's so much more exciting if you turn into a movie night, complete with popcorn, drinks and homemade tickets. It could become a weekend ritual: a treat for you all at the end of a long, hard week of lockdown.

If the weather's nice, you can take the cinema outside, using a laptop, tablet, or projector. Make it even more magical with fairy lights, lanterns and glowsticks, like Tania Williams's amazing trampoline camp.

'We watched a movie under the stars and had such a good time. Even now, the children are hugging me and saying thank you,' says Tania.
14. Make birthdays special
If your child has a birthday during lockdown, it's natural that they'll be sad about not having a party, or being able to see friends and grandparents, but you can still make it a celebration to remember.

Thankfully, there are lots of good ideas for making your child's birthday unforgettable – if very different from normal – including virtual parties by Zoom, party food buffets, traditional party games with the family, and video game tournaments. Depending on logistics, you could even get a few friends, neighbours or relatives to sing happy birthday from the end of the garden path, maintaining social distancing.

Sammie Gutteridge's son turned six during lockdown. 'We'd planned to go bowling and to the cinema, but as we couldn't get to either, we decided to bring them home,' she says. 'He absolutely loved it.'
15. Compile a family scrapbook
The pandemic is (hopefully) a once-in-a-lifetime event that will go down in history, but children – especially younger ones – may find it difficult, in the future, to remember exactly what happened, and what it was like to experience it.

A scrapbook that includes details of what's going on in the world alongside family memories will become a memento that's treasured forever, and compiling it can become a special family endeavour as you share your feelings and experiences, and choose what to include. Ideas include the coronavirus letter sent to every household by Boris Johnson, and a copy of the Queen's speech.

Karen Scott Bardell is making a lockdown scrapbook with her family. 'We've added pictures of what we've been doing on a daily basis, statistics and news stories from around the world, and we're each writing a diary entry every Sunday.

'It'll be great to have something to look back on to see how we got through this difficult and uncertain time in our lives.'