Museums reviewed by parents: The Geffrye Museum of the Home
Bring classroom learning to life with a visit to one of our parent-recommended museums, or explore the website to explore from afar. For hands-on fun and a fascinating trip through our Tudor and Victorian past we love the Geffrye Museum of the Home in London.
Leave the urban jungle behind and step into the Museum of the Home's beautiful gardens, an oasis of calm just off the Kingsland Road in Hoxton, London. Elena Dalrymple visited The Geffrye with her children Kate, 10, Tom, 7, and Emily, 3.
Claim Your Summer Challenges Pack!
30 exciting challenges
Weird and wonderful facts
Keep them busy the whole summer!
The Museum of the Home is housed in beautiful 18th-century almshouses and explores the history of (middle-class) homes from 1600 to the present day. Wander through a series of period living-room displays to see the how furnishings, decoration and style changed over time (with plenty of opportunities to touch replica fabrics, period newspapers and objects and artefacts in the information bays between the rooms).
From April to October you can also visit the award-winning walled herb garden and  period gardens designed to show how domestic gardens changed over the last four centuries.
A really interactive, welcoming and fascinating museum for families − and it's completely free! The children loved spending an afternoon here and we will definitely be back.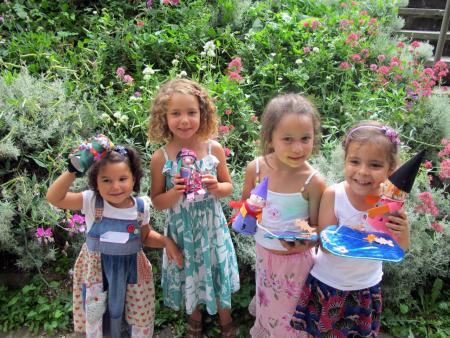 Best for nursery and Reception kids
The brilliant (and free) activity backpacks and trails. We borrowed a fully-stocked 'afternoon tea hamper' and had a fantastic time serving cakes and drinks to teddies (wearing the apron and cap provided), before playing some card games. A guaranteed visit highlight for toddlers and younger children!
Alternatively you can choose a Sam the Dog backpack, filled with multi-sensory activities and a pair of binoculars (suitable for children under 5).
Best for KS1 kids
The Quiz Desk, staffed by Activity Assistants offering quizzes, trailers and quick craft activities to complete on the kids' activity tables. The Feely Box was pretty popular, too − you feel seven mystery objects and try to work out what they are just using your sense of touch.
Best for KS2 kids
At Home with the Geffryes, the (free; borrow it from reception) kids' audio tour was a huge hit with my ten year old. Packed with voices from the past and stories, she listened to the whole thing, entranced, while wandering through the period rooms.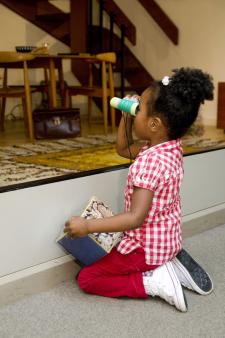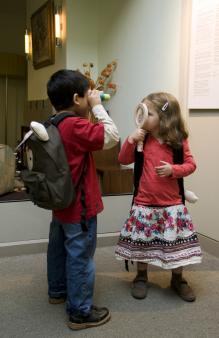 Don't miss!
Each December the period rooms are decorated in authentic festive style, so you can see how Christmas has been celebrated in the last 400 years and understand the history of some of our festive traditions.
Half-term and holiday events for families
Loads to choose from and free, they're aimed at kids aged 2 to 16, cover art, design, craft, cooking and baking and run throughout the holidays. They are very, very popular, so try to arrive early in the day to get a slot!
A weekend family activity programme with live music, performance and storytelling and craft workshops is also available.
Food and drink options
The museum restaurant serves drinks, snacks and lunches; a children's menu is available.
When the weather is good, picnic on the lawn in front of the museum and admire the architecture. There are no indoor picnic or packed lunch areas.
Getting there, prices and opening hours
The Geffrye is at 136 Kingland Road, Shoreditch, London E2 8EA (about 15 minutes by public transport from the City of London). Detailed public transport instructions and maps are available.
Free entry. Open Tuesday-Sunday 10am-5pm. Open Bank Holiday Mondays 10am-5pm; closed Mondays (unless Bank Holiday), Good Friday, Christmas Eve, Christmas Day, Boxing Day, New Year's Day.
Pocket-money shop purchases
Yes (for grown-ups too) − we love the Regency Doll to Dress paper dolls book, £2.50, or the Geffrye Colouring Book, £2.50.
Online treasures if you're too far to visit
Links to the National Curriculum
The Geffyre brings history to life for children (and adults!) of all ages. A visit would offer inspiration and information for kids studying:
History of the home (KS1)

Tudor life (KS2)

Victorians (KS2)

Britain since 1948 (KS2)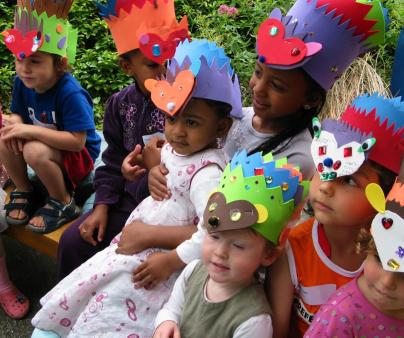 Photography: © Geffrye Museum of the Home/Jayne Lloyd, © Geffrye Museum of the Home/Morley Von Sternberg
Museum reviews for parents: we need YOUR help!
TheSchoolRun is looking for families to visit museums and other educational venues around the country and 'review' them. Get in touch to have your say about the best family days out (with a learning twist!).