Museums reviewed by parents: Glasgow Science Centre
Find out about forces, get confused by optical illusions, blow up a balloon (literally!) and have fun discovering the world around you at the Glasgow Science Centre – and bring the whole family!
Hetty Walton took her kids Tom (11) and Ivy (7) to Glasgow Science Centre, one of Scotland's most popular visitor attractions.
Located in the heart of the city on the banks of the River Clyde, Glasgow Science Centre is a perfect family day out, with three jam-packed floors of fun science and interactive experiments for kids of all ages (and grown-ups too!)

.
Download fantastic science resources today!
Experiments And Science Fun pack
Science Learning Programme for each school year
All the instructions, questions and information you need
Best for nursery and Reception kids
Situated on the first floor and shaped like a big boat, The Big Explorer area is ideal for little ones. Budding scientists can operate a construction crane and lift bricks, crack a code, have fun with a bubble tube, splash around with waterwheels and tubes (plastic ponchos included), stomp on musical shapes and play on the Captain's Bridge. For families with even tinier ones, there's also a soft play area and a buggy park. There's a special construct it section tucked away on the second floor where mini engineers can build away to their hearts' content, too.
Best for KS1 kids
Next to The Big Explorer is the main Science Mall, a light, bright, open space full of interactive exhibits to press, pull, stand on and spin.
There are three main sections: forces and energy (with lots of wheels, dials and things that move), logic puzzles (with some tough enough to test the adults) and optical illusions (complete with strange swirling patterns, perplexing pictures and tricks with mirrors). Highlights include the giant whispering dishes, a big spinning gyroscope, which Ivy especially liked, a cycling robot and The Wacky Salon (a room that makes you tilt as you try to walk across it).  
Best for KS2 kids
The exhibition spaces on the second and third floors feature more complex science for older children; at the time of our visit we checked out the Body Works and Powering the Future exhibitions. Tom enjoyed drilling for 'oil', operating a robot hand and controlling a ball with his brainwaves, while Ivy had a go on a giant hamster wheel and a sprint test. The exhibitions are always changing, so check the website for details.
Don't miss!
The spectacular free science shows running throughout the day – they're great fun. The one we went to involved a spiraling giant fire tornado, a bed of nails and tons of audience participation.
Or catch one of the regular hands-on workshops – we had a go at DNA extraction and making our own lungs (!). For an extra £3, you can see a planetarium show. We went for a spot of indoor stargazing, but there are multiple options to suit all the family.
Half-term and holiday events for families
The Centre runs a huge variety of science-y events, from holiday workshops and drop-ins to more serious science talks and special planetarium film screenings. Check on the website for details.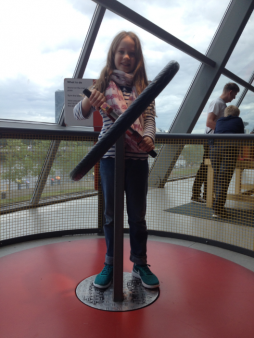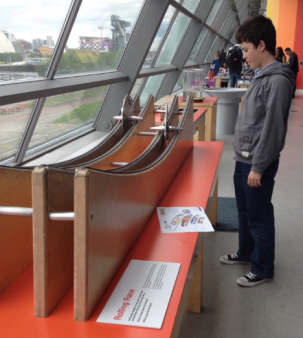 Food and drink options
A small coffee shop on the ground floor sells a selection of drinks, snacks and light bites, while the main Taste Café has hot food (kids meal deals are £4.95) and if the weather is good you can sit out on the riverside terrace. If you're bringing your own food there are plenty of benches to sit on and a designated picnic area on the first floor.
Getting there, prices and opening hours
Entry to the main Science Mall is £11 adult and £9 child / concession. A planetarium show costs £3 extra, and an IMAX documentary experience is an extra £2.50.
The Centre is at 50 Pacific Quay, Glasgow, G51 1EA.
If you're travelling by car, from the M8 (east or west) take junction 24 and follow brown tourist signs. If you're coming by train, The Exhibition Centre is located on the Argyle Line with regular services running from Glasgow Central and Partick Stations. There is a covered walkway from the station to SECC, from where you walk past the Crowne Plaza Hotel and over the river to Glasgow Science Centre (10-15mins).


Opening times
Normal opening hours are 10am-5pm, Mon-Sun.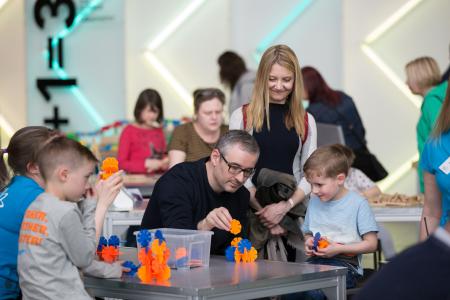 Pocket-money shop purchases
Ivy was interested in a butterfly snap band for £1.99, while Tom wanted an alien slime egg for £1.50. If you're looking for bigger purchases or presents there are lots of interesting science and craft kits to pick from.
Online treasures if you're too far to visit
Links to the National Curriculum
Learning about space, forces and life and living things is part of science lessons in primary school.
Materials (KS1)
The human body (KS1 and KS2)
Forces and magnets (KS2)
Light (KS2)
Earth and space (KS2)
Electricity and circuits (KS2)
Reversible and irreversible reactions (KS2)
Science investigations (KS2)
Changes of state (KS2)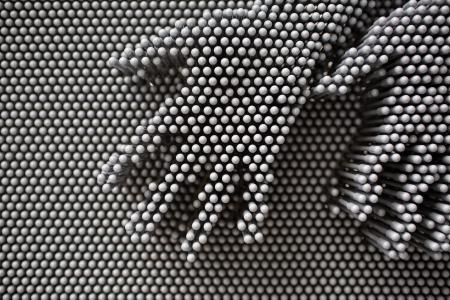 Photography: © Glasgow Science Centre, Martin Shields
Museum reviews for parents: we need YOUR help!
TheSchoolRun is looking for families to visit museums and other educational venues around the country and 'review' them. Get in touch to have your say about the best family days out (with a learning twist!).