Museums reviewed by parents: Seven Stories: The National Centre for Children's Books
Bring your child's favourite stories to life with a trip to Seven Stories in Newcastle upon Tyne, a haven for book- and story-lovers of all ages. Jo Dunbar visited with her sons William, age 5, and James, 3.
At the Seven Stories museum, the magic of books is explored over seven floors, each with a different literary theme or exhibit so even the most reluctant readers won't fail to be captured by something and there are plenty of hands-on opportunities. 
Claim A FREE Book Reviews Activity Pack!
A huge collection of creative writing & reading comprehension resources
Explore texts, deepen understanding, share opinions
For Year 1 to Year 6
Best for nursery and Reception kids
The Time to Get Up exhibition on the sixth floor is a big hit for little ones who love imaginative play. The set-up changes annually but it's currently based around Maisy Mouse with a bathroom, shop, reading corner, dress-up outfits and building tower all set up ready for little hands to get involved. We spent a long time playing shop!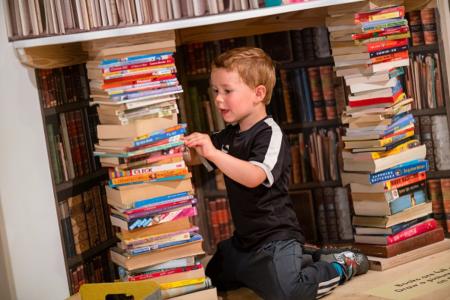 Best for KS1 kids
Creative workshops and sensory adventures, which encourage children to explore books in a completely different way, are great pastimes for this age group. The attic on the seventh floor runs a storytime twice a day too and is a popular choice for smaller children. 
Best for KS2 kids
The Drawing Words Exhibition celebrates some of the most exciting illustrating work in recent years. This exhibit encourages children to imagine a future story within a dedicated play space – elements include under the bed, a treehouse and the night sky. Children will be exploring their literary minds without even realising whilst also learning about some of the latest and greatest illustrative artists.
It's also worth noting that Seven Stories runs comic book weekends a few times a year and other author-led workshops, which focus on illustration or creative writing, so if a favourite writer or illustrator comes to town, your son or daughter can get involved.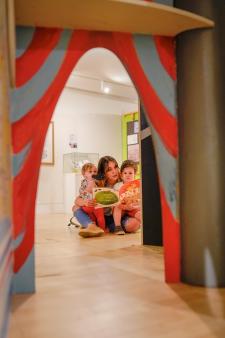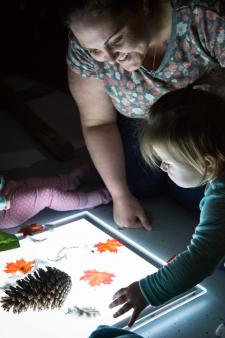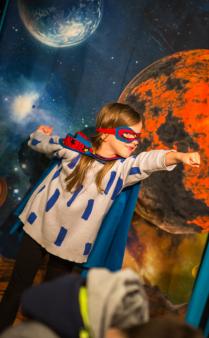 Don't miss!
The Studio at Seven Stories (situated in the basement) allows kids to get physical, crafty, colourful and even a bit messy with different activities on offer. The staff members are welcoming and ask children directly about what they like to do, how they would make up a story, design a map or create their own creature. Imaginations can run completely wild. 
Half-term and holiday events for families
Singing, writing, music events, and activities are available during half-term and holidays. For example, you can often join a ghost tour or write a spooky story at Halloween.
Once a month the museum encourages children to visit at weekends and dress up in their favourite costumes! 
Food and drink options
With a dedicated picnic room, packed lunches can be brought and eaten at Seven Stories, but not in the café. Food is made to order in the café so busy times can include a wait but, reassuringly, it's a nut-free kitchen and dairy and gluten intolerances can be catered to as well. There's a kids' lunchbox deal available or hot food in the shape of jacket potatoes (supertatoes) or soup. Adults can choose from salads, sandwiches, soup or jacket potatoes. The brilliant bookshop boasts a coffee shop within it so there's hot drinks and a few sweet treats on offer there, too.
Getting there, prices and opening hours
Located in Newcastle's Ouseburn basin, there is on street metered parking on Lime Street directly outside. Further car parks are easily accessible too or the nearest Metro Stations are Manors or Byker, both a 15-minute walk away.
Open Tuesday – Saturday 10-5pm and 10 am – 4 pm on Sundays and bank holidays.
Seven Stories, The National Centre for Children's Books
30 Lime Street,
Ouseburn Valley,
Newcastle Upon Tyne,
NE1 2PQ
Tickets :
Toddlers age 1-3 are £2.50; children age 4-16 are £6.60 and adults £7.70. There's a family ticket on sale for £23.10 too (two adults, two children or one adult and three children).
Opening times
Daily: 10:00-17:00
Christmas Day: Closed / Boxing Day: 12:00-17:00 / New Year's Day: 12:00-17:00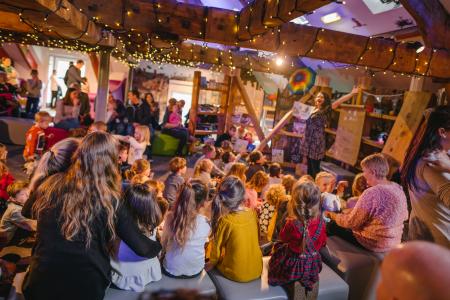 Pocket-money shop purchases
The book shop in Seven Stories is a treasure trove for little book worms. If you've been drawn in by story time in the attic, each of the books that were read are handily grouped together so you can purchase a favourite. There's also space dedicated to the current exhibitions so if something has caught you eye, you can snap it up!
There are choices for pocket money budgets too with the usual bouncy balls (£1) and stretchy dinosaurs (50p) on offer for little hands. Eager readers can pick up a book for the bargain price of a £1 with a huge selection of titles to choose from.
Online treasures if you're too far to visit
Links to the National Curriculum
Literacy (Reception, KS1 and KS2)
Arts and crafts (Nursery and Reception) 
Problem solving (KS1 and KS2) 
Imaginative play (Nursery and Reception)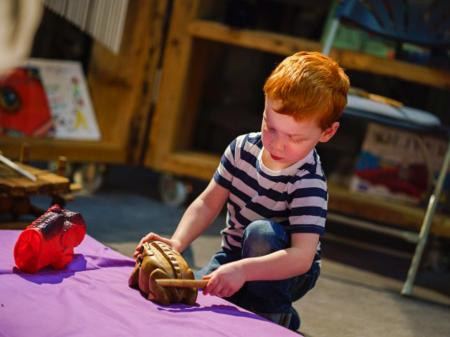 Photography: © Seven Stories: The National Centre for Children's Books
Museum reviews for parents: we need YOUR help!
TheSchoolRun is looking for families to visit museums and other educational venues around the country and 'review' them. Get in touch to have your say about the best family days out (with a learning twist!).