Museums reviewed by parents: Tate St Ives
Winner of Art Fund Museum of the Year 2018 (the world's largest museum prize), Tate St Ives has been drawing crowds back to its spectacular beach location after a two-year renovation project. There's always something to catch your eye, thanks to a varied exhibition programme, and plenty on offer for children too. With a rooftop cafe and beautiful beach on tap, families are sure to find something to suit everyone.
Katie Dicker visited Tate St Ives with Daniel, 8, and Elizabeth, 4.
Travelling to St Ives by train was a treat in itself. Changing at St Erth, we took the local line with breathtaking views of palm-lined bays. If it hadn't been for the chatter around us, we could have been on the French Riviera! It takes about 15 minutes to walk from the station to the gallery. Brown signs guide you through the beautiful backstreets full of tempting boutique shops. The maze of narrow streets can be busy in summer, so keep little ones close with an eye for traffic.
Claim Your Summer Challenges Pack!
30 exciting challenges
Weird and wonderful facts
Keep them busy the whole summer!
The gallery sits on the footprint of an old gas works, overlooking Porthmeor Beach. The design is reminiscent of its former incarnation, with a glazed rotunda now at the gallery's heart. We'd pre-booked a Beach Art Explorers workshop, but arrived with time to explore and have lunch first. Tate St Ives showcases some of Britain's best-loved 20th century artworks, alongside iconic artists from the locality, and the recent £20 million extension has more than doubled the exhibition space. Allow about two hours for your visit (or more to make use of the rooftop cafe!)
The vast new gallery is lit by six huge skylights, with plenty of space for children to move around and seating encourages them to take stock. Later in the Foyle Studio, the children were invited to make artworks themselves, and the Clore Sky Studio by the café let them graffiti the walls with stickers – this one proved popular!
After lunch, the Beach Art Explorers workshop (90 minutes) saw the children drawing stick pictures in the sand, building pebble sculptures and using watercolours to depict the landscape. Our engaging, entertaining and highly-informative guide regaled them with tales of bygone artists attracted by the unique quality of light in this stunning location – and how their talent put this small seaside town on the world stage.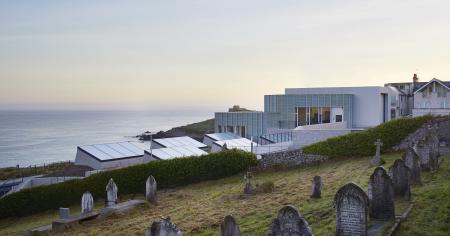 Best for nursery and Reception kids
On Tate Create days, head to the Foyle Studio where children are warmly invited to create artworks inspired by what they have seen in the gallery. Aprons and a clean-up sink provided! Once dry, creations can be taken home or hung with the myriad of other offerings. The abundance of colour and interpretations of the late Patrick Heron's abstract work on the day of our visit was mesmerising.
Younger children will also love the undercover loggia, with its circular slopes to the gallery's main entrance. A good space to tie up shoelaces or pause for a quick snack before you go in!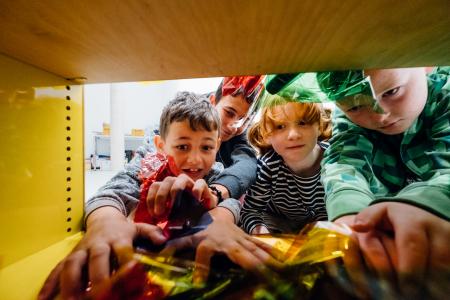 Best for KS1 kids
The children's I Spy trail (spotting images within artworks for a small prize) was a great way to explore the galleries and kept the children entertained. Noting down the artists' names and the titles they'd chosen also prompted discussion. The trail was craftily deceptive and it was amazing what the children spotted.
Best for KS2 kids
Older children can compare the range of artworks on offer (paintings, sculpture, ceramics, audio-visual) and read up about pieces that interest them. They may also appreciate the stunning views of the Atlantic, which enable the artworks to be seen in the context in which they were created (the views from Gallery 7 and 8 are particularly breathtaking) and marvel at the extent of recent renovations, carving deep into the granite hillside to remove 922 lorry loads of soil and rock!
Don't miss!
The Patrick Heron Window in the Heron Mall, one of the largest unleaded coloured glass windows in the world, at least four metres tall and wide. An absence of leading causes the colours to combine and cast soft reflections in the room.
We didn't have time to visit the nearby Barbara Hepworth Museum and Sculpture Garden (also managed by Tate St Ives). This hidden oasis celebrates the life and work of one of the greatest sculptors of modern time. The museum (Hepworth's home and workplace for over 25 years) now showcases her pieces in bronze, stone and wood; note limited wheelchair and buggy access, however.
A public garden on the roof of Tate St Ives also connects the cliff to the beach below with a series of staircases. Be sure to admire the blue-green ceramic tiles of the building, designed to reflect the changing colours of the sea and sky.
Half-term and holiday events for families
So many! Tate Create is on every day over the school holidays (creative art for children linked to the gallery's current exhibition). Toddle Tate, on the second Tuesday of the month (except August), is a series of art sessions for toddlers. Beach Art Explorers: every Wednesday in August, draw and explore on Porthmeor Beach. Once a term, on Super Sunday, there's a gallery takeover day for families. Get creative, investigate art, be messy, play with ideas and explore the galleries.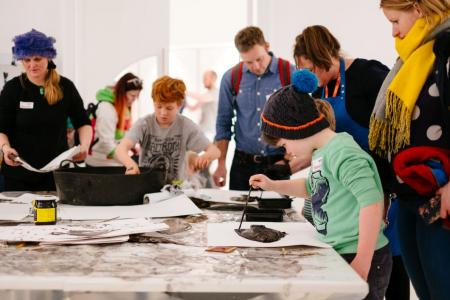 Food and drink options
The rooftop cafe on the fourth floor serves freshly-made breakfast, lunch and cream teas, and is not to be missed! Best to be early to avoid the queues. With waiter service, the menu changes seasonally using locally-sourced ingredients. The terrace opens in warmer months, but inside you can still enjoy spectacular views of the town, harbour, Porthmeor Beach and the Atlantic Ocean. We chose a hearty soup (£5.95) and kids meal-deal (main, desert, drink £6.50). With attentive waiter service, activity sheets and high chairs (available on request), families are well catered for.
Note that if you're a regular visitor to St Ives, it's possible to visit the café and shop without an entrance ticket.
Getting there, prices and opening hours
Tate St Ives is open Tuesday to Sunday, 10-4.20pm.
Tickets £10.50 (£1 off with a valid bus or train ticket). Under 18s go free.
Joint ticket with Barbara Hepworth Museum and Sculpture Garden £14.50.
Art pass (£18 for 7 days).
Locals' Pass for Cornish residents £5 per year, unlimited entry.
An unmanned cloakroom by the admissions desk is useful if you've brought your beach gear. Lockers £1 (non-refundable) and buggy storage too (subject to space). The four-storey gallery itself is fully accessible.
St Ives is situated about 15-20 minutes drive from the A30. There are a number of public car parks near the museum (TR26 1TG), but parking gets very busy in summer. A shuttle bus service runs between the Trenwith Coach and Car Park (TR26 1DD) and the town centre.
If you're travelling by car, consider the Park & Ride service at Lelant Saltings station (TR26 3DL) end May to end Sept. Parking £2.80 for the day, plus train ticket (£4 adult Off-Peak Day Return). If the ticket booth is unattended, purchase from the guard on the train.
For other train services, change at St Erth for the local line to St Ives. St Ives station is next to Porthminster beach (home to the famous Porthminster Beach café), with a 15-20 minute onward walk to the gallery.
Pocket-money shop purchases
The shop on the second floor is small, but plentiful. Here you can find books, cards, mugs, jewellery, children's picture books, pocket money toys, and unique gifts inspired by artists and the local landscape. Prints are also available to accompany the exhibition programme.
Online treasures if you're too far to visit
We love the Tate's art websites for kids: Make, Games & Quizzes and Explore: create a sculpture from a bar of soap, make a wave or spin painting, go on an art adventure and try your hand at loads more creative activities. There's plenty of information about artists, too, as well as child-focused videos.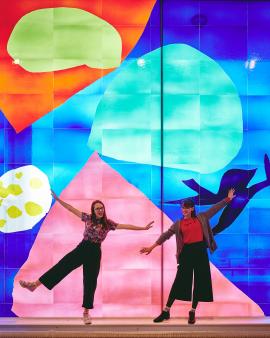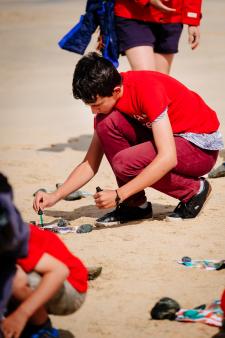 Links to the National Curriculum
KS1: using materials creatively; creating art to share ideas and imagination; developing art and design techniques; knowledge of iconic artists and their work.
KS2: awareness of different types of art, craft and design; recording observations; developing art and design techniques including drawing, painting and sculpture; knowledge of great artists, architects and designers in history.
Photography: © Tate St Ives
Museum reviews for parents: we need YOUR help!
TheSchoolRun is looking for families to visit museums and other educational venues around the country and 'review' them. Get in touch to have your say about the best family days out (with a learning twist!).