Transition to secondary school during the coronavirus pandemic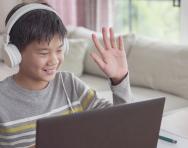 With schools still largely closed due to coronavirus, how can we prepare our Year 6 children for the big move to secondary school? We explore how Y7 induction might work in 2020.
In normal times, your Year 6 child would be finishing their primary school journey around now, and preparing for the big move to secondary school.
 
But with most schools still closed due to coronavirus, transition is likely to look very different this year, with no teacher visits or induction days.
 
'Great transition essentially makes the unfamiliar become familiar, and each student has their own concerns regarding aspects such as homework, making new friends or sharing a space with older students,' says secondary school headteacher Leon Hady, who runs Guide Education, which supports children's home learning.
 
'If induction days don't happen, schools will have to ensure these concerns are still addressed.'
The challenges of secondary school transition during the pandemic
Moving to secondary school can be a stressful time for children, even in normal circumstances.
 
'Secondary school brings many challenges, including larger buildings, different classrooms and teachers for each subject, and less supervision by teaching staff,' explains Dr Maite Ferrin, consultant child and adolescent psychiatrist at Re:Cognition Health.
 
'Young people need to develop many strategies related to executive function, including organisation, planning and time management. Social relationships also tend to be more challenging and unpredictable.'
 
Ordinarily, children would start preparing for these challenges in their last term of primary school, with help from their teacher and support from their new school in the form of teacher visits and taster days.
 
But this year, many of the measures that are usually in place to make starting secondary school less daunting are unlikely to happen – and unsurprisingly, this could increase the strain on soon-to-be Year 7s.
 
'Within the current context, we can expect greater anxiety, not just in children but also in their parents and guardians,' Leon says.
 
'Meeting new people and getting the bus for the first time are troubling for some, and without the usual transition, there's no doubt that we'll see increased stress from some students when they walk through the gate on their first day.'
What to expect from your child's new secondary school
The main way in which secondary schools prepare pupils for their move is by holding induction days in July, where all children get to spend some time in their new school and meet their form tutor. Often, there's also an element of team-building or sports activities that allow students to begin forming friendships.
 
It's unknown whether this will be possible this year, but some pupils may be able to have some form of taster day.
 
'The most likely way in which to conduct induction days while maintaining social distancing is by greatly reducing the number of students who attend,' says Leon.
 
'This might mean having a number of induction days, or inviting only the most vulnerable children to begin to build a sense of familiarity.'
 
Although it's hoped that some form of induction in person might still be possible, schools are making plans to prepare pupils differently. This could include:
Non-compulsory half-day induction with the students in the 'bubble' that they'll be with in September
Primary school visits from key members of secondary staff (for example the head of Year 7 or director of transition) to meet prospective students in small groups, observing social distancing
Transition groups for each form on Google Classroom where they can interact with their tutor and new classmates
Videos introducing the staff
A website for new Year 7s giving virtual tours, example timetables, details of extracurricular activities and so on
One-to-one meetings with the child's new tutor on a platform like Zoom
Projects to complete over the summer that will help pupils get a sense of how secondary school work differs from primary school work 
This might be an unsettling time for your child, but remember that their new school will be understanding of the fact that they haven't had a normal induction process.
 
'My hope is that schools will elongate the period of transition, with induction activities going on for longer than usual, into the autumn term,' says Leon.
 
This is especially likely if, as expected, secondary schools are not able to reopen fully in September and so can only welcome new Year 7s part time at first.
How primary schools can prepare students for transition during the pandemic
Although some Year 6s may not ever set foot in their primary classroom again, their current school should still help to prepare them for the move to secondary school.
 
'School leaders are creative and caring people and I have no doubt that primary and secondary teams will work together to address how to make transition easier,' says Leon.
 
To help children feel more secure when they start secondary school, their primary school teacher may be able to suggest that groups of friends are placed in the same class.
 
At this stage of the school year, primary teachers are usually helping pupils build independent study skills, including research, organisation and planning.
 
While this isn't happening in the same way this year, the way children have been working at home for the past few months will have helped them develop these habits, but don't panic if your child is still needing lots of assistance: their new school will support them.
 
Remember, too, that although your child may not be at school, their current teacher has a duty of care and should be willing to speak to you and your child about any concerns.
Supporting your child at home
While the onus is on schools to smooth the transition process, it's natural for your child to have questions and worries that spill over into home life.
 
You'll already have a good understanding of the things that usually reassure your child, whether they respond to cuddles, talking, making written plans or distraction.
 
'It's important to talk to your child about how they're feeling and have discussions about the changes they'll encounter, like larger class sizes, more teachers, a different curriculum, and new rules and routines,' says Dr Ferrin.
 
For many children, the biggest worry is making friends.
 
'Some children will have friends or classmates transitioning to secondary school with them, but others may not know anybody,' Dr Ferrin explains.
 
'By speaking to other parents in the school community, you may be able to find children who will be starting at the same school, and possibly arrange some get-togethers or video calls in advance so your child sees some familiar faces on the first day.'
 
Facebook groups for parents of new starters are a good place to begin: often, the PTA or parents who have older children at the school will set these up for the new intake.
 
If your child has specific worries, consider talking to their new tutor or head of year for advice. 'Liaising with the school can help to identify barriers and difficulties that children might encounter and looking for ways to support them,' Dr Ferrin suggests.
 
You can also start to build your child's independence and help them to feel in control of their transition by letting them make choices, such as choosing their own school bag and secondary school stationery ready for a fresh start.
 
Remember, though, that you're not alone in this, and just because your child isn't physically at school, it doesn't mean that there's no support.
 
'Primary and secondary schools should, alongside parents, be doing everything they can to support a smooth transition,' says Leon, 'and by providing information, films and video calls with the child's new tutor will mean that not only will every student have a complete induction, but so will parents, too.'