Preparing your child for starting school in the pandemic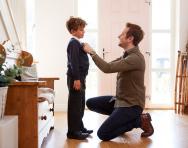 How will schools get children ready to start school without the usual induction days and teacher meetings? We take a look at what to expect.
Usually around now, primary schools would be embarking on a programme of teacher meetings and transition days to help prepare new Reception starters for their next step.

But with school life still heavily disrupted by the coronavirus pandemic, this year's induction process is likely to be very different.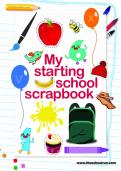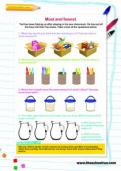 Claim A FREE Starting School Scrapbook!
Packed with colourful activities
Focus on early English, maths & science skills
Supports your child's physical and social development
'Many schools are in the process of trying to work out the best solution for helping new school starters prepare for Reception,' says primary school teacher Dani Okumura, who also runs tutoring service Bright Light Education.
'In the next few weeks, you should hear from your child's school regarding how they will overcome the problem of preparing them to start school in the pandemic.'
Meeting your child's teacher
Ordinarily, you and your child would get to meet their new teacher at least once before starting school, for example with a
meeting at school
or a home visit.
This year, schools are having to be more creative in introducing children to their teacher.
Some schools are trying to give children the opportunity to meet face-to-face, albeit in different ways from usual.
'One school that I know of is holding an open day, but parents have to book a time slot so there aren't too many people in at once,' says Reception teacher Mark Haggis, who also tutors children through
The Education Hotel
.
Other schools are holding Zoom meetings so the parent and child can meet their teacher.
Caroline Crosdale, headteacher of
Brentside Primary Academy
, has cancelled the usual home visits for safety reasons. 'We've added a Meet the Teacher section to our induction booklet, outlining who staff are and some personal information about them,' she explains.
'Staff will also be making phone calls to new parents and families.'
Some schools are still hoping to hold face-to-face teacher meetings, but in a different way: for example, outdoor home visits observing social distancing.
Some are planning induction sessions in the school holidays rather than at the end of term, in the hope that restrictions will have eased further by then.
At Reception teacher Lucy James's school,
Clutton CofE Primary
, children are usually invited in for
forest school
sessions to meet their teacher.
'This year, we've had to rethink these plans, and have made introductory videos and an e-book to help children get to know the faces and places at school,' she says.
'We've also set up a Google Classroom for new starters where we're sharing stories and helping children start to get to know each other through fun games and activities.'
'All of the teachers I know feel this isn't the best way to be introduced to children and their parents, but in the circumstances, it's safest,' adds Mark Haggis.
Exploring their new school
As well as meeting their teacher, spending some time visiting their new school is an important part of preparing children to start Reception.

It helps familiarise them with the school environment so it feels less alien when they join in September.

But with children currently being taught in 'bubbles,' and movement around the school limited, these taster days have been put on hold.

In many schools, the solution is to push induction days back to September.

'Our induction process will be done in early September,' says Caroline Crosdale.

'Pupils will be able to meet their teacher and see the environment before they start full-time the following week.

'I believe that the sooner we get children into school and into a routine, assuming it's safe to do so, the better it is for their development.'

Some schools are aiming for children to have induction sessions in August, while others are making use of technology to get new starters used to their school, for example with videos and virtual tours.
The start of term
The first few days and weeks in Reception can be daunting for many children, and the necessary modifications to the induction process could make things rockier than normal.

Schools are aware of this possibility, and are making plans to support children who are joining Reception.

'Some schools are offering morning or afternoon inductions, where children come for half a day initially before moving to full-time schooling,' Mark Haggis says.

'Parents may also be given the choice to collect their child earlier if they feel they're not ready for full days.'

Even if social distancing rules have been relaxed or phased out entirely, the 'bubble' approach may still be used to introduce children to school in a gentle manner.

'Social bubbles would be a lovely way to ease new Reception children into school in small groups of children that are not so overwhelming,' explains Dani Okumura.
Preparing your child at home
Parents always have a big part to play in getting their children ready for school, and the
preparation
you can do at home could be more important this year than ever, with the usual induction process interrupted.
Many schools will send out information on how you can help children prepare for the transition to Reception.
'We've put together a "Things Parents Can Do" booklet to support them in helping children to be school-ready, and will also send out top tips for supporting emotional wellbeing and behaviour in a challenging time,' says Caroline Crosdale.
Lucy James's school has also prepared a booklet for the families of new starters.
'One of the most important things you can do is talk to your child about starting school, such as what they will do at school, who their teacher will be, and what happens at lunchtime,' she says.
There are lots of brilliant
storybooks that can help prepare children for starting school
, and Mark Haggis suggests watching videos of pupils at school (
BBC Bitesize Starting School
has some great
videos of primary school children at school
) so they know what to expect. You can try the
BBC's interactive My First Day at School game
, too.
'You can also try role play, pretending to be the teacher, or even letting your child be the teacher,' he says.
'This will help you gain an understanding of what their expectations are, and allow you to address any concerns, for example worries about having a strict teacher.'
But while it's natural for both you and your child to feel anxious about starting school, remember that even though induction has been affected by the pandemic, teachers will still do all they can to make the transition as smooth as possible.
'Between now and September, teachers will be working to get to know their children as well as possible, so it's important to share any apprehensions your child may have with their teacher,' Mark Haggis says.
'We all want their experience of being in school to be good, and for them to enjoy school as much as possible.'