Structured or flexible? Two families' approaches to home learning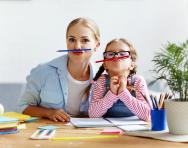 Do you like to follow a fixed homeschooling timetable, or play it by ear? We asked two mums to share their routines.
When schools closed due to Covid-19 lockdown, a whole nation of parents found themselves responsible for overseeing their child's homeschooling, and deciding how it would fit around family life.
 
Some families settled on a structured approach following a tight timetable, while others chose to be more relaxed and take each day as it came.
It's still very unclear how the pandemic will progress, but one thing is certain: we're all going to have to prepare for the possibility of the new school year being disrupted, whether due to widespread school closures, 'bubbles' having to self-isolate, or families needing to quarantine after foreign travel.
 
At the height of lockdown, we asked two mums, who each took a different approach to homeschooling, why it worked for them – and what to bear in mind if you're faced with Covid-related home learning again.
'It's important to have structure to our days'
Lucy is mum to Tom, 14, and Katie, nine
When it was announced that schools were closing, I felt pretty daunted. I'd never, ever considered home educating my two children, and was worried about how we'd all cope, especially with my husband and I working from home and too busy to become 'teachers.'
 
My concern was that without constant supervision and chivvying, the kids would drift aimlessly, complain about being bored, leave their work till the last minute and end up panicking and needing lots of support.
 
It felt important to have some structure to our days, and as my Year 9 son was expected to follow a strict timetable set by his school, it made sense for both children to be working to a similar schedule.
 
On a typical day, we expected the kids to be up, dressed and have eaten breakfast ready to start work at 9am. They had a morning break, as they would at school, when they could have screen time or go out on the trampoline, and had lunch somewhere between 12.30 and 1.30pm.
 
My daughter's work for the week was set on a Monday by 10am. The pupils usually had spellings, two SPAG (spelling, punctuation and grammar) activities, a reading comprehension, a writing task such as a diary entry, daily maths (generally online), a piece of work relating to their topic, an art project, and daily reading. They could also update the class blog with details of other things they'd been doing.
 
Katie's Year 4 teacher provided a timetable suggesting how children should organise their work. It was very detailed: for example, they were advised to do their first SPAG activity of the week on Wednesday, and mark it on Thursday. I found this really helpful in structuring our week.
 
The main problem we encountered was that Katie is a quick worker, so she often got through her day's work by lunchtime and was then at a loose end. She was also insistent that she had to stick to her timetable, so if she finished Monday's work early, she wouldn't move on to Tuesday's.
 
I'd have been happy with her just working during the morning and then having free time in the afternoon, but she's easily bored and finds it hard to entertain herself, so I tried to give her other activities, such as TheSchoolRun's worksheets or online lessons from BBC Bitesize to fill her time. If I hadn't, she'd have spent hours on her iPad.
 
We also told her teacher that she was getting through her work quickly, and so she started giving her 'challenge' tasks, such as writing a sentence about horses without using the letter O: surprisingly tricky!
 
Despite the extra tasks, Katie still had rather more screen time than I was happy with, but I had to be more lenient than usual or I wouldn't have been able to work. I'm self-employed and part-time, so I aimed to finish my day's work at around 2pm so I had time to do other things with her, but sometimes I ended up working later, and that's when our days started to lose focus and she gravitated towards YouTube and Disney+.
 
Alongside schoolwork, Katie and I enjoyed baking together, and we tried to play a family game like Dobble or Uno every day. She would also go out on the trampoline and play Swingball with her brother, and a couple of times a week we went out for a walk.
 
Her grade 1 piano exam was cancelled with a day's notice, so we kept up the practice in the hope that she'd be able to sit it once things were back to normal, and we also read a chapter of a book together before bed.
 
That said, Katie did complain of being bored a lot, and found it hard of things to do. She's not keen on art and craft, and Tom wasn't interested in playing with her. It made me feel guilty for not providing enough enriching activities to keep her occupied.
 
After a term and a half of homeschooling, I have to admit that home education is not for me: I found it stressful to balance working with having the kids at home all day, and missed the peace and quiet that I'm used to. That said, I really appreciated Katie's teacher for the work she set, and for giving us a timetable to build our day around: it would have been far harder without this structure.
Structured home learning pros and cons
Pros
Gives each day a familiar routine
Children are focused on learning
Working from home is easier for parents if the children have a timetable
Children are learning from a broad and balanced curriculum set by their school
There's a predictable structure to each day
Less boredom with schoolwork to concentrate on 
Cons
A fixed structure can take the fun out of learning
There may be too much or too little work to fill each timetabled session
Parents may end up feeling like teachers and being expected to know everything
Less time for unstructured, non-curriculum activities and play
Children may kick back against formal learning
Completing tasks can be difficult if you don't have specific equipment and resources (for example, a printer or maths aids such as protractor and compass)
'The most important thing is the happiness and wellbeing of the family'
Kelly is mum to Arlo, seven, and Persephone, four
When schools first closed, I started off with a timetable and a very clear idea about what needed to get done each day, but it rarely worked out like that. I found myself wondering why I was getting Arlo to stop working on an activity that he was clearly enjoying just so I could tick it off and move on to the next thing, or making him finish something that was obviously too easy or just really boring.
 
Ultimately, I came to the realisation that we didn't have the restrictions of school, so why not embrace the opportunity instead of trying to replicate school?
 
We tended to naturally wake up around the same time each day, but I didn't set an alarm, and sometimes we'd chill out in bed for a bit, chatting or reading. Other days, we got straight up and on with our day.
 
Each day, I suggested some things for us to do to see if any took the children's fancy. They became quite good at suggesting their own ideas, too, which wasn't the case at the start of lockdown. It was really nice seeing Arlo try new things and come up with his own ideas for topics or activities. My only definite rule was that we had to do some reading each day.
 
Arlo's Year 2 teacher sent a daily email with a page or two of a maths and English workbook, and ideas for how to extend those things. There was also a blog that the class could add to, and she told us the projects they would have been working on at school and suggested related activities that we could do.
 
Along with the class email, we had a daily whole-school challenge from the headteacher, such as listening to an audiobook or podcast, or making a marble run out of cardboard.
 
I certainly didn't do everything suggested: we took what we fancied and left the rest. We came up with ideas of our own, or used the internet to help us. Sometimes, if none of the activities really appealled to Arlo, I found a YouTube video on the topic and we watched that instead.
 
I often say a silent thank you that homeschooling happened in the time of the internet: we have so many amazing resources online, whether that's curriculum-based worksheets or virtual museum videos. Without that, it would have been a very different experience.
 
The school made it very clear that the most important thing was the happiness and wellbeing of the child and family, which helped me be more relaxed about it all. If I'd felt under pressure from school, I'd have explained that learning doesn't just happen with worksheets, and that lockdown was hard enough without forcing a child to do work.
 
Most days, Arlo did an hour's work sitting down with a workbook or worksheet, although some days he did none, and on others, chose to do lots. But if you include gardening, baking, drawing and playing with his sister, he was working all day!
 
I really like the topic approach to subjects, so I tried to offer lots of activities that seemed unrelated to school but actually had plenty of educational value, such as making bunting for VE Day. This included looking up what VE Day was, and arranging a garden party with the grandparents via Zoom. Arlo wrote them a letter and party invitation, then we decided we needed to know exactly how much bunting we needed, so we measured the front of our house and worked out that we had to colour 68 flags!
 
To begin with, Arlo struggled with lack of routine, but in time, he found his own rhythm. He rarely complained of boredom, but I could tell when he was bored based on his behaviour. That's when we'd go out for our daily walk or into the garden, but I wasn't worried about him being bored: it was in those times that he came up with his own ideas.
 
I'm privileged that I don't have to work from home, especially as my partner is a keyworker. Not having to juggle work and learning helped me to be more flexible. Being at home without the pressure of having a million other things to do felt like an amazing opportunity to make learning meaningful and fun, although my number one aim each day was for us all to survive and still like each other by bedtime!
 
Some days I really enjoyed homeschooling, whereas others were a strain, but there were definitely more good days than bad. I tried to keep in mind that tomorrow is another day: what worked one day might not the next, and what was a disaster today might be brilliant tomorrow. The fewer expectations I put on myself and the children, the happier we all were.
Flexible home learning pros and cons
Pros
Less pressure on parents and children
A chance to discover how your child learns best and embrace those methods
Freedom to choose your own activities and topics
A different schedule every day prevents boredom
You can pitch work at your child's level, rather than doing work set for average class member
You can add to work set by school if there's not enough, or do less if it's too much 
Cons
May be less compatible with working from home
Some children learn best with a schedule and deadlines
More creativity needed to choose activities to keep your child engaged
You may be under pressure from school to complete set work
Screen time may escalate
Boredom may be a bigger issue if your day doesn't have structure