13 reasons to join the Summer Reading Challenge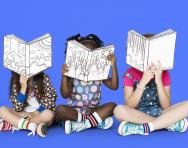 Want to keep your child reading over the summer? We take a look at how the popular library Summer Reading Challenge can help.
After months of home learning, many children will be reluctant to do anything school-related over the summer holidays – including reading. But picking up a book doesn't have to be a chore.
The Summer Reading Challenge is designed to keep children reading over the school holidays and to encourage a love of reading for pleasure, with around 700,000 kids taking part each year in the UK. So why should you sign your child up to the scheme?
1. It's widely accessible
The Summer Reading Challenge runs in the vast majority of public libraries in England, Scotland and Wales. This year, it's uncertain when libraries will reopen, but children will be able to join online and borrow e-books, as well as reading books that they have at home. It's intended for children aged four to 11, is free to take part in, and it's easy to sign up online. If you're not members of the library, you can join for free by visiting your local library's website.
2. It encourages regular reading
The Summer Reading Challenge encourages children to read at least six library books over the school holidays. 'It works out as roughly one book per week, which is a manageable target for most children,' explains Anne Sarrag, director of the Summer Reading Challenge at the Reading Agency. 
3. There are rewards for reading achievements
The Challenge appeals to children's collecting instincts: as they read throughout the summer, they collect stickers to complete their folder. When they've finished, they're presented with a certificate at the end of the summer. 'Some libraries have a special ceremony where children can collect their certificates; others liaise with schools so the awards can be presented in an assembly,' Anne says.
4. There's a different theme every year
The Summer Reading Challenge has a new theme each year to keep it fresh and interesting.
This year's theme is Silly Squad, and children will be encouraged to read anything that makes them happy: novels, poetry, comics and more.
Previous themes include the Big Friendly Read, tying in with Roald Dahl's centenary; Record Breakers, linking to Guinness World Records' 60th anniversary; Creepy House, created by former Children's Laureate, Chris Riddell, and Mischief Makers, inspired by The Beano.
5. Children can choose what to read
Unlike at school, where children might be expected to read from a scheme or limited to books from the school's own library, the Summer Reading Challenge offers a free choice of books to all children. Some parents worry that their children want to re-read favourites or start off by picking books that seem 'too easy', but this can a way back into enjoying reading in their free time. And there's no pressure to persevere with a book if they're finding it boring; they can stop and choose a different one instead.
6. It prevents summer brain drain
Often, children take a step backwards over the summer holidays when their brain isn't getting enough exercise. 'Joining the Summer Reading Challenge can help prevent what's known as the "summer dip," Anne explains. 'Taking part helps children read more often and more widely, and many teachers say they return to school with a new enthusiasm and confidence for reading.'
7. There are lots of activities to take part in
'Many libraries run other activities alongside the Summer Reading Challenge, such as code clubs and creative writing or craft workshops inspired by books,' says Anne: great free fun for the family in the long summer holiday. There are also games, quizzes and downloadable activities to take part in online, plus readings, jokes and draw-alongs with famous faces like Rob Biddulph, Jacqueline Wilson and CBBC's Sam and Mark.
8. It's not just books that count
'Listening to audio books, reading e-books and being read to all count towards the Challenge, so it's an inclusive programme that even non-readers or those that struggle with print can take part in,' explains Anne. 'This makes it accessible to children with special educational needs like dyslexia.'
Library services are increasingly aware of the needs of children with autism and some libraries run dedicated Autism Friendly sessions.
If your child is visually impaired, your library can suggest alternatives. The free RNIB Library Service (which covers Braille, Giant Print and Talking Books) can be used to borrow books for the Summer Reading Challenge and throughout the year; most libraries can help you with this.
9. Younger siblings can join in too
A 'mini challenge' runs alongside the Summer Reading Challenge, targeted at pre-school children, so younger brothers and sisters don't feel left out when their older sibling collects their stickers. Not all libraries offer this programme, so check whether it's available at your local library.
10. Children can make new friends
The summer is the busiest time for libraries, and children often get to meet other kids who are taking part in the Summer Reading Challenge and chat to them about what they've been reading. This year, the Reading Challenge may look somewhat different, but schools can encourage pupils to sign up so they can then chat to friends and give each other book reviews and recommendations. Most libraries also involve teenagers who take part in the Reading Hack scheme as young volunteers in the summer holidays, which is an extra motivation to kids, who look up to them as role models.
11. It's sociable for parents, too
'While children are taking part in the Summer Reading Challenge, parents get the chance to browse the library catalogue themselves, and find out about other things that are taking place,' says Anne. 'Many libraries now offer a wide range of activities, from computer access, reading groups and wellbeing groups to knitting circles.' It's hoped that these will start up again as lockdown eases, giving you opportunities to meet people and learn new skills.
12. It encourages year-round reading
Reading doesn't have to stop once your child has completed the Summer Reading Challenge. The website is available all year round, with a brilliant Book Sorter tool where your child can recommend books that they've enjoyed, and get ideas about what to read next from other kids.
13. It'll set your child up for life
Not only is the Summer Reading Challenge fun, but research shows that reading for pleasure is vital for children's life chances, and that children who use libraries are twice as likely to be above average readers – so signing up could give your child a boost that lasts a lifetime.