Teachers' best and worst gifts ever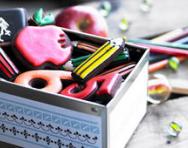 Yes, it's the thought that counts, but what would teachers really like as a thank-you gift at the end of term? Lucy Dimbylow asked them to reveal their favourite ever presents – and the ones they could have lived without
The best…
"I used to work in a school where lots of the children came from very deprived backgrounds, so I never got many presents. But one year a couple of girls made me a laminated certificate thanking me for being their teacher. It was such a thoughtful gesture, and probably my best present ever."
Helen S
"My favourite ever present was a yearbook put together by my year 6 leavers and their parents. They'd all written me a message and compiled them with memories and photos from their time at the school. It must have taken them weeks."
Adam K
"I still cherish a "World's Best Teacher" troll that I was given at the end of my first year as a newly qualified teacher."
Kate C

"My best present ever was a bottle of champagne. You can't argue with that at the end of a long and exhausting summer term."
Sharon D
"My most treasured present was a lovely black and silver paperweight. It was from the mum of a little boy with ADHD, who had put a note in the box saying that I was the only person who'd ever understood her son."
Stephanie S

"At the end of my first year of teaching, 17 years ago, one family gave me a lovely Royal Worcester cake plate. I still use it now."
Claire M
"I was once given a jigsaw made out of the class photo. I liked it so much that I had it framed, and it's now in my office at home."
Graham S
"The most useful present I've ever received was a set of pens, personalised with my name. I'm always complaining about the kids making off with my pens, and obviously someone was paying attention!"
Catherine J

"I taught a little girl who had a beautiful fluffy winter coat that I was always admiring. At the end of term, she gave me a scarf made of a similar material, so that I wouldn't forget her."
Jill P
... and the worst
"My worst ever present was a mug with stir marks inside, which had clearly just been brought from the family's kitchen."
Louise B

"One year, I was given a lighter which revealed a picture of a naked lady when it was turned upside down. Not only am I not a smoker, but to make matters worse, I opened it in front of the rather prudish deputy head…"
Adam K

"In general, I appreciate everything that the children give me, but I could have lived without the chocolate cat – squashed – that I was given once." Sharon D

"Someone once gave me a pair of beaded earrings. They were very pretty, but I don't have pierced ears."
Catherine J

"I know it's the thought that counts, but any cakes, biscuits or other foodstuffs made by pupils go straight in the bin. Having seen how much nose-picking and nail-biting goes on in the classroom, I can never bring myself to eat them."
Nicola H

"I had to laugh at the box of biscuits I was given one year. I thought the box looked slightly the worse for wear, and when I checked the expiry date, I discovered they were 12 months out of date!"
Jill P

Image: Teacher's Pet tin from Biscuiteers, photo www.bigfish.co.uk

Looking for gift ideas to fit into the 'best' category? We've picked a few of our favourites...