Teachers' tips for learning during school disruptions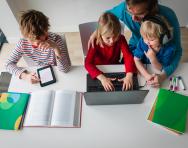 How are teachers keeping their children's learning on track during this period of disrupted schooling? We asked them to share their tips.
Teaching is, for many, a vocation – and one that involves years of training and practical experience. So if you're struggling in your role as your child's occasional (and unprepared and inexperienced) teacher, you're far from alone.
 
To help you out, we asked three teachers – secondary school languages teacher Jennifer Meech, primary school teacher Heidi Higginson, and primary school headteacher Louise Crocker – to share their strategies for educating their own primary school children at home, so you can profit from their wisdom if your child's schooling is disrupted in the months to come.
Establishing a routine 
'The first week was the toughest. I wanted it to be as much like school as possible. My eldest and I came up with a timetable, but it was too much. I quickly learned that I'm mum at home, not his teacher. Our routine now is structured with a timetable, but more flexible with longer breaks. I tutor students online, but when I'm not working, both children get one-to-one time with me. If it's one of my days in school, they'll complete work with their dad.'
Heidi Higginson, mum of two sons aged four and 10
 
'When we first realised homeschooling was going to happen, one of our priorities was to keep things as similar to school as possible – after all, that's what we know best. The strategy we've found most effective is routine: boring but true! If the children know what to expect it makes everything so much easier. As we're up early, we start learning early, at 8am, but then finish early too, giving them free time in the afternoon. We've stuck to a timetable after school, too, including tidy-up time, teatime and a family game leading up to bedtime.'
Louise Crocker, mum of a daughter aged 10, and a nine-year-old son
'At first I tried to implement a full school timetable with all the subjects that my son would usually complete in a school week. His school has set work for all subjects, which I'm very grateful for. But over time, I've realised that a full school day doesn't work in a home setting, especially as I still need to work from home. My son can get a lot more work done in a shorter period of time, and needs frequent longer breaks.'
Jennifer Meech, single mum to a Year 3 son
Getting through schoolwork 
'The work set by my son's school is mainly worksheets, which he doesn't find that engaging, so I look at what's given and find games, PowerPoints or BBC Bitesize videos to supplement it. If something doesn't get completed, we let things move at their own pace. In some ways, it's better than school because without the time pressure, we can go deeper into subjects that he finds interesting, and focus on quality as well as quantity.'
Heidi
 
'Some days my son does lots of work and others I can barely get him to do any, however I've learned to be flexible and go with how he feels on a daily basis. I believe that any work that children complete should make them feel a sense of success, and if they're getting upset it's time to stop and pull back so that schoolwork doesn't become something that they dread.'
Jennifer
Motivating your child 
'Keeping my children motivated to learn is really hard. A lot of perseverance is needed. I've thought hard about what they like – Star Wars, Paw Patrol and CBeebies – and use these things in learning. I have a reward system where they get their names on a token if they do well, and a get a treat if their name is picked at the end of the week: not always a toy or gift, but Xbox and tablet time, too.'
Heidi
 
'We have regular, active breaks in the school day, such as Joe Wicks's PE lesson at 9am, and the Daily Mile and playtime outside (even if it's raining!) at 10.45am. The children have chosen a simple reward to work towards, collecting Lego bricks in a jar. We also try to be honest and talk about our feelings. Some days feel less positive than others, so we talk about why this is and if there's anything we can do to improve the situation.'
Louise
 
'My son's school awards points and gives feedback for work received on their online learning app, which is immensely motivating and helpful. I've also purchased stickers and give these for really good work, as well as lots of verbal praise. I've started a points system for good work and behaviour at home, which enables him to earn screen time or rewards such as a film night with a takeaway.'
Jennifer
Coping with the amount and difficulty of work 
'If my son's work is too easy, I set challenges. In maths, I usually put what he's learning into a real world problem-solving context. If it's too hard, I find out what he knows already, and go from there. Remember, your child's work doesn't all need to be written down on a worksheet: you can take photographs if you want to give their teacher evidence of what they've been learning.'
Heidi
 
'We're lucky because we have knowledge of the National Curriculum and what our children need to know. It's also a great opportunity to notice particular areas that they need to work on and really focus on these. Our teachers have provided a structured timetable for the week with all the resources needed, so I haven't needed to supplement them much, other than with the occasional YouTube learning video.'
Louise
 
'My son finds the games his school sets on Twinkl and BBC Bitesize really fun, and often continues to play after school hours. This is helping him to feel positive about his progress. But if the amount or level of work isn't suiting your child, don't be afraid to talk to their teacher: in my experience, they really do want to help.'
Jennifer
Balancing home learning with free time
'I know that sitting down at a desk all day doesn't do much for children's learning, so when we can, move around, do jigsaws, make big art attacks or set up role play areas. There are days when learning just isn't going to happen, but I don't simply give up: I look at what the boys are interested in and use that to lift the mood, so for example they can do Just Dance on the Xbox as PE time. Sometimes we try baking or just go out for a walk.'
Heidi
 
'After lunch, the children spend most their time reading, playing with Lego or Playmobil, or playing outside: we live next to a farm, so at the moment they're checking for lambing ewes. They also get 15 minutes' iPad time a day. This is great because my husband and I are both teachers, and it allows us to get on with our work.'
Louise
The home learning environment
'My eldest mainly works at the dinner table, and my four-year-old has a beanbag in the living room. I put together a box of shapes, whiteboard and pens, an A4 pad, sound cards and number cards to support learning. But I like to get both children working anywhere in the house: we do PE, art and French outside if we can.' 
Heidi
Managing distractions
'I put activities out for my youngest for the next day when he's in bed, and do my best to hide anything that might distract him. It's working: he has 30 minutes of focused activities with me, like letters and sounds, numbers or shape, singing, writing his name or reading a story. And if the brothers cause chaos I try to settle and separate them: divide and conquer!'
Heidi
 
'Starting schoolwork early means the children don't have a chance to get distracted with something else which then leads to a battle to get their focus back onto learning later. We also teach one child each which stops them getting distracted by each other.'
Louise
Non-curriculum activities
'There are so many great web-based resources out there that I've plotted them on our timetable as an important part of the children's learning, including magic lessons and David Walliams's storytime. We've spent the last few weeks looking at living things in science, so we've built mini ponds and will look at what's accumulated in them and classify the bugs. My eldest has also been helping me make mini YouTube videos to help other parents with home learning. The truth is, we're not all teachers, but learning is everywhere, and it can be fun.'
Heidi
 
'As well as afternoon playtime, we've embraced other opportunities like helping with lambing and learning about traditional hedging techniques from our farmer neighbour (at a social distance!).'
Louise
 
'I think that well-meaning people who say that parents shouldn't attempt to homeschool and suggest learning through play don't understand that it's not possible to do hours of baking and crafts if you're trying to work too. Do what works for you and your family. Every child and family is different. Even as an experienced teacher, I'm finding this tough as these are not normal circumstances, so be kind to yourself.
Jennifer
Curriculum help for parents during school disruption
If you'd like clear, accessible information about every aspect of the primary curriculum to help you support your child's learning at home during school disruption, find out what help TheSchoolRun can offer.