UK museum highlights for children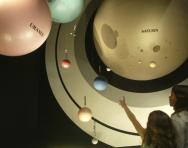 A visit to a museum or gallery can really help a subject come to life for a child. Who doesn't remember the first time they saw a dinosaur? Or an ancient Egyptian mummy? To help you navigate the wonderful world of museums the experts at Show Me have put together a guide to some of the UK's best family-friendly places to visit in person and online.
Show.Me.uk is a brand new website for children, parents and teachers about all things museumy – art, history, science and more, online and in the real world. Read on for the Show Me whistlestop tour to some of the UK's best museums and online resources for KS1 and KS2 children and parents, compiled by Jack Shoulder.
Dinosaurs in UK museums
Let's start with the dinos, the saurian staples of any museum experience.
The best place to see the fossilised remains of these fierce beasts is the Natural History Museum in London. To explore how these ancient animals were unearthed and discover more about the original dinosaur huntress Mary Anning, we recommend a visit to the Lyme Regis Museum by the Jurassic Coast. You can get to know a T-rex and find out about fossils galore at the Great North Museum.
Prehistoric Britain to explore
Britain's prehistoric heritage has become part of the country's landscape, with sites such as Uffington's White Horse in Oxfordshire and the stately standing stones of Stonehenge in Wiltshire giving us glimpses of our prehistoric past. Cresswell Crags is a veritable treasure trove, with stone age tools and the only example (found so far) of Ice Age art in the UK.
Knights and tales of valour and adventure
The UK has an abundance of castles just waiting to be conquered by your little ones. Our favourites include Tintagel Castle in Cornwall, rumoured to be King Arthur's legendary court of Camelot; Pevensey Castle near Hastings, where William the Conqueror began his campaign in 1066 and Alnwick Castle in Northumberland, which served as Hogwarts for the first two instalments of the Harry Potter films.
Egyptian mummies in UK museums
Another big part of any museum visit is the mysterious mummy and the British Museum is one of the best places in the country to get to grips with this fascinating topic. The Manchester Museum also has a wonderful Egyptian collection, including a statue that started spinning of its own accord not so long ago, causing newspapers up and down the country to conclude that it's haunted.
Roman life in Britain uncovered
The Romans tried to conquer Britain a few times, and they finally succeeded in AD43 under the leadership of the Emperor Claudius. Our landscape is still littered with their legacy. Looking north towards Scotland, we have Hadrian's Wall, which was built to mark the boundaries of the Empire. In the south-west there is Bath, well known for its remarkably well preserved Roman Baths.
Travel back to Tudor times
Our most famous ruling dynasty and the people that flourished under them have had a lasting influence on our country which we can still be felt over 400 years on. If you want to learn more about the Tudor family, here are a couple of places to start: Hampton Court Palace reveals so much about the notorious Henry VIII, and the National Portrait Gallery in London puts you face to face with the Virgin Queen herself.  
Shakespeare on the stage (and off)
No Tudor person has been more influential than William Shakespeare. His Globe Theatre has been recreated on the south bank of the Thames and regularly puts on productions of his plays, but if you want to find out more about the man, then Shakespeare's Birthplace in Warwickshire is the place to go. 
Kings and queens in UK museums
Although the Tudors are the UK's most famous ruling family, our royal history is amongst the richest in the world. The newly opened Richard III Centre in Leicester sheds light on this often misunderstood monarch with the help of the latest technology and analytical archaeology. Brighton's glorious Royal Pavilion has plenty of tales to tell about regal personalities George IV, William IV and Queen Victoria.
UK art museums
We have remarkable access to remarkable art in this country and the Tate Britain and Tate Modern galleries in London, plus Tate Liverpool and Tate St. Ives all prove this point, they're a great place to take children. There are many other amazing galleries spread across the country too – such as the Laing Art Gallery in Newcastle, which has an impressive collection of paintings and sculptures and Margate's Turner Contemporary, where you can explore a rolling collection of historical and contemporary art.
British science centres for kids
The Museum of Science and Industry (or MOSI for short) is one of the leading science museums in the country. Located in Manchester, the museum creatively explores science and technology. At Bristol is another fantastic place to explore science, it has loads of hands on exhibits, live shows and a planetarium.
Things to do online
Of course, if you don't have the time to squeeze in a full visit to a museum, or you live too far away to visit in person, there are loads of things you can do online. You'll find hundreds of ideas on Show.Me.uk, but here are a few to get you started: