What's safe and what's not during coronavirus school closures: the latest news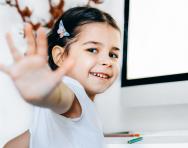 Wondering what you can or can't do while you're social distancing as a family? Here's our guide to what's allowed and what's not during the coronavirus outbreak in the UK.
As the UK goes into virtual lockdown for an unspecified period, many of us are worrying not only about how we'll manage our children's learning outside school, but also how we'll keep them entertained.
Is it safe to go to the park or for a swim? What about visiting relatives? We answer your questions on keeping your child safe and helping to stop the coronavirus spread.
Play dates
Although it may seem pointless to keep children apart when they've been at school together for weeks, play dates are now on the list of banned activities, which prohibits visiting others' houses.
Children may not show any symptoms of coronavirus but still be carrying it, and mixing with others could transmit the illness to others.
As we know, coronavirus can be severe and fatal, so it's important to keep your child away from their friends to minimise the spread to other people in the community, especially those who are higher risk due to underlying health conditions or pregnancy.
Understanding social distancing is difficult for all of us – Can you save the world? is an interactive children's video game to help kids understand why physical distancing is important.
Try this instead: Arrange a time for your child to catch up with their friends on FaceTime or Skype.
If they're into online gaming, they can use that as a way of socialising, but make sure you're supervising them to make sure they only play with people they know.
Parks and playgrounds
Most of us will be keen to make sure our kids get some daily exercise and fresh air, but the government has now closed playgrounds and outdoor gyms.
Children naturally come into contact with other kids when playing in the park, but even going to an empty playground could be risky.
It's thought that coronavirus could last as long as nine days on metal and plastic surfaces – the very things that your child comes into contact with in a play area – which is why we've followed Italy's lead and closed all playgrounds.
Try this instead: Go on a family walk, bike ride or scooter ride. Make it more appealing by turning it into a scavenger hunt, finding a good tree to climb, or building a den.
Why not take the opportunity to visit a new place while keeping your distance from others? Cafes and restaurants will be shut, so take a picnic with you.
Swimming
Although swimming pool chemicals kill coronavirus, swimming in a public pool is not allowed during this period of lockdown, as swimming lessons, club meets and even public swimming sessions count as a gathering of more than two people, which are now prohibited.
Try this instead: Think about trying a new, non-contact sport with your child like badminton or tennis, which can be played in the garden.
There are also lots of YouTube fitness videos that are suitable for kids and will help them keep moving, and 'The Body Coach' Joe Wicks is livestreaming a 30-minute PE lesson every morning at 9am from Monday to Friday.
Visiting grandparents and other relatives
Sadly, we've now been told not to visit family members who don't live with them to avoid the spread of coronavirus.
This is especially important if the grandparents are over 70, as this puts them in a high-risk group should they become ill.
Nor can you have a family gathering in public: you mustn't get together with more than one other person, other than those who live with you.
Fortunately, the rules have been relaxed for separated families, and children will be allowed to spend time with both parents as long as they only move between each parent's homes.
Try this instead: Keep in touch by phone, on WhatsApp (on your phone and supervised by you – the age limit is 16), or by Skype or FaceTime.
Writing letters is also a lovely way to keep contact going, and it's a good literacy exercise for your child, too.
Shopping
We can now only leave home for essential shopping and medical needs, and while we've not explicitly been told that we can't take children with us, it makes sense to avoid it.
As well as exposing them to other people, it's difficult to stop children touching their faces and other surfaces in the store, so they could be at risk of picking up the virus in a busy shop.
Home delivery slots are heavily oversubscribed and we're being encouraged to leave them free for older and vulnerable people and those who are self-isolating, but if you really can't get to the shops child-free and can book one, it's a good idea to do so rather than taking your child to a supermarket.
If you do have to take your child shopping, take disinfectant wipes with you and clean the handles of your basket or trolley, and make sure they wash their hands immediately afterwards.
Take a shopping list so you're focused and spend as little time in the store as possible, and steer clear of aisles that are full of temptations, like the toy aisle and sweets aisle, to avoid unnecessary touching.
Try this instead: Treat it as a challenge to make as many meals as possible from scratch with your child, using ingredients that are already in your store cupboard.
It's a great way to use up those tins that have been hiding at the back of the cupboard for months, as well as teaching your child useful kitchen skills.
Holidays
If you have a foreign holiday planned in the next few months, it's highly likely that you won't be able to travel.
UK resorts such as Butlin's and Center Parcs are now closed, but other accommodation, particularly private properties like cottages and Airbnbs, may still be open.
However, we're being told to stay home with no unnecessary journeys or social contact, which includes holidays.
If you've yet to book a UK holiday for the months ahead, it's wise to leave it until as near the time as possible to avoid being caught out if travel advice changes.
Try this instead: If you've got a tent and some outside space, pitch it in the garden and have a family sleep-out. Cook your dinner on a barbecue or camping stove, and toast marshmallows afterwards.
If not, get the sleeping bags out and camp for a night on the living room floor (if you decide to creep off to bed once the kids are asleep we won't blame you, obviously!).