Win! A Thumbs Up For Ted's Thumbsie book and goodies!
Do you have a child who is struggling to give up thumb or finger sucking? Are you worried about the long-term effect that sucking may have on their teeth? 
Most children stop on their own by the age or 4 or 5 but if they don't then they might need a little help.
Thumbsie® are the UK market leaders of handmade fabric guards, to help children to stop sucking in a fun and positive way.
Thumbsie® fit over the thumb or fingers and are secured with Velcro around the wrist.
A story is a pleasurable way to communicate a message, so writing a positive book to accompany the Thumbsie® products seemed like a natural extension of this gentle thumb and finger sucking solution.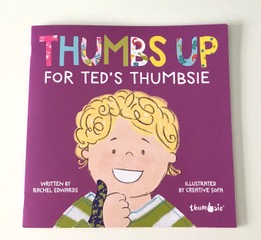 To celebrate the launch of Thumbs Up For Ted's Thumbsie book, TheSchoolRun have teamed up with Thumbsie® to give away 2 Thumbsie® bundles including: 3 thumb or finger guards (same size), a book, reward chart pack and a cotton bag.
To be in with a chance of winning a Thumbsie® bundle please answer the following question.
Please also take a moment to read our competition and prize draw terms and conditions.
Competition end date:
Sunday, 3 March 2019 - 8:35am
Congratulations! This competition was won by: