Win: one of 10 copies of Secret Breakers: The Power of Three!
Real codes. Real Mysteries. Real danger.
Can you break the most mysterious code in the world? Join the Secret Breakers on their first adventure and unlock the truth.
Brodie Bray likes a challenge, and when she receives a coded message through the post her life changes for ever. She's chosen for a secret team working to crack this most complicated code in the world to uncover the secret it hides. But it's a code that has driven people mad trying to solve it. Together with her new friends, Brodie must break the rules to break the code, at every turn facing terrible danger. For someone is watching them – and will even kill to stop them. In this original new series, three children tackle real unsolved mysteries and struggle with real unbroken codes to get to the hidden truth.
Enter the world of the Secret Breakers at http://hldennis.com/
For your chance to win a copy of Secret Breakers: The Power of Three answer the question below.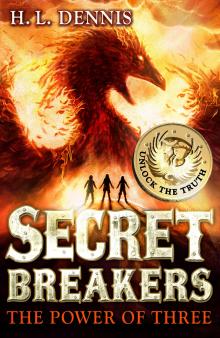 Competition end date:
Monday, 1 October 2012 - 12:35am
Congratulations! This competition was won by:
sbroadley
maci234
victoria48
daisyduck
lesley1822004
natashagandy15@googlemail.com
Vickyallum84
Phil Joyce
dandltransport
hugjen