Win: one of 5 Secret Kingdom book goodie packs!
Launched in July, The Secret Kingdom is a highly collectable new girls' book series with believable characters and traditional themes of friendship, fun and magic set in a wonderfully imaginative enchanted world.
The Secret Kingdom stories have been written by experts and approved by literary consultants. Familiar plot structure will help develop reading stamina while sparkly candy-coloured covers and sugar pink page edges give the overall package immediate allure.
The first series of six books was published in July, and will be followed by the Christmas special, Christmas Castle, in October 2012. Further series and specials will follow in 2013, making Secret Kingdom THE new collectable series for 5-8 girls.
For trailers, downloads and games go to www.secretkingdombooks.com. You'll also have the opportunity to join Secret Kingdom Club, which will offer users a monthly newsletter as well as exclusive goodies and info before each publication.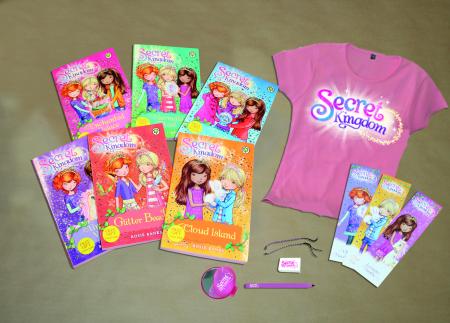 Competition end date:
Sunday, 16 September 2012 (All day)
Congratulations! This competition was won by:
happysouls
crimson
suzieo1
lillyfer