5 times table matching challenge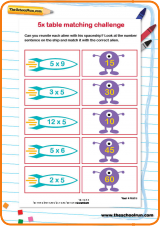 These spaceships have lost their aliens! Reunite the pairs by matching the correct answers to number sentences from the 5 times table.
REGISTER FOR FREE today to download this worksheet instantly, plus gain access to 100s of free downloads, articles and activities.
Already registered? LOG IN to download this worksheet.