Also see
This indispensable guide will help you and your child successfully manage the important transition from the cosy world of primary school to the bigger world of secondary school. A Parent's Guide to Secondary School takes you through everything you need to know about secondary school, from deciding which schools to apply for, through the application and appeals process, to supporting your child in the first weeks and months in their new school.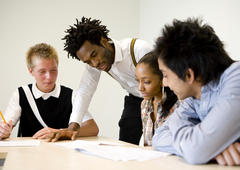 KS3 and Year 7 curriculum and learning
Want a preview of what your child will be learning once they get to secondary school? Here's an overview of the main subjects, as well as details of emotional and psychological development in Year 7 and how your child changes over the KS3 period.
KS3 English
KS3 maths
KS3 science
Other subjects in KS3
Sussing Out Your Secondary School is a practical guide which supports you child's transition from primary school to secondary school.
Bright, colourful and full of practical tips for new school starters, this workbook is for your child to use as they move up to secondary school. Through a range of activities, they'll think and learn about all the important aspects of changing school, including planning the journey, making friends, coping with the homework and understanding the timetable.
Transition to secondary school