The maths SATs test in KS2 has three parts: Test A, Test B, and Mental Mathematics. Tests A and B last for 45 minutes each, and the Mental Mathematics test is 20 minutes long. It will take 1 hour and 50 minutes to complete the entire test.
Until 2013 children were not allowed to use a calculator on Test A or on Mental Mathematics, but they could on Test B, which presented trickier questions. As of May 2014 calculator use will be banned In KS2 SATs, but if your child is completing past papers you should allow them to follow the instructions given to children at the time and use a calculator for Test B.
For the Mental Mathematics test, children will answer questions that they hear from a CD. Your past paper will include a transcript of the CD that you can read aloud to your child instead. You will be instructed about how long to allow your child to answer each question.
Before starting the test, make sure your child has a quiet, distraction-free room to sit in, with all the materials (pencils, sharpeners, etc.) they'll need. Here's how you can administer each part.
Test A
Children will need:
• a sharp pencil for drawing
• a ruler with mm and cm measurements
• an angle measurer or protractor
• tracing paper (optional)
• a mirror (optional)
Read the instructions at the start of the test to your child. 
You can read the questions out loud to your child, describe the context of the question and also point to charts or diagrams at your child's request.
You must not explain or interpret any information to your child.
Give your child 45 minutes to complete the test. Remember to give them time reminders during the test.
Test B
Children will need all the equipment listed above, but they are also allowed a calculator (if you are completing past papers; from May 2014 children will not be allowed to use a calculator in the KS2 SATs maths exam).
Follow the same instructions as for Test A when administering this test. Test B also takes 45 minutes.
Mental mathematics
Children will only need a pencil to take this test, as they will write down their answers in a booklet.
This test takes 20 minutes.
Marking
To mark your child's paper, you'll need the Teacher's mark scheme. This goes through every question, and explains which answers will be given marks in the official Maths SAT depending on how your child has answered.
For top marks, examiners are looking for:
Clear, unambiguous answers
Correct placement of decimal points
Correct use of measurements and units
Correct working of problems given – if your child has given an incorrect or incorrectly-written answer, correct working could be awarded half marks rather than no marks at all
Clear explanations on how to find a solution to a problem, when required
If you want to assign a national curriculum level to your child's work after you have marked it, these are the level thresholds used by examiners and teachers for the 2013 English and maths tests and available on the Department for Education website: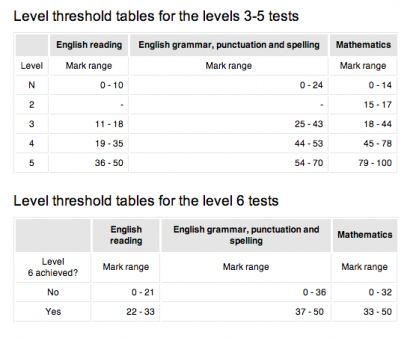 Please note: to be awarded an overall Level 6 a child must achieve both a Level 5 in the end of Key Stage 2 test and pass the Level 6 test for that subject.
KS2 English SATs practice papers and how to use them at home