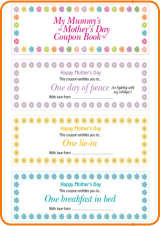 It's the little things you dream of – breakfast in bed, a long bath (uninterrupted by small people who stand by the side of the tub playing with the bubbles), a whole day when you don't utter the words, "Stop annoying your sister / brother right now!", not even once. We've made it easy to get your heart's desire – simply print off our Mother's Day coupons, give them to the kids and look forward to receiving hugs / admiring a tidy bedroom / a lovely lie-in. Have a great day!
REGISTER FOR FREE today to download this worksheet instantly, plus gain access to 100s of free downloads, articles and activities.
Already registered? LOG IN to download this worksheet.
Mother's Day coupons to print out and fill in for:
One day of peace (no fighting with siblings)
One lie-in
One breakfast in bed
One great big hug
One uninterrupted bubble bath
One day of no complaining
One bedroom tidy-up