Olympic crossword for KS1 and KS2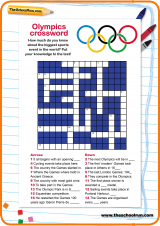 Test your knowledge of all things Olympics with a quick crossword. From the founder of the modern Games to the next host city, do you have all the facts at your fingertips?
REGISTER FOR FREE today to download this worksheet instantly, plus gain access to 100s of free downloads, articles and activities.
Already registered? LOG IN to download this worksheet.