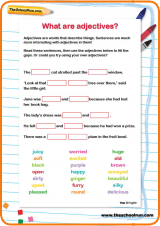 This worksheet provides a list of incomplete sentences and encourages children to use the list of adjectives to make the sentences more interesting. This should encourage them to use adjectives more readily in their writing.
REGISTER FOR FREE today to download this worksheet instantly, plus gain access to 100s of free downloads, articles and activities.
Already registered? LOG IN to download this worksheet.