17 new hobbies to try this summer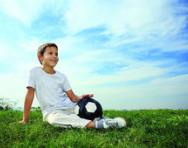 It's time to take up a new hobby (or 30!). Make this summer your kids' most enjoyable ever with our list of new activities to try and love.
Make a bird feeder with your child then get them to take note of the different species and see if the same creatures come back for second helpings. The Royal Society for the Protection of Birds offers loads of kids' resources on its website.
Set up a weather station in the back garden or on a window ledge. Get your child to make their own rain gauge, barometer, and wind vane, and use a thermometer to monitor the weather each day. Then they can produce a mini weather report.
From removing litter from rivers to learning about local wildlife, many local conservation clubs will also teach children basic survival skills.
Flower arranging and floral design are growing in popularity with children of all ages. The National Association of Flower Arrangement Societies runs classes, competitions and exhibitions for children and adults nationwide.
A good way to introduce gardening to your child is to give them ownership over a little patch. You could then take them down to a nursery where they can select flowers and plants of their choice. Watching their selection of flowers bloom will bring them a sense of achievement and pride. For gardening advice, colouring, hands-on activities and more go to the Royal Horticultural Society's kids' page.
Fishing is a great way to get some quality bonding time with your children.
Astronomy is a wonderful pastime for kids who are fascinated by what outer space might hold. Have fun working out your Plough from your Orion's Belt.
Cubs, Brownies, Scouts and Guides provide the perfect scene for personal growth for boys or girls who enjoy camping out and all the activities that accompany it. Find out about local packs and join the waiting list today!
Origami is the art of folding paper to create whatever the mind can conceive – a dog, flower, house and so on. Borrow a beginner's book from the library to get you started.
Create a scrapbook – all you need is a large album, scissors, glue, coloured paper, pens, pictures and imagination. Once you've decided on a theme you're ready to get sticking.
Don't throw out your old clothes – give them to your little ones to revamp into new items. They can go as wacky as they want and the finished product is guaranteed to be unique.
Sculpting and pottery are always popular with children. There are many child-specific pottery and sculpture classes available – try your local adult education colleges.
Teach them to knit. The act of linking loops has been around for thousands of years – it's simple to learn and very addictive. Watch how-to videos on YouTube to get you started.
Let them try patchworking. Cutting different bits of fabric into shapes and joining them together can produce some fantastic patterns and useful stuff too, such as quilts, cushion covers and soft toys.
Baking or cooking will give your child an appreciation for raw ingredients, healthy food and different types of foods. Cooking also teaches them about kitchen safety and food hygiene.
Dance is fun, creative and burns up excess energy. And there are so many different forms – from ballet to tap, from jazz to hip hop – so finding one that appeals to your child's preference won't be difficult.
Debating – this will give your child the ability to present an argument persuasively, to understand that there are two sides to most arguments and the confidence to speak in front of a room full of people.