Eleven Plus (11+)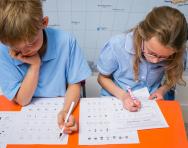 If you're hoping to sit your child for a school that selects students based on their performance in the 11+ test, you'll be looking for resources to support learning.
In this section of the site you'll find a beginner's guide to the 11+ test and loads of information about how to help your child prepare, as well as an area-by-area guide to the test format.
Our 11+ Learning Journey is a structured, year-long 11+ preparation plan that covers the English, maths, verbal reasoning and non-verbal reasoning skills your child will need to have mastered before they sit the test. 
For an introduction to 11+ skills see our Verbal and Non-Verbal Reasoning learning pack, and boost your child's vocabulary with some wonderful books as recommended in our 11+ Prep Reading Adventure.
Worksheets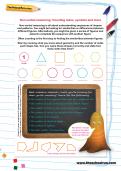 Non-verbal reasoning: Counting sides, symbols and more
Non-verbal reasoning is all about understanding sequences of shapes and patterns. You might be looking for similarities or differences between different figures. Alternatively, you might be given a series of figures and asked to complete the sequence with another figure. In this series of exercises, the first two shapes are related by a specific feature they have in common. Choose the one figure from the five choices that is most like the two figures on the left.
View Worksheet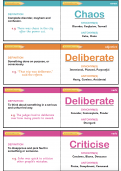 11+ vocabulary flashcards
Download our free 11+ flashcards to help boost your child's vocabulary and practise for the verbal reasoning tasks of the 11+ exams.
View Worksheet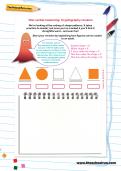 Non-verbal reasoning: Cryptography revision
Are you ready to decode some codes? Work out the code for the fifth shape.
View Worksheet