The Learning Journey Programme
Welcome to the Learning Journey!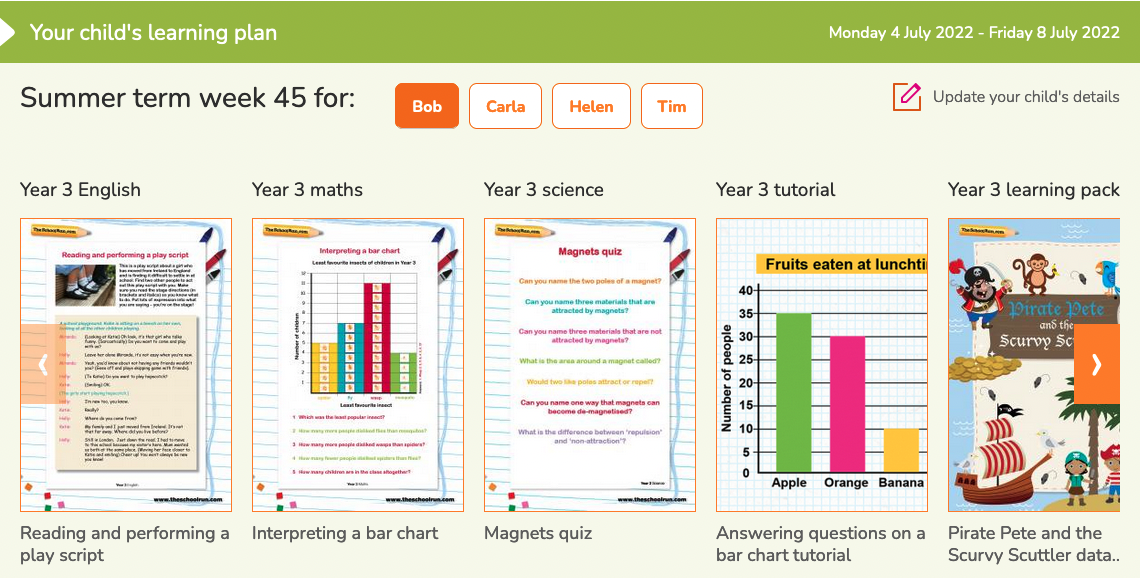 Sign up for TheSchoolRun's Learning Journey programme, created by teachers and trusted by thousands of parents, and you'll discover we've done all the hard work for you!
 
We've created targeted resources for your child's school year, which track the National Curriculum.
 
We've mixed colourful worksheets with interactive tutorials, fun activities and games, so your child will love completing them.
 
And we deliver them to your child's learning plan every week!
 
So all you have to do is find 10 minutes a week to browse through the resources we've recommended and choose which ones you want your child to complete.
And there are fun games, reward charts and certificates to use along the way to make it an exciting learning journey for your child as well.
What you can expect each week
Once you start the programme, we'll create a learning plan for each of your children (from Nursery to Year 6).
Visit the home page each week and you'll find new resources waiting for you, including:
 
1 maths & 1 English worksheet, activity or game: These will focus on a core topic that your child will be learning in school this term.
 
An interactive maths tutorial: Our digital teacher explains the topic, shows your child examples of it and then gives your child a chance to practise what they've learned by completing on-screen tasks.
 
Guides for parents on the topics your child is learning, so you can explain it to them.
 
PLUS science experiments and topic-focused activity packs for you to explore if you have time to spare.
 
Here's a typical weekly dashboard for a Year 4 child:

We'll update your learning plan every week for you.
And just in case you forget to log in, we'll also email you every Wednesday with links to the week's resources, as well as top tips from our teachers on how to complete them.
As promised, we've done all the hard work for you!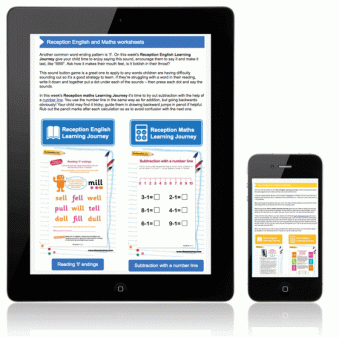 You can download the worksheets you want your child to complete or get hands on with an interactive tutorial. And if you haven't got time to do the activity right now, you can save it and come back to it another time.
And if you want to track your child's progress through the programme, you can do that too! In the My Saved Resources section you can assign resources to different children and you can mark them as completed once they're done.
Support for the whole of primary school
Start this unique, at-home learning programme with your child and you could be just a few activities a week away from ensuring your child's success at school for the whole of their primary school journey.
Here's why we believe this is the most powerful advantage you can give your child at school
The reason is simple: the Learning Journey programme covers all of the core maths and English skills of the National Curriculum that your child will be taught during each school year.
And because there is such a mix of activities to choose from – printable, interactive, games and more – it's not going to be a chore for you or your child.
In fact, parents who have joined the programme tell us they can't believe how easy it is to follow, how eager their children are to complete the week's activities, and how much they've grown in confidence.
'I have been so impressed with TheSchoolRun and have really enjoyed completing your weekly programme with my two older children. It's a great site and resource.' – Claire, London
---
'The Learning Journey is really useful as it provides activities by year group and is flexible. You can choose to help your child work through it, or just select areas that you feel would be of most benefit to them.' – Survey respondent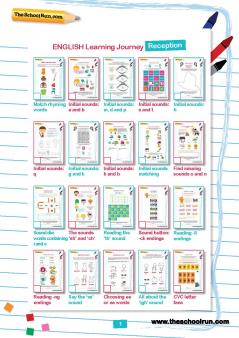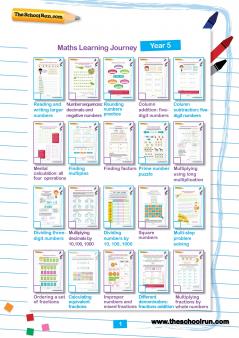 Plus.. check out our additional Learning Journey programmes for:
How to get started
Access to the Learning Journey is a benefit available to all TheSchoolRun subscribers. If you are already a subscriber just log in as usual and then visit the homepage to see your child's weekly learning plan. You'll automatically receive the weekly Learning Journey email each Wednesday.
If you aren't a subscriber, why not consider taking out a FREE 14-day trial? That would give you 14 days to explore the Learning Journey with your child and see how it could benefit you for the whole of your child's primary education. And, of course, your trial subscription will also give you access to all the other great educational resources on TheSchoolRun – there are now over 5000 worksheets, learning packs, workbooks and SATs practice papers on the website.
 
Find out more about How the Learning Journey works.