Non fiction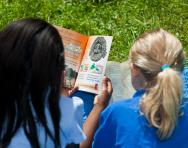 Non-fiction is any style of writing that is based on facts and real life, rather than a fictional (made-up) story.
Your child will study a range of non-fiction texts throughout primary school and you'll find lots of information and worksheets in this section to help them, whether its reading and understanding text structure and organisation, writing informative text or about an event, writing reviews, lists, labels and captions, titles and blurbs or putting instructions in order.
Worksheets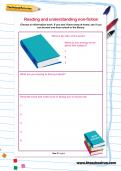 Reading and understanding non-fiction
Choose an information book. If you don't have many at home, see if you can borrow one from school or the library. What is the title of the book? What are you hoping to find out about? What do you already know about this subject? Read the book and write a list of things you've found out:
View Worksheet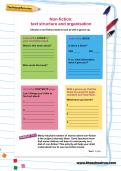 Non-fiction: text structure and organisation
Use non-fiction books to help your child understand text structure and organisation.
View Worksheet
Ordering non-fiction text: writing a plan
Think of a special event that is coming up. Use this planning sheet to help you remember what will happen when. You can use pictures as well as words.
View Worksheet
Also see:

Could you have a budding journalist at home?
Your child will learn how to read, understand and write newspaper articles and journalistic writing throughout primary school, and it's a fun activity to support at home. Try these for starters:

Different types of non-fiction texts
Confused about recounts? Got your instruction text, argument text and information text mixed up? Read our parents' guides:
There are lots of types of non-fiction text for your child to explore, and there lots of ways for you to get your child excited about different types of texts at home. How about these: