Handwriting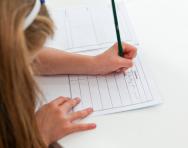 Legible and fluent handwriting is a gift that will last your child a lifetime but it's very tricky to master. In this section of the site you'll find lots of information about how your child learns to write, handwriting activities and steps to better handwriting, as well as advice on how to help your child through each of the handwriting stages – from patterning to printing to joined-up (cursive).
You'll also find lots of handwriting worksheets for your child to practise with and we'd also recommend you look at the unique Handwriting Learning Journey for a complete programme of worksheets.
Worksheets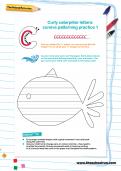 Curly caterpillar letters cursive handwriting practice
Grab some felt tips and settle down for some handwriting practice! Our cursive patterning worksheets help children develop their 'joined-up' writing skills by encouraging smooth, flowing movements and shapes that are consistent in size and setting.
View Worksheet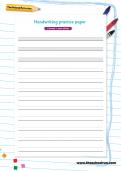 Handwriting practice paper
Help your child form letters at the correct relative size and place them correctly on the 'base' writing line with our free printable handwriting practice paper. Two formats with guidelines are included, one for beginner writers and one to help children improve their handwriting skills.
View Worksheet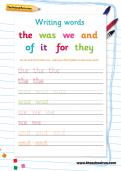 Handwriting high frequency words
Boost handwriting and spelling skills with this worksheet. The focus is on some of the high-frequency words your child will learn to read, spell and write in Reception and Year 1; letter formation guides and dotted line versions are provided to help them practise.
View Worksheet