Reception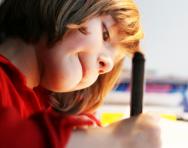 Tutorials
Phonics sounds mats tutorial
These handy interactive phonics sounds mats will help you practise each of the phonics sounds your child will learn in Reception and Year 1, grouped in the phonics phases they will learn them in.
Phonics sounds interactive resource
This handy interactive phonics sounds resource will help you practise phoneme sounds with your child, organised according to the 7 groups they'll be learning them in. How many other words can you think of that include each of the sounds?
Worksheets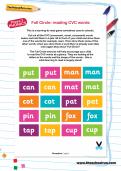 Full Circle: reading CVC words (Phase 3 phonics)
This is a learning-to-read game sometimes used in schools. Cut out all the CVC (consonant, vowel, consonant) words and hold them in a pile. Sit in front of your child and show them one of the words (for example, man). Then show them some of the other words; when you show them a word they've already seen (like man) again they shout 'Full Circle'! The Full Circle exercise will help encourage your child to read the CVC words at a glance. They are looking at the letters in the words and the shape of the words – this is what learning to read is largely about!
View Worksheet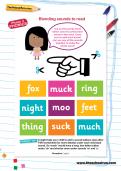 Blending sounds to read (Phase 3 phonics)
Cut out the pointy hand and use it to press each sound in the word. Once you've said each sound can you say all the sounds together to make the whole word?
View Worksheet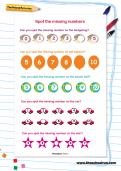 Can you spot the missing number on the hedgehog, the balloon, the beach ball and the car? What about on the star?
View Worksheet